WND Falsely Claims Amnesty International 'Defends Pimps And Traffickers'
Topic: WorldNetDaily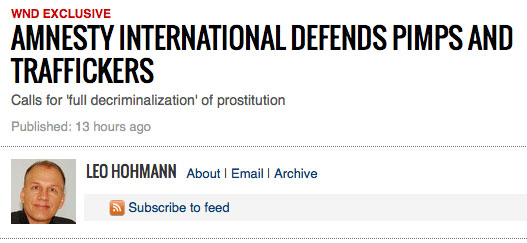 One major reason WorldNetDaily is having financial difficulties is because its editorial content is so biased, occasionally (and libelously) to the point of being outright false.
The headline of a June 3 WND article by Leo Hohmann reads, "Amnesty International defends pimps and traffickers." He writes:
The human rights organization Amnesty International is drawing fire from other human rights activists for a new document it released favoring the "full decriminalization" of prostitution.

Amnesty, in the document, "calls for the decriminalization of sex work based on evidence that criminalization makes sex workers less safe, by preventing them from securing police protection and by providing impunity to abusers."

The National Center on Sexual Exploitation, or NCOSE, immediately denounced the policy as one that "ignores the brutal experiences of prostituted persons and empowers pimps, sex buyers, and sex traffickers."
While Hohmann's article does include a link to the statement, which states "Read Amnesty's entire document calling for full decriminalization of prostitution," it's clear that neither Hohmann nor anyone else at WND actually read it, because the document explicitly condemns exploitation and trafficking.
The document states that "Exploitation within commercial sex takes different forms and can encompass a wide range of actions extending from labour violations (for example relating to health and safety regulation), up to and including very serious forms of exploitation involving servitude-like practices and forced labour. States have a range of obligations to protect individuals, including those involved in sex work, from exploitation and abuse. Amnesty International considers that there is greater scope for sex workers to benefit from labour-based protections from exploitation where sex work is not treated as a criminal activity."
In other words, according to Amnesty International, if sex work is decriminalized, pimps would not be able to thrive. The document goes on to ask that "States must ensure that sex workers can access adequate legal protection from the range of other forms of exploitation that do not constitute human trafficking."
The document also specifically condemns human trafficking and insists that it be prosecuted:
Human trafficking amounts to a grave human rights abuse and states have an obligation under international human rights and international criminal law to ensure that it is recognized as a criminal offence. Amnesty International supports the criminalization of human trafficking and calls on states to guarantee effective legal protections against it. States must investigate, prosecute and bring traffickers to justice and guarantee victims access to justice and reparation, including with all necessary levels of support. Trafficking victims should not be criminalized.

[...]

Sex work (which must be between adults and consensual in order to be considered sex work) is distinct from human trafficking. The conflation of human trafficking with sex work can result in broad and over-reaching initiatives that seek to eradicate all commercial sex as a means to end trafficking. Such approaches work in practice to violate sex workers' human rights, and in general can make sex workers and people who have been trafficked more vulnerable to violence and harm. Additionally, there is a lack of evidence to suggest that such approaches are successful in addressing trafficking (in terms of preventing, identifying and protecting victims and supporting prosecution of perpetrators).
So WND is blatantly lying by claiming that "Amnesty International defends pimps and traffickers."
While Hohmann claims to quote "human rights activists" criticizing Amnesty International's statement, they are nothing of the sort. The National Center on Sexual Exploitation is an anti-pornography group formerly known as Morality in Media that's much better known for protesting things like Sports Illustrated swimsult issue covers and seemingly blaming mass shootings on gay rights.
The other "human rights activist" Hohmann quotes is Judith Reismann, the anti-Kinsey obsessive with her own history of playing fast and loose with the facts. So, no, these are not "human rights activists" by any normal definition of the term -- they are right-wing activists with a specific agenda.
Oh, and those first two paragraphs contain the only direct quotes from the Amnesty International statement in Hohmann's article. The rest of the article presents Reisman and NCOSE's Dawn Hawkins providing their interpretations of the statement as accurate. Needless to say, Hohmann couldn't be moved to contact Amnesty International to get its reaction to these right-wing attacks.
Hohmann and WND build on a blatant falsehood with dishonest agenda-driven reporting that blatantly misrepresents what Amnesty International actually stated and makes no effort to address the issue fairly. That's why nobody believes WND -- and why fewer people even bother to read it anymore.
Posted by Terry K. at 10:28 AM EDT
Updated: Saturday, June 4, 2016 11:44 PM EDT