Trump's Race-Baiting Defender Still Has A Job At The MRC
Topic: Media Research Center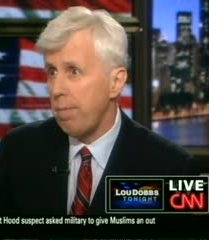 In case you were wondering if Jeffrey Lord's aggressive defense of Donald Trump's race-baiting attacks on a judge presiding over the Trump University lawsuit would cause the Media Research Center to have any concern about the fact that he embarrassed himself on CNN making said defense, the answer is apparently, "Heck, no! We love having a race-baiting defender write for us!"
Lord's latest NewsBusters column appeared on schedule, and he deals with the issue of Trump's race-baiting not by trotting out his own discredited defense as he tried to do on CNN, but by changing the subject.
Lord whined that a New York Times columnist called Trump a racist, then quickly pivoted to portraying the columnist as a hypocrite because the Times has been sued for discrimination. His justification for doing so: "Why does this matter? Because the New York Times plays the race card - as Mr. Kristof just demonstrated in that interview - with obsessive regularity."
This, apparently, is how Lord gets to keep his NewsBusters gig for the time being -- refusing to address the elephant in the room while playing the media-bashing on the Times, one of the MRC's favorite targets. Unsaid, though, is how aggressively Lord can defend Trump's race-baiting before the MRC cuts him loose -- or if there is even a limit.
Posted by Terry K. at 2:25 PM EDT
Updated: Monday, June 13, 2016 2:26 PM EDT