NewsBusters Blogger, Newly Hired CNN Commentator Goes Godwin
Topic: NewsBusters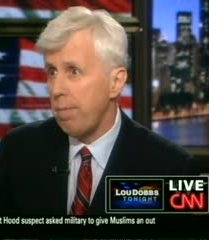 Jeffrey Lord spent his Aug. 8 NewsBusters post bragging about how CNN just hired him as an analyst and that is happy to promote his "legitimate conservative" views on the network.
Apparently, it's a "legitimate conservative" view to smear people as Nazis.
As Media Matters notes, Lord used a column at the right-wing American Spectator to go Godwin big time, claiming that Donald Trump's critics are engaging in a "Goebbelsesque Big Lie technique" by criticizing Trump's recent "blood" remarks about Fox News debate moderator Megyn Kelly. He calls it "a plu-perfect example of the insight of Hitler's Minister of Propaganda Joseph Goebbels" and adds in case anyone missed the point, "This is -- there is no other word for it -- a Goebbels-esque lie."
Lord has a history of dubious ranting, whether it be getting fooled by a fake Twitter account for Seth Rogen or making false claims about an Obama adminstraton appointee or insisting (then doubling down on his insistence) that a black man beaten to death in segregation-era Georgia wasn't technically "lynched" because his assailants didn't hang him and there weren't enough of them to form a proper mob.
This is who CNN hired as a commentator. And this is who NewsBusters has hired as one of its "star" bloggers.
Posted by Terry K. at 2:50 PM EDT