The Media Research Center has amply demonstrated its anti-gay agenda, objecting to any depiction of gays in the media if they aren't denigrated in the process. If there's anything that would skeeve out the MRC more than gays, it would be transgendered people.
And so, right on cue, the presence of Chaz Bono -- formerly Chastity Bono, the child of Sonny and Cher -- as a contestant on ABC's "Dancing with the Stars" has sent the MRC into full freakout mode.
The first salvo came in a Sept. 7 MRC Culture & Media Institute article by Erin R. Brown. You may remember Brown from a previous transgender freakout earlier this year, in which she ludicrously asserted that a J. Crew ad featuring a clothing designer painting her young son's toenails pink was "propaganda pushing the celebration of gender-confused boys wanting to dress and act like girls," adding that J. Crew "apparently does not mind exploiting" the child "behind the façade of liberal, transgendered identity politics."
Brown declared that ABC has "an ongoing PR problem" by the selection of Bono for "Dancing With the Stars." Why? Brown doesn't really explain, other than to suggest that Bono's existence has somehow sullied a "once-family friendly show." Brown portrayed all of this as part of an "LGBT Agenda," but she spent most of the article bashing ABC for having Bono's media agent, Howard Bragman, on the payroll as a consultant.
Brown's boss, Brent Bozell, followed up with a Sept. 9 column ranting that ABC chosen Bono to join the "DWTS" cast "because she's well-known as an 'LGBT' activist, with an emphasis on the 'T,'" and that he's joined on the show by "Carson Kressley, the most lecherous member of the old show 'Queer Eye for the Straight Guy.'" We didn't know Bozell kept track of that show's lechery level with such an eye for detail.
Like his dutiful employee, Bozell is appalled by Bono's mere existence:
This is Bono's year of media activism, complete with a book last spring called "Transition" (promoted all over the "news" channels) and a promotional one-hour Oprah Winfrey Network special called "Becoming Chaz," hailed as the story of a "valiant struggle of a sensitive individual to become who he really is."

Nowhere in any of this celebration is the hard reality. Despite her low voice, and her sideburns, and her awful decision to amputate her own breasts, "Chaz" remains a woman. It's ridiculous for ABC to argue children won't be confused by this political-correctness crusade. The entire "transgender" propaganda movement is confused. Indeed, there is a new sexual category to go alongside G, L, B, and T – "Q" for questioning.

ABC and the rest of the media universe can do all the pretending they want, but that's not going to make Chaz a real male.
Apparently, like Brown, Bozell thinks transgenders should be hidden away, with nobody allowed to speak of their existence.
The next participant in the MRC's freakout parade was Tim Graham, who used a Sept. 16 NewsBusters post to express his displeasure that a Fox News host, Megyn Kelly, committed the offense of defending Bono from the attacks of another Fox News figure, Dr. Keith Ablow. Graham added, "Who said Fox News was the right-wing channel?"
Of course, if Graham really believes that, he also has to admit that ABC is not the "liberal media" outlet he and his employer portray it as because the MRC's Dan Gainor made an appearance on ABC's "Nightline" to peddle his employer's talking points on Bono. The MRC's clip of Gainor on "Nightline" is so tightly cropped, it eliminates nearly all of the context, as well as a full telling of the other side of the story.
Graham seems to have decided that anyone who doesn't despise transgenders as much as he does is some kind of "activist." In addition to Bono, Graham described Kelly as "a 'special guest' at a Manhattan fundraiser for the National Lesbian and Gay Journalists Association" (and someone who "is going to earn an award from LGBT activists for getting vein-popping angry" at Ablow), and an article by a psychiatrist who rebutted Ablow "was borrowed from the blog of the Human Rights Campaign, the nation's largest LGBT lobby -- which might make one think there's more than 'science' here in the mix." As if Graham's Bono-bashing was free from the taint of pushing an agenda.
Related articles on ConWebWatch:
After noting Kelly's response to Ablow's silly contention that young children might get confused about their gender by watching Bono on "Dancing with the Stars" by noting that "our children are no more likely to turn transgender from watching Chaz Bono on this show than they are likely to turn gay from watching 'Will and Grace,'" Graham huffed: "Kelly did not admit that gay-left advocates often cite pro-LGBT shows on the major networks as proof that 'tolerance' is on the march and conservatives should stop opposing them in public."
Meanwhile, Graham did not admit that the psychiatrist he attacked as purportedly being too close to "the nation's largest LGBT lobby," Jack Drescher, stated that Ablow made his claims "without much scientific evidence,' and that Ablow's "views on gender confusion mix apples with oranges and have little basis in current clinical practices." Nor did Graham mention that the writer, according to his FoxNews.com bio, is "a Distinguished Fellow of the American Psychiatric Association and a member of the DSM-5 Workgroup on Sexual and Gender Identity Disorders."
Drescher would seem to be much more trustworthy on this subject than Graham, Ablow, or anyone else at the MRC.
Even the MRC's "news" division, CNSNews.com, got into the Chaz-bashing act by adding bias to the headline of an Associated Press article on "DWTS." Here's how the AP headlined an Sept. 20 article on the season debut of "Dancing With the Stars," which includes transgendered Chaz Bono: "New 'Dancing' cast makes its ballroom debut."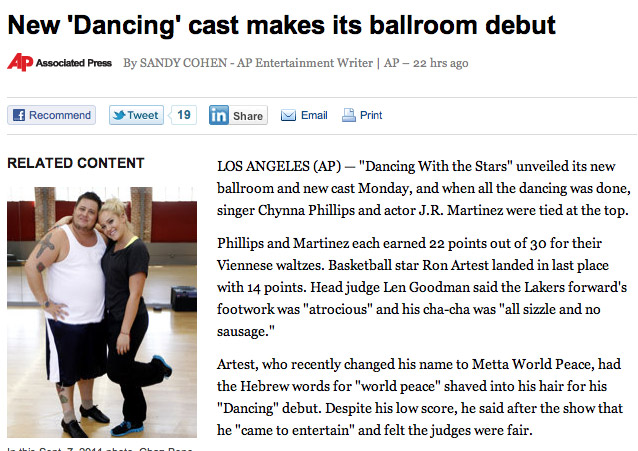 Run that same story through the bias machine at CNS, and it magically has a new headline: "'Dancing With the Stars' Rolls Out Its Transgender-Acceptance Season."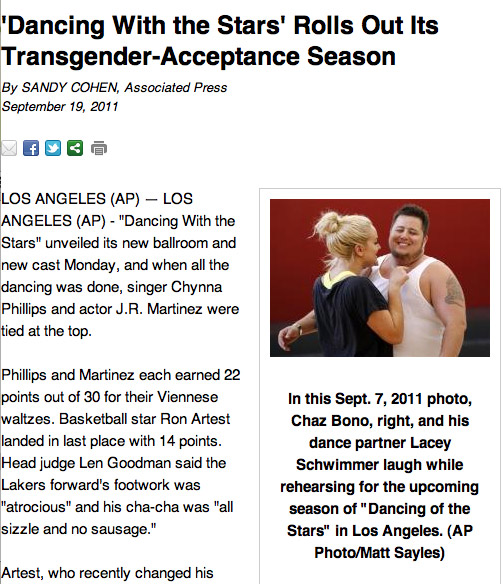 Never mind that the word "transgender" never appears in the article, nor does it discuss the issue of "acceptance."
The "Dancing with the Stars" kerfuffle was not the MRC's first Chaz-related freakout. A March 12 NewsBusters post by Matthew Balan complained that CNN's Anderson Cooper interviewed Bono as part of "promoting its upcoming pro-gender 'reassignment' documentary." Balan had denounced that show because it "sympathetically follows the 'gender reassignment' process of former Largo, Florida city manager Steven Stanton," further grumbling that one review of the program said that it offers "a ray of hope for tolerance."
Tolerance and sympathy for people different from you? The MRC can't have that.
The MRC clearly has an agenda to push. It knows that hating people different from them plays well and raises money, so that's what it does.