Hold the Anti-Media Righteous Indignation, Mr. Bozell
Topic: Media Research Center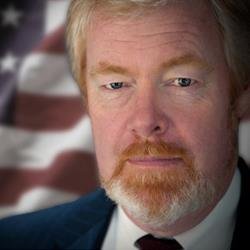 Who would have thought that even Media Research Center head Brent Bozell -- who endorsed Ted Cruz during the Republican presidential primaries and dismissed Donald Trump because he doesn't "walk with" dogmatic movement conseratives like himself -- would come around to defend Trump? Well he has, as demonstrated in a smug little anti-media rant he issued on June 2:
Donald Trump held a press conference on Tuesday to address (and insult) news reporters trying to locate the proceeds for a January fundraising event for veterans Trump held -- during a Republican debate on Fox News he refused to attend. The press called the insults a "tirade."

The media were right to ask questions about Trump's distribution of funds to veterans groups. But hold the righteous indignation, folks. This is a press corps that has absolutely refused to hold Obama accountable for anything (think: IRS, VA , Solyndra, Fast and Furious and so many other scandals) while also refusing to investigate any clouds swirling around Hillary Clinton (think: Benghazi, Clinton Foundation, email scandals, etc.).

Indeed, it's a courtesy reserved for both Clintons, going back to the very beginning of their national careers (think: Whitewater, Filegate, Troopergate, Kathleen Willey, Paula Jones, and the rape of Juanita Broaddrick, to name but a few unsolved mysteries because no one in the press wanted to investigate them).

Every single one of these scandals is more important than the disposition of funds from a fundraiser, and it must be noted that Trump did account for the millions he raised and contributed. When the media begin to ask serious questions of Hillary Clinton, then and only then will they have the right to pass judgment on Donald Trump.
Apparently, Bozell wants to silence the "righteous indignation" of others so he can dispense his own.
If "the media were right to ask questions about Trump's distribution of funds to veterans groups," why didn't any right-wing media outlet -- like, say, Bozell's own CNSNews.com -- do it? And why did his MRC completely ignore the controversy? The only reference to it we could find on NewsBusters was Melissa Mullins whining that during his media-bashing tirade, someone asked Trump about the gorilla killed at a zoo to save a boy who had gotten into the enclosure.
Bozell finds a way to defend Trump by claiming that "Trump did account for the millions he raised and contributed," which completely ignroes the fact that he did not make good on most of his promised donations until the media started asking him questions about it.
As far as calling the so-called Clinton scandals "unsolved mysteries" goes, where has Bozell been for the past 20 years? All of them are quite solved -- just read the Starr Report on Clinton's alleged affairs, and independent prosecutor Robert Ray's reports on Whitewater and Filegate. Bozell has also apparently forgotten that the titular Arkansas state troopers in "Troopergate" wouldn't repeat their lurid accusations against Clinton under oath.
As for the laundry list Bozell recites of purported scandals involving Hillary Clinton and Obama, we again bring up the fact that Bozell operates something he calls a "news" outlet -- meaning that he is in the media business. If Bozell thinks these stories are somehow underreported, why doesn't he march down the hall at MRC headquarters and tell and CNS editor in chief Terry Jeffrey and managing Editor Michael W. Chapman to report on them? Why doesn't he use some of that multimillion-dollar budget the MRC has to hire a stable of actual reporters -- instead of the stenographers currently employed as "reporters" at CNS -- and unleash them on Obama and Hillary?
We don't know. Perhaps Bozell has decided that it's easier and more profitable to complain about "the media" than to do something about it, and that CNS functions better as disseminator of right-wing propaganda packaged as "journalism" than as a generator of actual reporting.
Until you can offer something other than playing to the chori of right-wing funders and put your money (well, your donors' money) where your mouth is, Mr. Bozell, please spare us your righteous indignation.
Posted by Terry K. at 5:51 PM EDT