How WND's Photo Selection Smears Transgenders (And Is Also A Copyright Violation)
Topic: WorldNetDaily
WorldNetDaily has displayed a particular animus toward transgenders as the issue of their civil rights has taken the spotlight lately, as the anti-trans rantings of its opinion columnists repeatedly demonstrate. But that's not the 0only way WND displays its anti-transgender bias.
In "news" articles on transgender issues, WND is particularly fond of a particular stock photo: the hairy legs of a man wearing a dress and heels. Here it is in a June 11 article by Cheryl Chumley: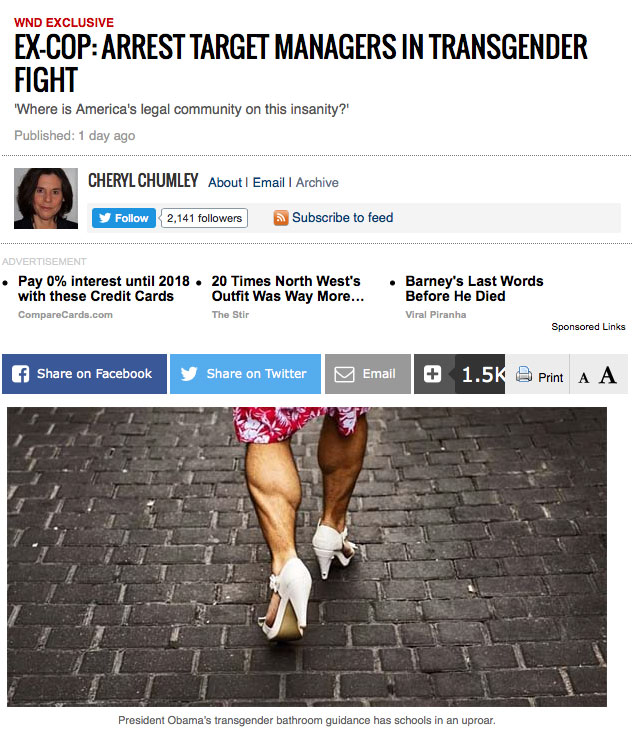 Here it is in a May 23 article by Leo Hohmann on "critics" who say the gender identity policy "will lead to sexual chaos and confusion among children":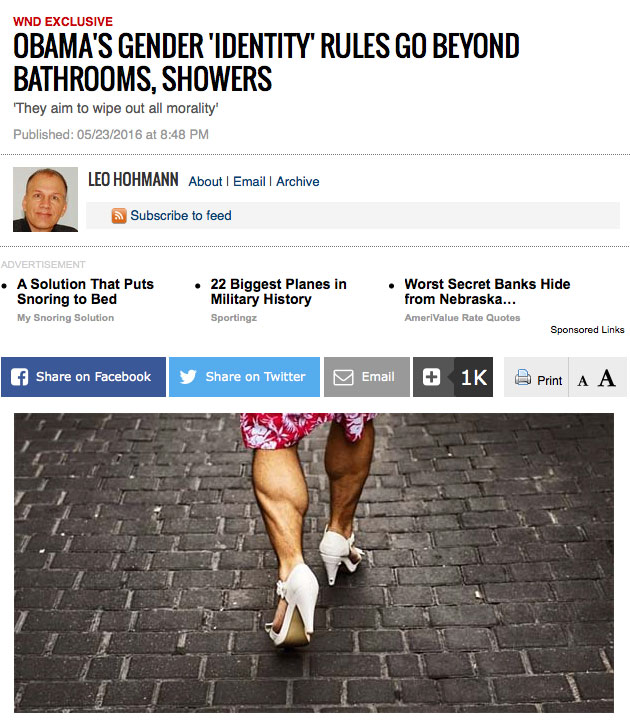 And in an April 1 article by Douglas Ernst: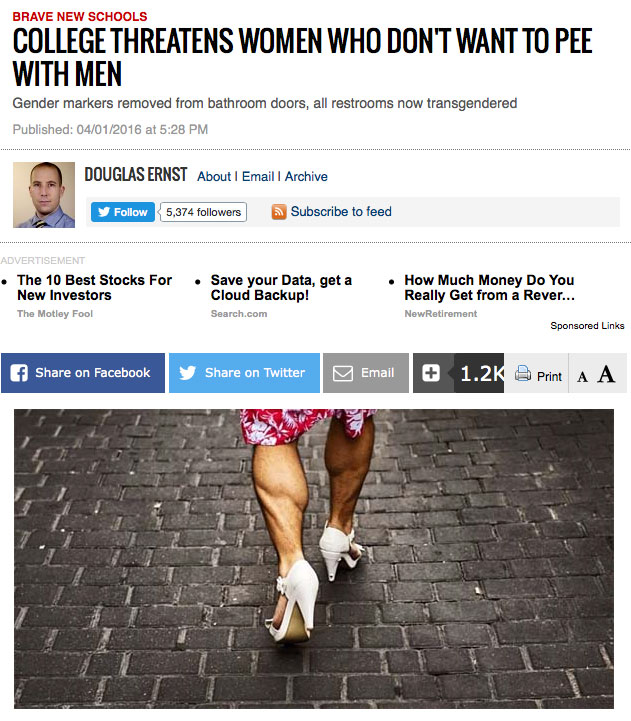 And in a Jan. 27
article
by Ernst: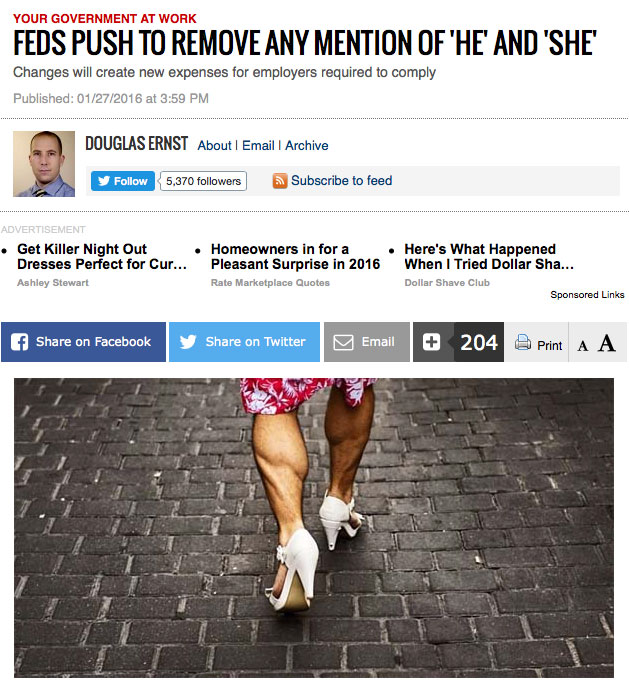 And here it is in a June 2015 interview by Greg Corombos of an anti-gay pastor: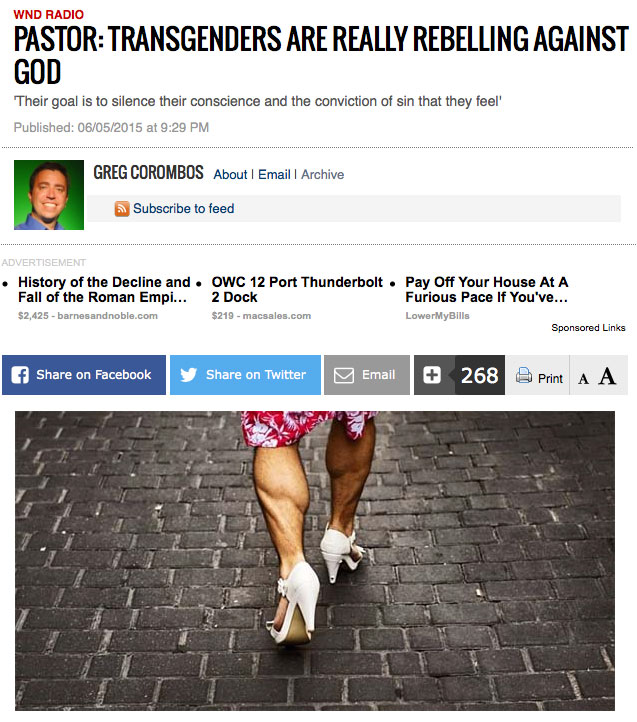 This is apparently what WND thinks transgenders are -- creepy guys wearing dresses and heels who want to molest children in bathrooms. Never mind that this depiction has no basis in reality.
It also appears that WND is using the image illegally. The photo, which carries no credited source in any of the WND articles in which it appears, is in fact from a series taken for the Associated Press of a 2012 "hairy legs on heels" race in Madrid. So the person in the photo is not even transgender, just a guy in heels.
Since WND has never belonged to the AP, we seriously doubt it bothered to seek AP's permission to use the photo -- which means WND has apparently engaged in repeated copyright violations by using it without payment or credit to the original source.
WND provided a similarly distorted image on transgenders in a May 7 article on President Obama's Mother's Day message that mentioned transgender moms, by using thte image of a stubbled male face putting on lipstick: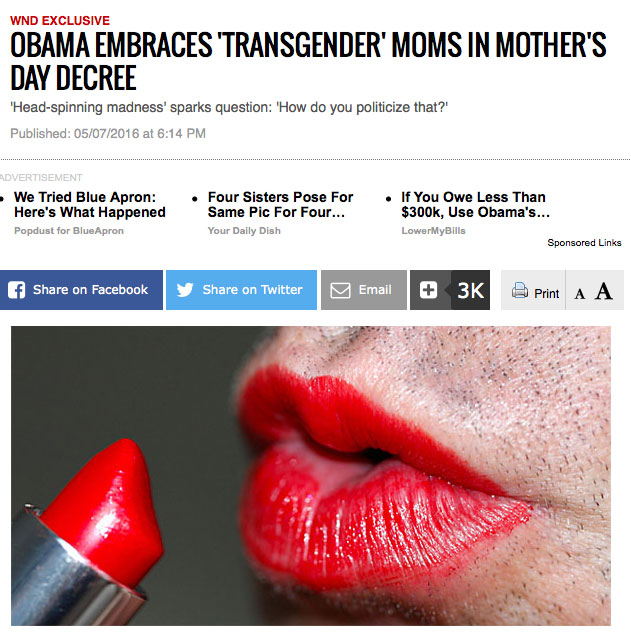 WND didn't provide a source for this image either, and we haven't been able to trace its original source, so it's also likely it's being used without permission as well.
Stealing the work of others without credit and permission -- and then using it to maliciously smear a class of people it doesn't like -- is just another reason WND is in financial trouble. And it'll be in a bit more of it once the AP gets wind of how one of its images has been misappropriated without its consent.
Posted by Terry K. at 12:07 AM EDT
Updated: Tuesday, June 14, 2016 12:24 AM EDT