Last Week's Trump Coverage At CNS Again Ignores The Big News
Topic: CNSNews.com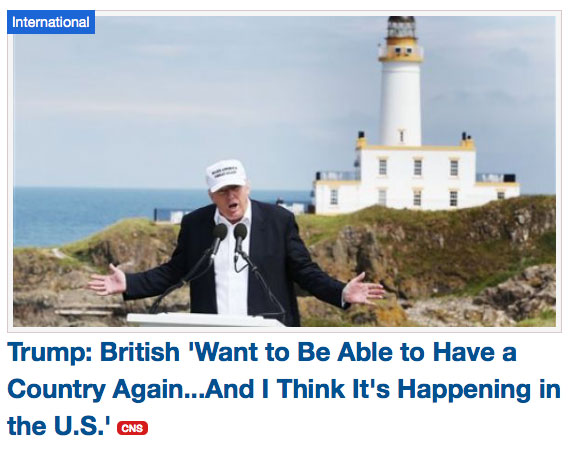 What was the big Donald Trump news last week? The departure of his longtime campaign manager Corey Lewandowski and the fact that his presidential campaign raised a paltry $3.1 million in May -- when he became the presumptive Republican presidential nominee -- had just $1.3 million in the bank and paid several companies linked to Trump for campaign expenses. This, in part, forced Trump to forgive $50 million in loans he made to his own campaign.
Did you read about any of that on the front page of CNSNews.com? Not really. CNS put Lewandowski on the front page only within the context of an Associated Press article about him being hired by CNN as a commentator.
So what other direct Trump stories were deemed newsworthy enough at CNS to make it to the front page?
That's actually more stories that the previous week, but it ignored the big ones.
CNS has a pretty bad track record so far on putting Trump on its front page. You'd think they'd want to put him there more, since he's the presumptive Republican presidential candidate and all. What are they asahmed of?
Posted by Terry K. at 9:38 PM EDT
Updated: Tuesday, June 28, 2016 12:05 AM EDT