AIM's Kincaid Repeats Discredited Falsehoods About Margaret Sanger
Topic: Accuracy in Media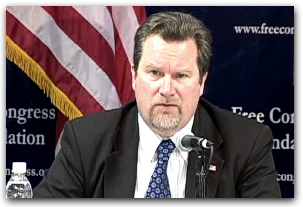 Accuracy in Media's resident gay-obsessed, factually challenged Obama-hater Cliff Kincaid takes to AIM's sister site Accuracy in Academia to praise Dinesh D'Souza's Hillary-bashing film "Hillary's America," which also purports to detail the history of the Democratic Party. If Kincaid is any guide, the film is an ahistorical mess, playing on the fallacy that the Democratic Party of a century ago is exactly the same as the party today.
Kincaid writes of the film:
In one reenactment, Margaret Sanger, the founder of Planned Parenthood, is shown speaking to a women's auxiliary of the Ku Klux Klan. That's followed by excerpts of a modern-day Hillary speech expressing her admiration for Sanger.

Liberals have tried to play down Sanger's involvement with the KKK, saying she spoke to a variety of different groups. But Sanger's own book, The Pivot of Civilization, included references to eliminating "human weeds" and sterilizing "inferior" races.
About Kincaid's first claim: Yes, Sanger spoke to a KKK women's auxiliary. But as we've noted, fact-checkers have pointed out that the KKK auxiliary was not the KKK itself, Sanger was not a KKK supporter, and Sanger pointed out in her autobiography that while she would speak on the issue of birth control to preetty much anyone who would have her, her KKK auxiliary speech was a surreal experience.
About Kincaid's second claim: As we've also documented, the term "human weeds" appears nowhere in "The Pivot of Civilization," and Sanger never called for "terilizing 'inferior' races."
If Kincaid is getting his information about Sanger from D'Souza's film, that kinda discredits the whole film, doesn't it? Not to mention further putting the lie to AIM's insistence that it cares about accuracy in media (or academia).
Posted by Terry K. at 10:14 PM EDT