WND Has Trouble With the 'Gay' Part of Gay Nightclub Shooting
Topic: WorldNetDaily
At WorldNetDaily, the deaths of 50 people in a mass shooting at a gay nightclub in Orlando was horrific -- just not horrific enough for it to let go of its long-held anti-gay biases.
WND's early reports on the massacre made sure to cling to its ridiculous insistence on putting "gay" in scare quotes, as this front-page promo illustrates: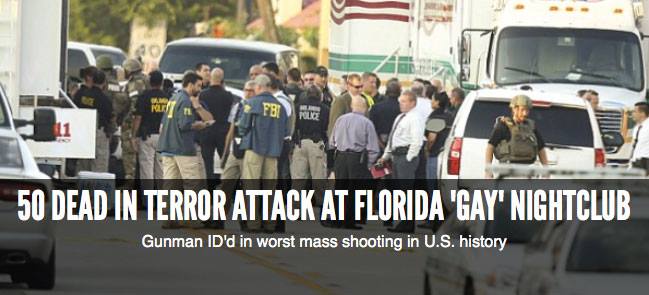 WND then tried to work around the gay stuff by focusing it through its anti-Muslim lens. An article by Joe Kovacs quotes Ben Carson claiming the shooting is "is a reminder of the animosity Muslims have for homosexuals" -- Kovacs sticks to WND style and uses the word "gay" in scare quotes or when quoting Carson -- and an unbylined article quotes "a speech given by a Muslim speaker in 2013 at the Husseini Islamic Center in the Orlando suburb of Sanford, Florida, in 2013 called for death to homosexuals."
This sudden concern for gays is rather rich, given that WND's anti-gay animosity is amply documented. Ands that animosity is very much to the point of wanting them dead; WND has long been a defender of gay-hating pastor Scott Lively, considered to be the inspiration for a proposed law in Uganda that would have permitted the execution of gays.
Then, WND editor Joseph Farah engaged in all sorts of spinning in his June 12 column. He states this:
I must note, for the record, that whatever real Americans think about "gays," lesbians, transgenders, bisexuals, they don't hold murder in their heart for them. Whatever issues Christians may have with the LGBT agenda being foisted on them by politicians eager to court their support as an interest group, they don't hunt down people who identify with that lifestyle and kill them. Whatever conservatives may think about national bathroom policies dictated from the White House, they don't dream of killing sprees of vengeance.

Those thoughts just don't come to the minds of real Americans.

Real Americans believe in life, liberty and the pursuit of happiness.
Farah seems to have forgotten how much his website's denigration of gays and transgenders -- not to mention his defense of Lively, who has called gays "murderers" on the very pages of WND -- helps to fuel the animosity toward them, which can sometimes lead to murder. So Farah's attempt at unity is insincere at best and utterly dishonest at worst, not to mention the fact that his definition of "real Americans" usually omits gays who dare to assert their civil rights. Also, most "real Americans" don't insist on putting "gay" in scare quotes.
But never mind that, for he then goes on try and downplay the gay aspect of the massacre, insisting we need to be focused on hating Muslims, as if all Muslims are like the alleged Orlando shooter:
We've never before been of afraid of identifying that enemy. We've never been hesitant before to name it, call it out and do what was absolutely necessary to destroy it as a threat to our nation, to our families, to our communities, to other innocent Americans.

It wasn't homophobia that triggered Orlando. It was hatred of America.

A similar, but smaller terrorist attack on a "gay" nightclub took place last Wednesday in Tel Aviv. Four were killed. And that wasn't the first attack of its kind there. Another one took place last year. In Israel, they were not viewed as attacks just on "gays." They were universally seen for what they were – attacks on Israel.

And please don't accuse me of "Islamophobia," or literally "fear of Muslims," for this column. "Islamophobia" is what causes the media to hope against hope that every terror attack isn't perpetrated by Muslims. It's why radicals like Mateen are repeatedly investigated for the hateful and suspicious activities in which they are involved before such attacks but never stopped from perpetrating them. "Islamophobia" – or maybe even "Islamophilia," in the case of Barack Obama – is what causes them to think of slaughters like Orlando as just more "gun violence."

How many more attacks like this will we need to witness before coming together in unity around a common purpose – self-defense, national defense, national security, victory over a determined and common enemy?
Don't doubt for a second that Farah won't return to fully and aggressively hating gays as soon as his political agenda permits.
Posted by Terry K. at 12:28 AM EDT
Updated: Monday, June 13, 2016 12:32 AM EDT