The MRC's Jeffrey Lord Problem
Topic: Media Research Center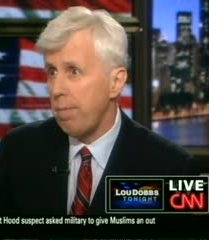 Since April 2014, the American Spectator's Jeffrey Lord has been a contributing writer to the Media Research Center's NewsBusters blog, which has resulted in a lot of nonsense and misinformation being contributed to NewsBusters.
Now Lord's nonsense has gotten dangerous, in the form of defending the indefensible -- Donald Trump's race-baiting attacks on a judge presiding over a class-action lawsuit against the shady Trump University. A few days ago, Lord actually spent 20 minutes on CNN defending it -- laughably insisting that Trump was calling out racism, not engaging in it, by attacking Judge Gonzalo Curiel's ethnicity -- as both liberal and conservative co-panelists and even host Anderson Cooper repeatedly beat down his Trump-defending arguments. Commentators from across the political spectrum mocked and denounced Lord's absurdist defense of Trump.
Lord actually previewed this defense of Trump in his June 4 NewsBusters column, in which he asserted without evidence that Curiel was "injecting ethnicity into the legal profession" because he belongs to a group for Latino lawyers. "Is it any wonder that Donald Trump suspects that his political opinions on illegal immigration are influencing Judge Curiel - a judge who quite voluntarily belongs to a group devoted not to promoting San Diego lawyers but San Diego lawyers based on their heritage?" he deciared. (By the way, that legal group Lord is attacking is merely "a pretty typical professional group that promotes diversity and Latino empowerment in the legal community" and "a conventional professional organization.")
Despite the fact that Lord's CNN debacle and the aggressive Trump sycophancy that drives it should cause a re-evaluation of his status as a NewsBusters contributor, the MRC has been silent aboutit, to the point that the existence of the CNN segment has never been ackowledged on its websites.
Lord's column usually appears on weekends, so we'll keep an eye out for whether he gets to contribute another one.
Posted by Terry K. at 3:36 PM EDT