WND Plays With Numbers To Pretend Anti-Boehner Campaign Is Successful
Topic: WorldNetDaily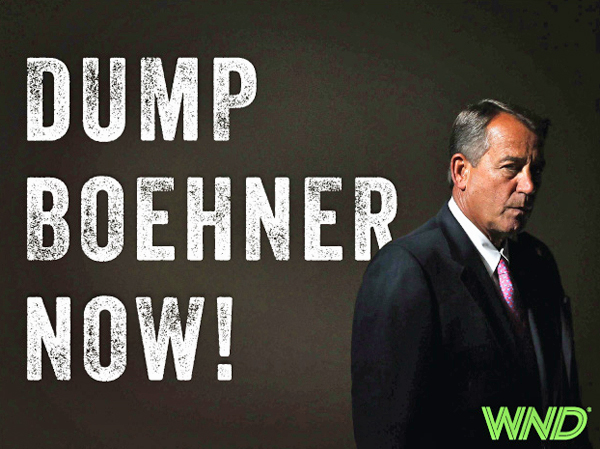 Joseph Farah's money-making operation to remove John Boehner from the House speaker position is going ridiculously well, if you believe WorldNetDaily's propaganda:
A pile of letters as tall as an 11-story building has been prepared for delivery to GOP House members when they convene in January, urging them to remove Speaker John Boehner from leadership, just as a retiring congresswoman is calling on her former colleagues to "draw the line" with President Obama.

Only three days after the launch of the "Don't be Yellow: Dump Boehner Now Campaign," more than 350,000 letters have been ordered.

At about two inches per 500-page ream, that's a pile almost 117 feet tall – all to get the attention of GOP members who have it within their power to pick new leadership for the House and Senate for the next two years.
But, as on previous Farah for-profit activism efforts, a closer look at the numbers shows it isn't nearly as successful or impactful as WND wants you to believe.
WND's playing up of the total number of letters obscures the actual amount of people taking part. Divide 350,000 letters by the 246 Republican House members who will receive them, and you get approximately 1,422 people who have paid WND $29.95 for the privilege of sending those letters.
Add up those numbers, and WND has seen more than $42,000 in gross revenue from this operation. It will not cost WND anywhere near that much to print and send those letters, resulting in a healthy profit for WND.
WND is sending those letters in bulk to the House Republicans, which saves money. A typical box of paper holds 10 reams, or 10,000 pages. At this point, House Republicans will receive only about three reams worth of letters -- less than half a box.
WND's manipulation of numbers lets Farah pretend he's a political player, and let someone else pay for his activism in the process.
Posted by Terry K. at 11:00 AM EST
Updated: Friday, December 19, 2014 11:09 AM EST