WND Won't Guarantee Anti-Boehner Letters Will Arrive Before Vote
Topic: WorldNetDaily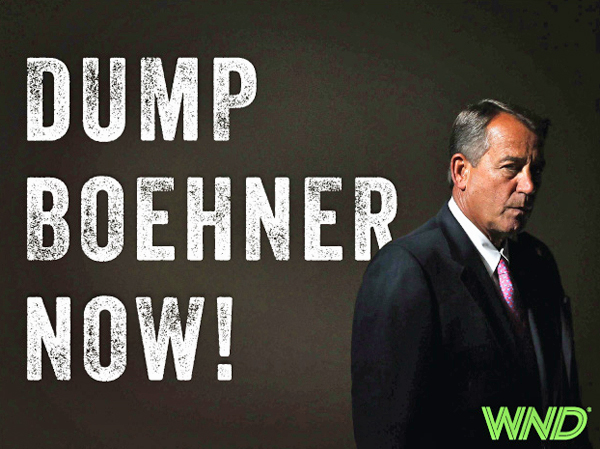 WorldNetDaily keeps tooting its own horn about its paid anti-Boehner propaganda effort in a Jan. 5 article:
The campaign that allows voters to tell their representatives in the U.S. House they should find another speaker for the coming session of Congress, and "Dump Boehner," already has generated 560,000 letters – or a stack that will be nearly 19 stories tall on delivery.

The vote for a new House speaker is expected as early as Tuesday, and while not all of the messages will arrive by that time, the feeling across America will be more than clear, according to the organizer of the campaign.

"Republican House members should know that, as of today, 560,000 letters have been generated in the 'Don't Be Yellow: Dump Boehner Now!' campaign," said Joseph Farah.

"Unfortunately, they won't all arrive before Tuesday's vote. However, if Boehner wins the speakership, the campaign will continue, since the House can hold a no-confidence vote on the speaker at any time while in session. So Boehner won't be out of the woods if he survives Tuesday's challenge."
As we've detailed, the numbers WND is forwarding obscure the important -- and less impressive -- numbers actually involved. All that has happened is that WND has convinced 2,267 of its readers (560,000 divided by the 247 GOP House members who will get spammed with WND's letters) to part with $29.95 of their hard-earned money. That's not only an insignificant fraction of Americans, it's a tiny fraction of the readership WND claims.
More importantly, WND has grossed more than $67,000 from this venture, only a small fraction of which will be spent delivering those letters to the House members. The letters account for less than five reams of paper; given that the letters will be delivered in bulk, not separately, it's a much less impressive impact. All that has actually happened is a bump in WND's revenue.
On top of that, WND can't guarantee they all will arrive before the speaker vote? You'd think WND readers would be getting better service for the $29.95 they're spending.
Posted by Terry K. at 9:38 AM EST
Updated: Tuesday, January 6, 2015 9:46 AM EST