Newsmax TV Squabbles With Dish Network Over Carriage
Topic: Newsmax
The recurring battle between TV channels and the cable and satellite companies that carry them has now hit Newsmax.
A June 6 Newsmax article says that Dish Network has dropped Newsmax TV, and Newsmax is responding by askingviewers to "to call DISH and let them know you want Newsmax TV back!"
The article adds its own version of backstory:
We are disappointed by DISH Network's decision to stop carrying Newsmax TV.

By doing so, DISH has closed down an important and independent news voice.

It is unfortunate DISH would make such a move during this critical election period.

Newsmax is one of the most respected online news sources in the nation, reaching approximately 50 million online viewers monthly, according to comScore.

We have been an important source of news about Donald Trump, Hillary Clinton, and much more.

In less than two years, Newsmax TV has become a popular cable news channel – drawing close to 5 million monthly viewers, up from fewer than 500,000 when we launched.

In the past DISH has been forced to remove channels that charge excessive fees that must be passed on to their customers.

We applaud DISH for standing up for their customers – but it is important to remember that Newsmax TV does not charge DISH!

In fact, we financially benefit them and their customers so there are NO pass-along costs!
Actually, that's not quite the full truth. As TVPredictions.com reports, DirecTV continues to carry Newsmax TV, as well as "several small cable and telco TV providers." Plus, it's available streaming online, so the channel hasn't been "closed down" at all.
Further, TV Predictions notes, the real issue seems to be about money. Newsmax pays both Dish and DirecTV to carry Newsmax TV, and "Newsmax has yet to issue a comment on the dispute, but it would appear that Dish is either asking the channel for more money, or Newsmax is seeking carriage now without having to pay any fee."
There may also be the issue of channel placement, given Newsmax's digression into the subject in its article:
When DISH launched Newsmax TV, we were placed among a suite of shopping channels, unrelated to our news content.

Due to this unfair and inappropriate placement, DISH has made it difficult for their subscribers to find Newsmax TV.

Newsmax TV continues to be available on DirecTV 349, Verizon FiOS115, and more than 40 cable systems around the nation — all of which put Newsmax TV in their news channel lineups.
It might help if Newsmax publicly explained exactly why Dish dropped Newsmax and under what terms it would return.
Also of note, Newsmax illustrated its article with this picture: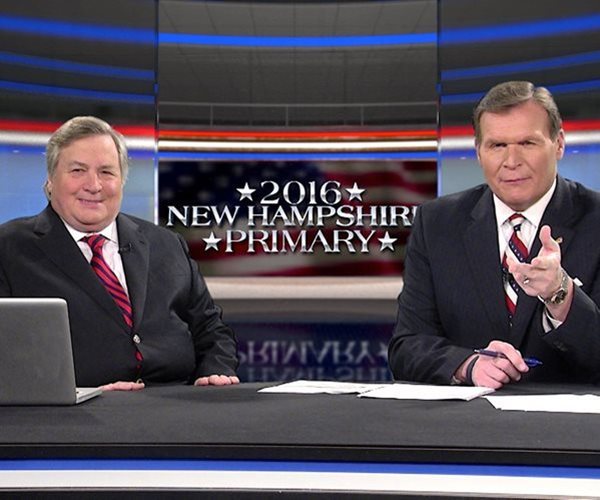 The fellow on the left is Dick Morris, who
just signed on
as a political correspondent with the National Enquirer. (Apparently, all the post-2012
image rehab
Newsmax did for Morris, following a slew of aggressively wrong predictions about the 2012 election, has gone for naught ... or has it?) The Washingtonian
hilariously noted
how Morris claimed he was impressed with the Enquirer's "willingness to tell the truth" ... "But when asked what that 'truth' is, Morris said he wanted out of the interview and ended the call."
You'd think having a top Newsmax analyst also be associated with a dubious tabloid would not exactly make Dish Network terribly eager to keep the channel. Perhaps Newsmax should explain that one too.
Posted by Terry K. at 3:31 PM EDT