WND's Trump Fanfiction Writer
Theodore Roosevelt Malloch manages to liken Donald Trump to God, Jesus and Aristotle -- then claims his fanboyism is "moderate and reasoned."
By Terry Krepel
Posted 6/1/2016
---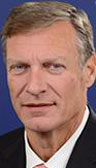 Theodore Roosevelt Malloch
Theodore Roosevelt Malloch, as the name suggests, claims to be a descendant of Theodore Roosevelt (and is apparently better known as just plain Ted when he's not plying his lineage) and former self-proclaimed "global insider" who used to work with the group that puts on the annual meetings of the world's elite at Davos, Switzerland. He's also apparently given up that sort of thing and joined forces with the anti-elitist WorldNetDaily, which published his new book bashing the whole Davos thing.

Malloch is also a huge Donald Trump fanboy, and WND is giving him a platform to let his Trump flag fly. His Jan. 28 column was pure fanfiction:
It is not too early, now that he is sweeping the electorate, to ask the not altogether unrealistic question: what exactly would a Trump government do, first? Imagine this creation narrative. In the Beginning...

On the first day the new president – in a year's time, after his swearing in – would do the three things he promised he would do immediately: end ALL of Obama's executive orders, stop Obamacare and institute Health Savings Accounts, and cut the head off of the snake called ISIS. In other words, from Day 1 we would have an acting president, again. His concrete plan to defeat, not just contain, the caliphate in Syria would be unleashed in a reign of power coordinated with many other willing partners. It will be called Operation Roaring Lion (borrowed from Hosea 11:10), and its objective will be a quick (one month) end to that plague.

Day 2 would see the complete emasculation of all the costly and nonsensical laws and regulations that impale Americans and their business opportunities. The day would also see a drop in the corporate tax rate to the lowest level in decades. Trump would then stop corporate inversion and bring back over a trillion dollars of American investment from overseas to be invested in new jobs here. Late in the day he would put a shovel in the earth, breaking ground for the new wall on our border with Mexico, to be paid for by a tax on Mexican oil. The wall will be technologically impossible to penetrate. At bedtime he would change America's broken visa immigration program.

[...]

Day 6 will see the end of both the Department of Education and its Common Core, and the curtailment of the EPA. All funding for education will be reallocated to the states. This decentralization and empowerment of people, where they live, will be a continuing theme of Trump's administration as an act of subsidiarity. Private education will be funded at the same level as public education, and parents will be given the freedom of choice.

The country will be turned around in six days.

On the seventh day, as in the biblical Genesis story, after Trump bans late term abortion and defunds Planned Parenthood, the president and the nation will rest. The president will encourage all Americans, as is our tradition, to give thanks to God, ask for forgiveness, be generous and attend the religious institution (or none) of their choosing. Then God blessed the seventh day and made it holy, because on it he rested from all the work of creating that he had done (Genesis 2:3).
Malloch didn't offer evidence that Trump has an actual platform that would back up these claims or detail how exactly he intends to accomplish them as immediately as Malloch longs them to be done -- indeed, in the months since, no platform or concrete action plan has been forthcoming from the Trump campaign.
Malloch toned it down a smidge in his Feb. 5 column, but it's still pretty fanfiction-y:
Trump is a strict constitutionalist and has no expectations to usurp power or to grow the government. To the contrary, he has said he will give more powers and redirect funding to the states and use checks and balances as they were originally conceived. He will limit both his own executive powers and ask Congress and the courts to do the same. In other words, power will be returned "to the people." This is the kernel of Trump's populism, and it is as basic as the Boston Tea Party or the shots fired in Lexington by farmer militiamen.

All said, Trump's government will be smaller, more efficient, more frugal and use management principles and best practices, so as to be more excellent, i.e., we will actually get the services for which our hard-earned tax monies were contributed.

Under Trump, we will see limited government for the first time in 60 years.
Again, Malloch pointed to no position paper or TV appearance in which Trump actually advocates this or explains how he will go about it.
Malloch's fanboyism sounds a lot like circa-2012 Doug Wead, who used to write for Newsmax his enthusiastic support for Ron Paul. Wead is, perhaps unsurprisingly, writing on occasion for WND now, spent part of the Republican presidential primary process slobbering over Rand Paul (for whose campaign he has served as a senior adviser). He also wrote a column on attacks on the spouses of presidential candidates that somehow neglected to mention arguably the most viciously attacked spouse in presidential history, Hillary Clinton.
But Malloch had only just begun to shill for Trump. In his Feb. 10 column, Malloch declared that "Trump is an Aristotelian – perhaps without knowing it." No, really:
What is Trump's Ethos? In other words, what makes him credible? What is his "street cred," in the modern vernacular? You need this to establish a first line of communication, and that has to be believable. Trump 's credibility is tied to his business acumen and success. It helps that he is universally recognizable as the chairman of the board on a popular TV reality show.

What is Trump's Logos? He is employing the means of persuasion by using logic, data and facts to get people to understand the situation we are facing as a country in decline and by saying he, as speaker and potential president, has a sense of reasonableness. How is he demonstrating that he knows what he is talking about and that he is in command of the present political and economic reality? He is doing that by stating figures on where we have gone down the wrong path and how that could be righted.

What is Trump's Pathos? His art of appealing to people's emotions is working. The emotional bond he deploys is captivating audiences as they feel connected both to him as leader and to his message. He is one of them. He gets their predicament. He is able to make voters see he can do something no one else can. Clearly, he is going to do things differently. He gets things done.
So not quite Aristotlean in the great-thinker way -- just that he's able to give a speech competently. If Malloch thinks Trump uses "data and facts" in his speeches, he obviously hasn't heard Trump speak.
In his Feb. 15 column, Malloch insisted that "Donald Trump's campaign remarks about Muslims were both taken out of context and decoupled from a necessary, larger framework" and that "Trump is neither anti-Muslim nor against states with majority Muslim populations." Malloch goes on to give Trump much more credit for having a thought-out plan on Muslims than the guy has actually demonstrated:
Trump understands that Islam is one of the three great Abrahamic faiths and that a minority of its adherents have hijacked Islam for violent political ends. Radical Islamic terrorists are destroying their own culture even as they strike out against everything they hate in Western civilization. The truth is Islam needs to undergo the type of reformation experienced by the other two Abrahamic faiths. Millions of Muslims throughout the world realize that the needed reformation must emanate from within Islam itself, such that it cannot be imposed on Islam from the outside.
On Feb. 23, Malloch touted Trump's appeal to the "white working and middle class," framing it as regular people vs. the elites, and that "What the Trump supporters from the WWMC want is simply restoration of the American dream!" Malloch adds: "The WWMC class needs a voice. Trump is the messenger of this voiceless group." He doesn't mention the irony of a guy who has been the epitome of elitism being the "voice" of anti-elitists.
(Malloch gets some credit for managing not to make his racially charged argument look as nakedly racist as fellow WND columnist and Trump fanboy Kent Bailey did. In his Feb. 22 WND column, Bailey touted Trump as "the tall, blond and Nordic 'warrior extraordinaire'" and "Viking warrior who is simultaneously a rich and powerful celebrity and a vicarious hope for the legions of struggling white guys out there" who "have no protective warrior class to fight for them in the Oval Office, the Congress, or anywhere else in our feminized American society." As a bonus, Bailey complains about "the left's glorification of interracial dating and mixed race marriage" and is particularly upset that black males are allegedly portrayed in the media as "cool, masterful, hypnotically sexual and heroic in capital letters.")
On March 6, Malloch portrayed Trump as a "principled actor" in politics, again ignoring his actual history:
For Trump, to exude confidence not only inspires others to confidence, but becomes a self-fulfilling act. But the truth is that to make America great again, one has to believe that one is a partial expression of that greatness. Trump wants all Americans to be included in that greatness he sees as possible for America, and he dares to extend his reach beyond party, class, race, gender and region.

In this sense Trump has much to share with both Reagan and Lincoln in that all three gentlemen have embraced the highest ideals of our Founding Fathers with the naiveté to believe their destiny was to assist this nation in fulfilling that dream.

In the final analysis, Trump – like Reagan and Lincoln before him – loves America and welcomes the challenge to return this country to the glory our forefathers intended to bequeath to future generations. In the final analysis, Trump can embrace this challenge in this age because he is, after all, an entrepreneur.

A race between Hillary Clinton and Donald Trump will post an unprincipled politician against a principled one – with neither qualifying as political theorists. That much should be clear.
Ignoring reality is the stuff of fanfiction, and Malloch appears to have that down cold. So much so, in fact, that he redefines honesty to fit the notoriously dishonest Trump in his May 2 column:
It is perhaps Orwellian that Trump's truth is at times taken as the opposite.

For Trump is honest beyond all normalcies; at least in the sense in which Obama's/Hillary's Washington culture of deceit and falsehoods has come to define the new norm.

Trump can't help but call it like he sees it. He is not the typical economist or academic pundit, describing things on one hand and then on the other, to make a debating point or cover his a–.

Neither is he the archetypical Democratic politician, constantly lying between his teeth, always telling people what they want to hear.

Rather, Trump embodies the case of an upfront businessperson who tells it like it is, cuts an honest and honorable deal, and then upholds his word in a bond of both legal contractual substance and of philosophical pragmatism. He keeps his word.
Malloch then quotes from Shakespeare as he proclaims Trump to be the most noble person in America: "The closer we come to God's purpose for us, the more satisfied our lives become. Trump realizes this and is himself sacrificing to return America to its original path." He adds: "Trump's noble purpose is aligned with what he says he will do. Trump, in a word, will execute. What he promises will become manifest."
Can't handle criticism
Malloch went to Canada's Regent College to give a speech, and was aghast that some students criticized his Trump fanboyism. As Malloch described it in his April 21 WorldNetDaily column, "I was treated rudely, disregarded and accused of hate."
| | | |
| --- | --- | --- |
| Related articles on ConWebWatch: | | |
| | | |
Fair enough. But then Malloch asserted that he had endeavored to "write the editorials supporting Trump from a moderate and reasoned perspective." He added: "The idea that my editorials on Trump might be fairly argued and moderately written appears to be antithetical to the far-left Bernie socialists, including former weathermen and now the overtly aggressive Black Lives Matter radicals who populate today's protest marches, mixed together with anarchists from the Occupy movements, as well as those being paid by wealthy socialist forces like Soros to disrupt free speech and cause harm to the very fabric of civility."

Yes, Malloch really is claiming his Trump fanboyism -- which, again, imagining Trump's first six days in office would parallel that of God's first days of creation and likening Trump to Aristotle -- is "moderate and reasoned" and "fairly argued."

Malloch went on to sneer at the name of the college's newspaper, noting that it is "named "&c," whatever that means." Well, it's an alternate rendering of "et cetera," something you'd think a guy with a doctorate and enough pretentiousness to insist on being called by his entire full name, two of which belong to another man to whom he may or may not be descended from, would know.

Malloch then took potshots at the entire country of Canada in apparent revenge for being treated so rudely there:
Trump supporters agree America is not a sovereign nation as long as the southern border with Mexico is left open and largely unguarded.

This is why in the United States we have 12 million illegal immigrants and more on the way, not to mention a drug war.

Would Canada allow such a travesty?

[...]

Trump may better be portrayed as a gladiator in the arena who will fight for the common person, who will defend freedom, who will build and rebuild American infrastructure and who will in his own theme: Make America Great Again.

Is this unappealing to Canadians and others who for decades have depended on American largesse, on our military shield, on our nuclear deterrence, on our charity, on our economic engine of growth?
Malloch also serves up some of that so-called "moderate and reasoned" Trump fanboyism. He stated that "Trump has made it clear he intends to defend the national interest to bring jobs back by negotiating better trade deals," then adds: "Isn't that what Americans expect of a leader? Is it authoritarian or hateful to suggest and enforce real policies, or is it the responsibility of a leader who truly wants to serve his people? In the great tradition of Western civilization, the notion of a servant leader, expressed in Christ, is a model to follow and uphold not decry."
Yep, Malloch really is suggesting the thrice-married Trump is Christ-like.
Malloch concluded by whining about "students who appear to hate Trump as much as they hate the idea of a traditionally moral Christian America dedicated, as our Founding Fathers understood, to Christian morals that supported profitable business founded with an understanding of spiritual capital."
Yeah, that massive logical leap was totally moderate and reasoned.
As much as Malloch is touchy about criticism a la WND editor Joseph Farah, he's just as self-aggrandizing. In a May 10 column, he reviewed potential vice presidential candidates for Trump and humbly offered himself up:
THEODORE ROOSEVELT MALLOCH, Republican extraordinaire, Oxford professor, Ph.D., best-selling author, earliest Trump supporter (see: WND archive), international political economist of some renown, accomplished corporate strategist, served on dozens of boards, held ambassadorial position for President Reagan in the U.N., worked in the State Department and in the U.S. Senate. No skeletons, great namesake and very good-looking.

Odds: out of the park
Malloch could be joking here, but it's hard to tell. He does pompously invoke a dead president's name as part of his own, after all, which means he's certainly pompous enough to seriously think of himself as vice-presidential timber.
The latest from