CNS Columnist Takes A Dig At 'Hitlery," For Some Reason
Topic: CNSNews.com
The Media Research Center is picking up yet another WorldNetDaily trait: columnists who save their really crazy, hateful stuff for other outlets.
Eric Metaxas is a regular columnist for the MRC's "news" outlet CNSNews.com and author of a book on anti-Nazi spy Dietrich Bonhoeffer whose main gig is hosting the radio show "BreakPoint," succeeding the late Watergate felon-turned-Christian Charles Colson. He usually serves up conservative Christian homilies in line with the bias of CNS management.
But last month (h/t Warren Throckmorton), Metaxas tweeted out a little poll: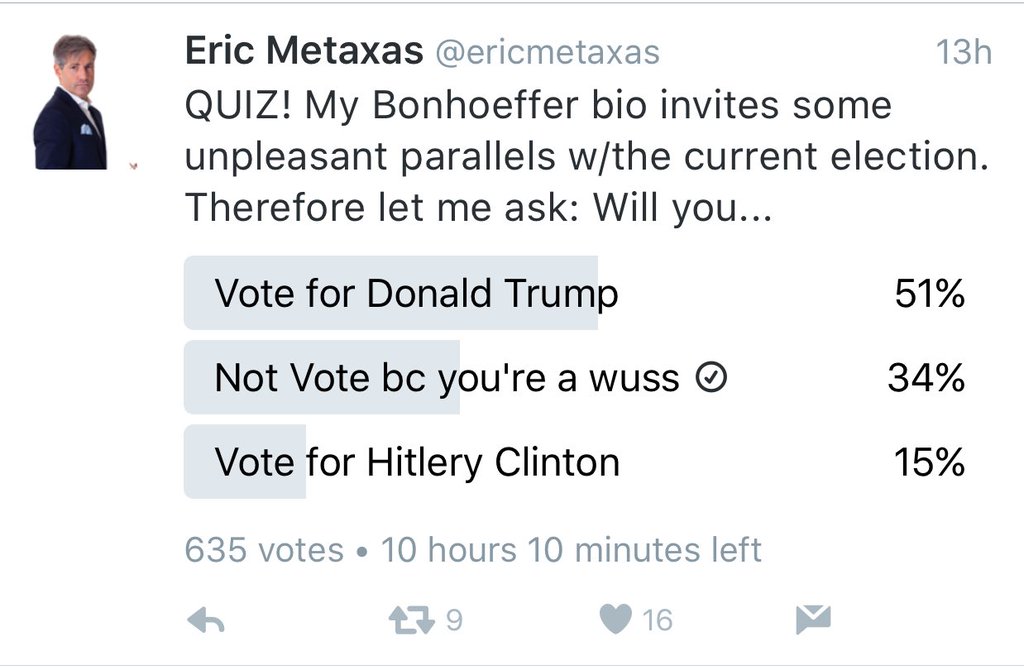 Yep, in true WND-emulating style, he referred to Hillary Clinton as "Hitlery" and suggests that Trump is somehow not the ideological demagogue making Nazi-esque appeals to nationalism and against foreigners.
Metaxas later claimed the poll was a joke, and also "complex teasing sarcasm humor." He seems not to be aware that there are a surprisingly amount of people -- check the comments section of any right-wing political site -- who use "Hitlery" unironically, not to mention folks like Don Feder, who CNS uncritically promoted last year.
Posted by Terry K. at 4:56 PM EDT
Updated: Sunday, June 5, 2016 8:29 PM EDT