WND Announces Anti-Hillary Witch Hunt
Topic: WorldNetDaily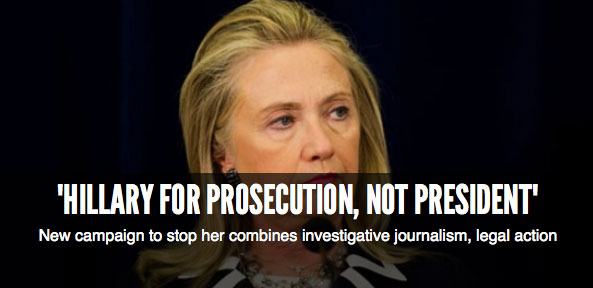 WorldNetDaily made the big announcement on Dec. 9:
With the possibility fading of Barack Obama's Justice Department prosecuting the inevitable Democratic Party presidential nominee, a new independent campaign has arisen to expose Hillary Clinton's criminal actions and prosecute her at the state level.

It's called the Hillary Clinton Investigative Justice Project, and it was conceived by two veteran investigative journalists who plan to take their findings to state attorneys general in jurisdictions in which the nonprofit, tax-exempt Clinton Family Foundation does business.

"The Clinton Family Foundation is effectively a criminal, money-laundering operation principally established to enrich the founders with political payoff money, including millions from foreign donors," said Joseph Farah, founder and chief executive officer of WND. "It's a racketeering enterprise protected by the Democratic Party dons – including the president of the United States and his attorney general."

Farah and WND senior staff writer Jerome Corsi, a two-time No. 1 New York Times bestselling author, have teamed up with the express purpose of bringing the Clintons to justice. Farah and Corsi have been investigating and reporting on the Clintons for 23 years.
Farah and Corsi calling themselves "veteran investigative journalists" is vastly overstating their expertise. Farah and Corsi have been the leaders in promoting the Obama birth certificate and eligibility conspiracy theories, which have been repeatedly discredited (not that they will ever admit it or tell their readers the truth).
On top of that, both Farah and Corsi are documented liars, making anything they have to report highly suspect -- WND is arguably the most dishonest "news" organization in America, after all.
WND makes clear later in the article that this isn't a "project" but, rather, a witch hunt:
"The project is an effort by WND and its dedicated investigative reporting team, private investigators, judicial watchdogs, state officials and attorneys who recognize it's not enough just to document Clinton crimes, but to bring them to the attention of prosecutors who will bring them to justice before she can even accept the nomination of the Democratic Party for the presidency of the United States," says Corsi. "We need help to hire the private investigators needed to prove that Bill and Hillary Clinton, along with a cadre of close associates, have used the Clinton Foundation to be a personal piggy bank, in complete disregard of state and federal laws that strictly prohibit what is known as 'inurement,' the crime of using a tax-exempt foundation to defraud charitable donors so their contributions can be diverted to personal use."

All it will take to close down the Clinton Foundation is one or more state attorneys general who develop the investigative proof the Clintons have violated with impunity laws regarding the filing of the audited financial statements and regulatory reports needed to prove a charitable foundation is being run honestly, Corsi adds.

A state attorney general, armed with proof and a well-crafted criminal complaint, can get from a state judge a temporary restraining order that would shut down the Clinton Foundation, replacing the board and officers with qualified individuals appointed by the court.

In addition to hiring private investigators, attorneys are needed to draft and file criminal complaints with attorneys general in states throughout the nation.
It's kind of cute how WND is portraying Farah and Corsi's witch hunt as an "independent campaign." By declaring they intend to destroy the presumptive Democratic presidential nominee, they are effectively on the payroll of the Republican Party, as well as whoever wins the Republican nomination.
Corsi is also quoted as saying that "I have teamed up with Wall Street analyst and investor Charles Ortel to expand the series of articles we have been writing in WND.com on the Clinton Foundation scandals." But the fact that Ortel is teaming up with the dishonest likes of Corsi and WND tells you all you need to know about the quality of the so-called evidence he has.
And, of course, it wouldn't be WND if it was begging readers to pony up to fund the witch hunt, declaring that "Fund will be used to hire legal talent, private investigators and pay expenses for continued investigative reporting efforts." They add, "Those who contribute $5 or more to this fund will be provided regular insider updates on the progress of the campaign." Just $5? That's it? Sounds a little desperate.
Remember what happened the last time Farah begged for money to fund his political causes -- in this case a super PAC to benefit right-wing candidates in the 2014 midterm elections. It raised a pittance, much of it from WND itself, and nearly all of the money went to advisers and administrative expenses and none was spent on candidates. Presumably those "insider updates" won't include updates on how their money is being spent.
So two utterly dishonest people want us to believe any hateful thing they write about Hillary Clinton in the next year, and they want us to fund their dishonest misadventures even though previous fundraising campaigns have lacked transparency or accountability, while not putting their own skin in the game.
In other words, it's just another day at WND.
Posted by Terry K. at 8:45 AM EST