WND's Corsi Tries To Discredit Trump U. Lawsuit By Claming Link to Convicted Felon (Like WND Has)
Topic: WorldNetDaily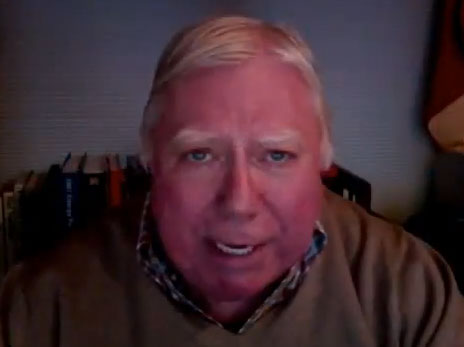 WorldNetDaily's Jerome Corsi is spinning extra hard to divert attention from the Trump University fraud lawsuit by bringing up irrelevant issues (which, of course, means we could make the assumption that this means the lawsuit has merit). He has brought up that the law firm representing the plaintiffs in the case have paid for speeches from the Clintons (which occurred before Trump announced his presidential campaign) and that Bill Clinton took money from a for-profit university company (but provides no evidence that Clinton's image was used to entice students to enroll or had the school named after him, as is the case with Trump University).
And then there's this attempt from Corsi, in a June 2 article:
The law firm suing Trump University was founded by a wealthy San Diego lawyer with close ties to the Clintons who served a two-year sentence in federal prison for his role in a kickback scheme to mobilize plaintiffs for class-action lawsuits.

William Lerach, best known for winning more than $7 billion in legal settlements of a class action suit he brought against Enron, was found guilty in 2007 of a kickback scheme in which he his firm used intermediaries to pay clients with large stock portfolios a percentage of the law firm's $11.3 million profits for agreeing to be plaintiffs in 225 class action and shareholder lawsuits, spanning the period 1979 to 2005.
Hey, Jerome, you know who else has a company co-founder who's a convicted felon?
That would be WND.
Robert Beale was an early investor in WND, as well as one likely reason his son (Theodore Beale, aka Vox Day) got a longtime columnist gig there. He's currently a convicted felon currently in prison for tax evasion. He failed to show up for his trial, going on the lam for more than a year. He then was charged with conspiring to stop his trial by arresting the judge on bogus sovereign citizen-style charges (which kinda looked like kidnapping). He was sentenced to 11 years in prison for tax evasion, plus another four years for conspiring against the judge.
If a class-action lawsuit against Trump should be disregarded because someone once involved in the company is a convicted felon, why can't we say the same thing about the least credible "news" organization in America?
Posted by Terry K. at 12:44 AM EDT