WND's Farah Obsessively Speculates Whether Obama Will Leave Office In 2017
Topic: WorldNetDaily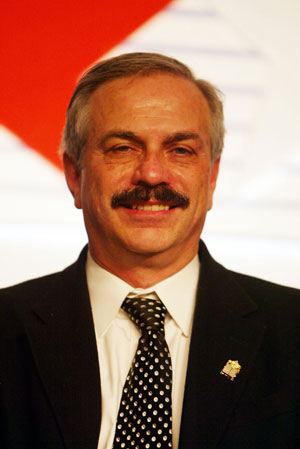 President Obama is living rent-free inside Joseph Farah's head.
That's been true for years. of course -- how else could he use his WorldNetDaily to perpetuate false birther conspiracies? -- but it has become especially apparent over the past week, in which Farah has written not one, not two, but three columns devoted to speculating whether Obama will voluntarily leave office when his term ends in January 2017.
Farah kicked off his baseless frenzy of speculation in his March 5 WND column, declaring that Obama "respects neither the law nor the American tradition of peaceful changes of power" and, thus, might refuse to leave the White House when his term ends. Farah huffed; "Again, do I think Obama will leave office in January 2017? Yes I do. But, with a track record like this – and, actually much worse – should we simply take it for granted?"
Farah followed up in his March 8 column, upset that Right Wing Watch highlighted his earlier column but proud that his buddy Rush Limbaugh enthustiastically endorsed his speculation. He continued to rant:
There's simply no organized opposition to Obama's illegal, criminal actions and behavior. He's getting away with all of it. There are no serious repercussions. No political price. No major media opposition. Few judicial rulings that worry him. Not one political, religious or social institution that is holding him accountable – least of all the Republican Party.

A handful of vocal critics on the Internet and talk radio point out his violations of the law, American tradition, the concept of constitutionally limited government with a system of checks and balance, not to mention decency and basic morality. But there is no operating political mechanism to stop him from doing anything and everything he wants to do.
Yet Farah wasn't done speculating. His March 10 column invented an excuse why Obama would want to stay -- free vacations:
How many vacations have you taken in the last six years?

Have you taken six?

I doubt most Americans have been able to do that. For families, it might be even tougher.

Do you know how many Barack Obama has taken?

38.

That's right. That's more than six vacations per year – all expenses paid by you the taxpayer. And these are not your routine week-at-the-beach excursions. These would almost all be vacations of a lifetime for even very wealthy Americans. He and the first family, God love them, are living it up on your dime.

[...]

No doubt Obama will be in a position to make lots of money after the presidency, whenever he decides to end it. But it's hard to imagine him enjoying six all-expense-paid vacations every year at his venue of choice. Not too many people live that kind of life – even with the "endowments" recent past presidents often get from their oil baron friends in the Middle East.

Do you think Obama's about to give that up and move out of the White House to make room for Hillary Clinton?

I don't know. The more I think about it, the less convinced I am.
Farah seems to have overlooked the fact that as of the same point in their presidencies, George W. Bush had taken more than three times as many vacation days as Obama has. Yet we don't recall Farah ever complaining about the amount of vacation time Bush took.
Yep, Obama's living rent-free in Farah's head. And it must kill Farah to know that -- after all, he destroyed what little journalistic reputation WND had with his obsessive drive to personally destroy the president.
Yet after all this time and the destruction of his own reputation, Farah just can't evict the president from his head. Sad, isn't it?
Posted by Terry K. at 1:06 AM EDT