The Dick Morris Rehabilitation Project
After the right-wing pundit flamed out spectacularly with his chronically wrong predictions on Fox News, Morris continues to have a home at Newsmax, where he remains as wrong as ever.
By Terry Krepel
Posted 5/8/2014
---
Newsmax has had a history with right-wing strategist Dick Morris dating back to 2002, when he was first hired as a columnist. The relationship between the two was heavily intertwined after that:

So when Morris flamed out spectacularly with an even worse than usual record of prognostication during the 2012 elections -- declaring that Mitt Romney would win in a landslide and Republicans would take control of the Senate -- you knew Newsmax wasn't going to abandon him.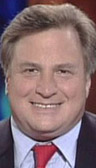 Dick Morris
In other words: It was time for another of Newsmax's image rehabilitation projects. Bernard Kerik and Ralph Reed were among the previous beneficiaries, and Morris

When Morris made his first post-election media appearance on CNN in February 2013, Newsmax touted the heck out of it. A Feb. 5 article by Bill Green breathlessly declared that "all eyes are turning to Morris' upcoming appearance on CNN Wednesday night," where he will "discuss his mysterious disappearance from Fox since shortly after last November's election." (The fawning language was later removed from the article.) Of course, there was nothing "mysterious" about Morris disappearing from Fox, but Allen made no mention of Morris' abysmal punditry.

The following day, a Newsmax article by Todd Beamon on the CNN appearance kept up the fawning, calling Morris a "leading political analyst and best-selling author" and noted that he "defended his record of political predictions" and that "He also noted his long track record of electoral successes as a campaign strategist electing two U.S. presidents and 14 heads of state around the world, including Bill Clinton's surprise comeback re-election in 1996."

Actually, as Slate's David Weigel detailed in a fact-check of the interview, Morris did not guide Clinton's 1996 re-election because he was ousted from the campaign two months before the election because of his infamous toe-sucking prostitution scandal.

Beamon couldn't be bothered to do any basic fact-checking; instead, he did make sure to now that Morris is "popular" and "appear[ed] relaxed in a sports jacket and an open-collared Oxford shirt."

A few days later, Morris was back to what he knows best: shilling for Newsmax. A Feb. 11 article featured Morris' "special video commentary" promoting the "Obamacare Survival Guide." Morris asserts, "It is not political or partisan. It doesn't discuss fairness. It is a practical guide to how to survive this new health care law. You must get it to protect your family."

That, of course, is false. As Publishers Weekly stated, the book is "boldly one-sided" and "lobs stink bombs from the start at president Obama and the Democratic Party." Needless to say, Morris also fails to mention that the book is published by Newsmax.

Morris followed up with a column waxing even more effusively over the book:
So often, books are called "must read." The ObamaCare Survival Guide is only a must read if you think you will ever get sick!

Obamacare changes the rules of the game totally. I fought this law tooth and nail along with a lot of you. But it's the law now and Obama's victory assures that we are not going to be able to repeal it anytime soon. So this book teaches you how to live with it and make it give you the best health care you can get.

[...]

Thank the Lord that there is now a non-partisan, non-political book that explains all this in terms we can all understand. Get a copy. It is truly a survival guide.
Again, there was no mention that the book is published by the same company that manages Morris' mailing list.
More promotion, more predictions
Newsmax gave Morris even more promotion:
A March 2013 article by Bill Hoffmann stated that Morris, appearing on Steve Malzberg's Newsmax-operated web/radio show, says we should trust Bob Woodward says about having supposedly been threatened by an Obama administration official. But this ended up being another example of Morris' inverse relationship with the truth: The emails of the actual conversation between Woodward and the administration official conclusively demonstrate that there was no threat, and even other conservatives have backed away from Woodward.
An April 2013 Newsmax article by Jim Meyers fawned over Morris' new radio show in Philadelphia. Meyers stuck to press-release boilerplate, mindlessly spouting things like "Morris, once called 'the most influential private citizen in America' by Time magazine, is a former Fox News commentator and adviser to President Bill Clinton." No mention, of course, that the reason Morris is a former Fox News commentator is because of his abysmal record of punditry, or that Morris' purported status as "the most influential private citizen in America" was granted shortly before he resigned in disgrace from Bill Clinton's re-election campaign for dalliances with a call girl.
Morris was granted a June 2013 column to rant about the NSA surveillance scandal.
Then, Newsmax didn't do much with Morris for a while. Then, Newsmax gave him a Dec. 15 column bashing John Boehner's criticism of conservatives, calling them "shortsighted and ungrateful in the extreme" and that they "cast real doubt on his ability to lead the House in the future." Needless to say, Boehner has remained the House Republican leader since then.
In January, Newsmax trotted out Morris to opine on the Chris Christie bridge scandal, calling his position "increasingly difficult to defend" and that "It is just too facile to take at face value his claim to absolute innocence." Again, Christie has been weathering the storm so far.
On April 30, Morris got column space to explain how Rick Perry can make a presidential run in 2016. And on May 8, Morris jumped on the right-wing media's Benghazi bandwagon, obsessing over talking points. Given Morris' track record, we can probably assume that Perry won't be president and that Benghazi is about to fizzle as a Republican cause.
Morris' new crusade
In April, Morris found a new crusade: a plan to move away from the Electoral College and toward a popular vote to elect the president as a scheme to elect Republicans. Such a plan, Morris asserted in an April 15 column, means that Democratic "big city machines can do their thing -- with devastating impact," adding, "And think of the chances for voter fraud!"
| | | |
| --- | --- | --- |
| Related article on ConWebWatch: | | |
| | | |
This was followed by an April 20 article by Todd Beamon claiming that "Conservatives and leading liberals slammed the campaign to effectively end the Electoral College's role in presidential elections, saying that the National Popular Vote Compact Law circumvents the Constitution, saying it resembled President Barack Obama's abuse of the law through his extensive use of executive orders." Beamon added that Morris "charged in an exclusive Newsmax column that the effort is ripe for voter fraud and would guarantee that Democrats win the White House every four years."

But we don't recall Morris having anything to say about a Republican attempt to change the Electoral College. Last year, Republicans in Pennsylvania tried to change the electoral vote there from a winner-take-all system to one apportioned by the vote in congressional districts, which would create more Republican electoral votes.

So it looks like Newsmax and Morris will remain heterosexual and political life partners.