Still More Catholic Than The Pope
The uber-Catholics who ran CNSNews.com continued to lash out at anyone -- even Pope Francis -- it deemed not to be right-wing enough or who failed to sufficiently hate LGBT people.
By Terry Krepel
Posted 5/22/2023
---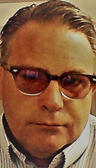 Michael W. Chapman
Because the people who ran CNSNews.com liked to consider themselves more Catholic than the pope, they insisted on injecting their opinions onto all things Catholic. For example, editor Terry Jeffrey's Oct. 12 column cheered the spread of Catholic hospitals that refuse to do abortions, offer care for miscarriages and ectopic pregnancies or perform sterilizations or tubal ligations following a Washington Post report on it:
If you or a loved one were being admitted to a hospital, would you want it to be managed and staffed by individuals who "respect the sacredness of every human life from the moment of conception until death"? Or would you want it managed and staffed by individuals who do not?

Because the respect for human life articulated in the USCCB's "Ethical and Religious Directives for Catholic Health Care Services" does in fact derive ultimately from the natural law, this respect for human life was expressly embraced by ethical doctors in the era before Christ.

[...]

Should Catholic hospitals be forced to act contrary to Catholic teaching?

"For those communities where patients have no other option besides a Catholic hospital, the federal designation of 'sole community hospital,' which carries with it supplemental funding, should include stronger requirements to ensure that patients are informed about where to obtain needed services and aided in obtaining those services," says the report.

"In emergency situations, sole community hospitals should be expected to provide the needed care," it says.

The battle over freedom of conscience is nowhere near over in this country.
Jeffrey didn't explain how "freedom of conscience" forbids a Catholic hospital from treating a miscarriage or ectopic pregnancy, allowing the woman to die or be severely injured in the process.
An anonymously written Oct. 17 "news" article, meanwhile, complained that a White House gathering on reproductive rights included students from Catholic colleges:
Vice President Kamala Harris met with 75 "student leaders" from 66 colleges and universities on Friday "to discuss the fight to protect reproductive rights."

The group of students included representatives from three Catholic colleges.

These were Emmanuel College in Boston, Xavier University of Louisiana, and Georgetown University in Washington, D.C.

Emmanuel's website describes it as "a Catholic, coeducational, residential, liberals arts and sciences college in Boston" that was "[f]ounded in 1919 by the Sisters of Notre Dame de Namur as the first Catholic college for women in New England."

Xavier University of Louisiana says on its website that it is "the nation's only Catholic and historically black university" and "was founded by a white nun who was determined to admit students of all faiths and races."

Georgetown's website says: "Georgetown University is the oldest Catholic and Jesuit institution of higher learning in the United States. John Carroll's founding of Georgetown College coincides with the birth of our nation."
CNS seemed to be upset that these students apparently haven't been indoctrinated hard enough, or something. This article was something of an echo of a Sept. 15 column by dishonest Catholic Bill Donohue, who complained that Catholic colleges don't hate LGBT students enough.
Hating the pope for not hating LGBT people
When Pope Emeritus Benedict died at the end of December, CNS cranked up respectful tributes for a former pope whose views aligned with its own right-wing takes:
But CNS being CNS, it couldn't keep its right-wing bias from influencing its "news" coverage. When President Biden issued a statement on Benedict's death, an anonymously written Jan. 4 article complained that Biden noted that Benedict had "a more conservative view" of the Catholic church than he did.
By contrast, the boys who run CNS love right-wing Catholicism and hate liberal Catholicism, and they consider themselves more Catholic than the pope when that pope is a non-conservative one like Francis. Intern Peyton Holliday seemed perturbed in an Oct. 11 article noting that "In his Sunday sermon at the Vatican, Oct. 9, Pope Francis drew a parallel between between lepors who were shunned by society in Jesus's time and illegal immigrants flooding Europe, saying the exclusion of the migrants today is 'sinful and criminal,' and they are being sent away 'to camps, where they are exploited and sold like slaves.'"
When Francis stated in January that while homosexuality is a sin, it shouldn't be considered a crime, an anonymously written Jan. 25 article whined that a news article emphasized the "not a crime" part and not the "is a sin" part:
In an interview this week with the Associated Press, Pope Francis reiterated the Catholic position that homosexual behavior is a sin.

The Associated Press published the pope's statement in an article that carried the headline: "The AP Interview: Pope says homosexuality not a crime."

The first two paragraphs of the AP story said: "Pope Francis criticized laws that criminalize homosexuality as 'unjust,' saying God loves all his children just as they are and called on Catholic bishops who support the laws to welcome LGBTQ people into the church."

The story continued: "'Being homosexual isn't a crime,' Francis said during an exclusive interview Tuesday with the Associated Press."

Sixteen paragraphs into its story, the Associated Press reported the following:

"On Tuesday, Francis said there needed to be a distinction between a crime and a sin with regard to homosexuality.

"'It's not a crime. Yes, but it's a sin,' he said. 'Fine, but first let's distinguish between a sin and a crime.'"
The anonymous writer went on to emphasize that The Catechism of the Catholic Church says that homosexual acts are 'intrinsically disordered'" -- but he or she didn't explain why that meant homosexuality must be made illegal.
For a Feb. 1 article, managing editor Michael W. Chapman found a foreign official who cheerfully criminalizes homosexuality in a weird attempt to own the pope, or something:
Pope Francis recently said that homosexual activity is "not a crime" but it is "a sin," a claim that South Sudan Minister of Information Michael Makuei rejected, stressing that "God was not mistaken" and that in his country so-called gay marriage "is a crime, is a constitutional crime."

Pope Francis is scheduled to visit South Sudan on Feb. 3. In that East African state, sodomy (defined as anal sex between men or men and women) is illegal, as is same-sex marriage. Sodomy is punishable by up to seven years in prison and, after a third offense, life in prison.

[...]

After a cabinet meeting on Jan. 27, Information Minsiter Makuei spoke with the media. As reported by Radio Tamazuj, he said, "If he [Pope Francis] is coming here and he tells us that marriage of the same sex, homosexuality is legal, we will say no. But this is not what he is coming for."

Makuei further said, "God was not mistaken. He created man and woman and he told them to marry one another and go and fill the world. Do same-sex partners give birth?"

"Our constitution is very clear and says marriage is between the opposite sex and any same-sex marriage is a crime, is a constitutional crime," said the Information Minister.
Chapman didn't mention that Makuei Lueth -- his full name -- has been sanctioned by the U.S. and the United Kingdom for obstructing the peace process in South Sudan. He was also dismissive of the death of a U.S.-British journalist covering unrest in the country, smearing him as a "white rebel." So may be he's not the best person to oppose the pope.
Instead, Chapman spent the rest of the article recalling the good ol' days when everyone hated gay people: "Up until the early 1960s, nearly every state in the U.S. had laws against sodomy, and when the Lawrence v. Texas case was decided (6-3) by the Supreme Court in 2003 those laws were invalidated in every state and territory."
For a Feb. 3 article, Chapman found a right-wing priest here at home to demand that gay people be imprisoned to teach them a lesson about morality:
Fr. Gerald Murray, a priest with the Archdiocese of New York and a frequent contributor on EWTN, strongly criticized Pope Francis's recent remarks about homosexuality as confusing and contrary to Church teaching in some respects. He also said the Pope, "unfortunately," is "becoming an advocate of decriminalization of anti-sodomy laws."

[...]

In reference to the Pope's interview, Fr. Murray said, "Now, laws against sodomy are designed to warn people not to commit that sin and to protect society where, if that sin were tolerated, it might become more widespread. The story of Sodom and Gomorrah in the Bible is a warning to us."

"The Pope, unfortunately, is becoming an advocate of decriminalization of anti-sodomy laws," said Murray. "And it's hard to believe we would say that."
CNS didn't mention that following his visit to Africa, Francis joined with leaders of other Christian congregations in denouncing laws punishing homosexuality. Rather, Chapman found another right-wing Catholic group to bash the pope for a Feb. 9 article:
Pope Francis' recent remarks to the Associated Press that homosexual behavior is "not a crime" but "is a sin" were strongly condemned by the Catholic Action League of Massachusetts because they "will confuse and mislead the faithful" and be presented by the liberal media as "papal affirmation of same-sex relations and the LGBTQ identity."

[...]

The Catholic Action League of Massachusetts in a press release said the Pope's remarks constitute "a major victory for the homosexual movement, which will be presented to public opinion as papal affirmation of same sex relations and the LGBTQ identity."

"The scandalous, improvident, and un-Catholic remarks of Pope Francis will confuse and mislead the faithful, empower and embolden the opponents of Christian morality, and demoralize and marginalize its defenders," said League Executive Director C.J. Doyle.

"These remarks will, in the long term, have significant adverse effects on the struggle to preserve what remains of moral sanity in Western society and to protect the already circumscribed rights of religious believers," added Doyle.

[...]

What the Pope said "repudiates 1,700 years of Christian legal principles," said Doyle. "Beginning in the fourth century AD, all Christian legal traditions---Roman Law, Canon Law, English Common Law and the positive laws of Christian states---have, harkening back to Mosaic Law, treated sodomy as a crime against nature, and have, accordingly, prohibited it, and attached penalties to its practice."

"Unlike Francis, the Fathers and Doctors of the Church understood sodomy to be both a sin and a crime," added Doyle. "The Angelic Doctor, Saint Thomas Aquinas, quotes Saint Augustine's statement that 'Those foul offenses that are against nature should be everywhere and at all times detested and punished....'"
An anonymously written Feb. 10 article hyped a video "that featured Father Jason Charron delivering a video message that criticized Pope Francis for his recent remarks on homosexuals and said that the pope was "using his platform to embolden sinners":
On the video, Father Charron says: "I am sure you heard today, as many people have, that Pope Francis again has called for the decriminalizing of homosexual acts among other things no his return flight from his African visit home to the Vatican."

"And it struck me that a lot of the Holy Father's public comments, you know, revolve around this issue of homosexuality as though that were the center piece of his ministry," said Father Charron. "You don't hear a whole lot of comments from him calling for the defense of persecuted Christians in place like, oh, I don't know, China."

"This is the great shame--that he has abandoned his first love and instead of preaching the Gospel, emboldening the saints and calling sinners to repentance, he's using his platform to embolden sinners and to shame the saints into silence in conformity with the world," Father Charron says in the video.
Chapman called on his favorite EWTN priest again in a Feb. 23 article to bash Francis for failing to hate gay people enough:
Fr. Gerald Murray, the pastor of Holy Family Church in Manhattan and a regular contributor to EWTN's The World Over, said that Pope Francis is neglecting "his duty to defend the Church's teaching" on sexual morality, which is contributing to a "grave disorder" in the church.

Fr. Murray added that faithful cardinals and bishops need to stage a "tough love" intervention with the Pope and "frankly" tell him "that this madness must be stopped. Now."

There is a very serious struggle going on in the Catholic Church, with progressive/left clerics pushing acceptance for homosexual relations and gay marriage or civil unions, gender ideology, and realted topics. On the defense are faithful bishops and priests trying to uphold the Church's 2,000-year-old teachings on sex, marriage, and sin.

Unfortunately, Pope Francis is clearly on the side of the progressives.
Murray apparently didn't explain how all this hatred helps anyone or why his hatred for LGBT people is so vicious that he refuses to follow the leader of his own faith.
Exorcists push partisan narratives
As its publication of Michael Orsi showed, CNSNews.com was not afraid to exploit Catholic teachings to push right-wing talking points -- not surprising, given that the people who run it think they're more Catholic than the pope. Managing editor Michael W. Chapman has even taking to citing Catholic exorcists to push those narratives. He wrote in a Dec. 5 article:
Monsignor Stephen Rossetti, a licensed psychologist and exorcist for the Archdiocese of Washington, D.C., said in a recent interview that a pornography addiction, "like any serious sin, is an opening to the demonic," which can "distort a person's sexuality."

Msgr. Rossetti, 71, has worked as a licensed psychologist for 30 years. He is a priest with the Diocese of Syracuse and has been an exorcist with the Washington Archdiocese for more than 15 years.

In a Dec. 1 interview with the Catholic News Agency, Rossetti said, "A pornography addiction, like any serious sin, is an opening to the demonic. It is never a good thing to exploit people as sexual objects, which the porn industry does."
Chapman moved to a different exorcist who more closely repeated current right-wing narratives in a Jan. 9 article:
In his Jan. 8 sermon on the family, Fr. Chad Ripperger, a Catholic priest and exorcist, explained that "transgenderism" is a direct attack "on "motherhood," and added that "the entire feminist movement is an assault on motherhood."

Fr. Ripperger spoke at St. Mary of Pine Bluff Catholic Church in Madison, Wisc.

While discussing marriage and how it is under constant attack by our culture, Fr. Ripperger said, "Things like transgenderism is a full-blown attack against motherhood. People usually don't put it together. Why is it [an attack on motherhood]?"

"Well, because any woman who goes through a transgender operation can't bear children anymore," he said. "And any guy who becomes a woman – at least by the modern technology – he's not having any kids."

"In point of fact, the entire feminist movement is an assault on motherhood, which is frankly one of the most sublime and magnificent offices that God ever created," said the priest.
The next day, Chapman generated a second anti-LGBT article out of Ripperger's sermon:
In his Jan. 8 sermon on the Holy Family and the necessity of marriage in civil society, Fr. Chad Ripperger, a Catholic priest and exorcist, defined what marriage is and dismissed "gay marriage" as an "abomination," a "disordered" practice for which God will punish us.

Fr. Ripperger spoke at St. Mary of Pine Bluff Catholic Church in Madison, Wisc.

Today, "there's a complete, all-out assault on the very nature of marriage," said Fr. Ripperger. "The definition of marriage is that it's a solemn contract between a man and a woman for the sake of having children. The primary end is having children. That's what it is ordered towards."

"This is something which, unfortunately, has not been understood today,"' he added. "People think marriage is just a license to engage in the conjugal act. But that's not what we are talking about here."

[...]

"The fact that there is gay marriage – perhaps put marriage in quotes because it's not true marriage -- it doesn't meet the definition of marriage," he said. "It's an abomination. There's no way that God isn't going to afflict us in some manner, as a result of taking on something that is that disordered."

"In fact, their acts are so disordered that St. Catherine of Siena said that even the demons find it repulsive," said Fr. Ripperger. "And yet today it's glorified."

In her writings, St. Catherine of Siena (1347-1380) claimed that Jesus Christ Himself had remarked pitifully on some of the clergy who had engaged in homosexual behavior.

"Like the blind and stupid, having dimmed the light of their understanding, they [practicing homosexuals] do not recognize the disease and misery in which they find themselves," she wrote. "For this not only causes Me [Christ] nausea, but is disgusting even to the devils themselves whom these depraved creatures have chosen as their lords."
As to be expected from Chapman, he allowed no dissenting views.
It took three college economics professors -- apparently commissioned by the right-wing American Institute for Economic Research -- to write a Dec. 19 column to attack Francis' allegedly "misguided economics," by which they mean he was talking too much about inequality, which "contains the worrisome seeds of communitarianism and socialism," and not enough about "market exchange":
After 130 years of consistent Catholic social teaching on economics, Pope Francis altered the course radically. He came out swinging with his first encyclical, 2013's Evangelii Gaudium, in which he declared that the world's current market system was "an economy of exclusion and inequality. Such an economy kills." In the past decade, Pope Francis has doubled down on a skeptical and negative view of markets. He has a zero-sum game view of wealth, and is skeptical of technology (rather than making labor more productive, he sees it as a substitute). The Pope has called for more redistribution of wealth, stronger international organizations to curb globalization, and protectionism to defend national economies from the competition of richer countries.

[...]

We can learn from the spiritual wisdom of Pope Francis, as we remember to inject a dose of humility (with F.A. Hayek, perhaps) into our daily lives. And (unintentionally) Pope Francis reminds us that capitalism was built on an ethic of saving, which has largely become a culture of consumption. We should be wary of eating the seed corn – but also wary of killing the proverbial goose that lays the golden eggs. The world's poor deserve no less than the full opportunity of market exchange.
Strangely silent on Pavone defrocking
CNS was a great fan of anti-abortion extremist and Catholic priest Frank Pavone, publishing numerous columns by him largely raged against abortion. An August 2020 column, however, repeated right-wing talking points against early voting, and an October 2020 column was an effective endorsement of Donald Trump's re-election as president -- complete with a reference to "Fake News media" that won't report his alleged accomplishments. He gushed that "the saving of lives, both in America and abroad, is a clear hallmark, a pivotal motivation, and a shining success of the first term of President Donald J. Trump," adding: "Unborn babies, sick children and adults, women, soldiers, veterans, Americans living in border towns, and many others are safer today than they were four years ago. Every one of these policies put in place or actions taken by President Trump has saved lives or safeguarded them from future harm."

Oddly, though, CNS hadn't published any columns by Pavone since then. And for all the beliefs of the guys who run CNS that they are more Catholic than the pope, they were unusually quiet when Pope Francis defrocked Pavone over his anti-abortion extremism, which included stunts like posting video of himself putting an aborted fetus on an altar. (The official offenses were "blasphemous communications on social media and of persistent disobedience of the lawful instructions of his diocesan bishop.")

The only reference to Pavone's defrocking at CNS came in a Dec. 15 "commentary" from Pavone himself raging against the defrocking and declaring himself above the church he supposedly wants to represent: "I am appealing to the People of God, who are becoming wiser to all that is going on and who will be the judges of whether the work my 50-person team at Priests for Life and I do is worthy of support or not. I have made an irrevocable commitment to defend the unborn and to be a priest. I will not walk away from either one."

This may very well be a tacit admission that even CNS knows that Pavone went too far and was punished accordingly, and even that Pope Francis, who CNS despises, acted appropriately in defrocking Pavone. Still, the bio on the Pavone archive continued to erroneously list him as "Father Frank Pavone."

Meanwhile, CNS' uber-Catholics continued their intra-religious skirmishes. The homophobic Chapman raged in a March 10 article -- a little over a month before CNS was shut down -- that German bishops failed to sufficiently hate gay people enough:
Although the Catholic Church teaches that homosexual behavior is sinful and must never be condoned, the Catholic bishops of Germany voted today to allow official blessing ceremonies for homosexual couples, starting in March 2026.

The vote was 38 to nine, with 11 abstentions, "in favor of liturgies for the blessing of couples who don't qualify for the Catholic sacrament of matrimony, including same-sex couples and those who have remarried outside the church after a divorce," reported the Wall Street Journal. "The resolution calls on individual German bishops, each of whom has authority over the matter in his own diocese, to adopt the practice."
After quoting various right-wing Catholics and random people on Twitter, Chapman went into Bible lecture mode, apparently presuming that these bishops had never read one before:
In the Gospel of Matthew, several Pharisees try to test Jesus Christ and ask him, "Is it lawful for a man to divorce his wife for any and every reason?"

Jesus replies, "Haven't you read that at the beginning the Creator 'made them male and female,' and said, 'For this reason a man will leave his father and mother and be united to his wife, and the two will become one flesh'? So they are no longer two, but one flesh. Therefore what God has joined together, let no one separate."

In Romans, Chapter One, St. Paul writes, "Although they claimed to be wise, they became fools and exchanged the glory of the immortal God for images made to look like a mortal human being and birds and animals and reptiles.

"Therefore God gave them over in the sinful desires of their hearts to sexual impurity for the degrading of their bodies with one another. They exchanged the truth about God for a lie, and worshiped and served created things rather than the Creator—who is forever praised. Amen.|

"Because of this, God gave them over to shameful lusts. Even their women exchanged natural sexual relations for unnatural ones. In the same way the men also abandoned natural relations with women and were inflamed with lust for one another. Men committed shameful acts with other men, and received in themselves the due penalty for their error."
Yes, Chapman really did think he was more Catholic than the pope and bishops.
The latest from