CNS Flips For Elon Musk, Part 1
Like its Media Research Center parent, CNSNews.com didn't much like Elon Musk until he showed interest in buying Twitter -- then it became one of his right-wing PR agents.
By Terry Krepel
Posted 3/27/2023
---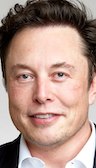 Elon Musk
Like its Media Research Center parent, "news" division CNSNews.com was critical of Elon Musk -- in particular his ties to Russia and China -- before sharing the big flip-flop with its parent over his plan to buy Twitter. For example, an April 2020 column by Chuck Muth denounced Musk as a "repeated Trump backstabber" who engaged in "political grandstanding" for being named to Trump administration advisory councils then "chose publicly to throw a fit and leave the council by way of a tweet." A June 2020 column by Justin Caruso was headlined "Celebrate the SpaceX Launch, but Don't Pretend Elon Musk Is a Free Market Hero,"noting that Musk's space company "is ultimately looking for big bucks from the government in the form of federal subsidies." A July 2020 article by Craig Bannister seemed to be upset that "Musk said that government should maximize citizens' happiness by giving each one of them money to be spent however he or she sees fit."

Christopher Smithmyer ranted against Musk in a June 2021 column:
No stranger to getting in bed with U.S. geopolitical adversaries, it looks like Musk may have a new controversial partnership in his crosshairs: Russia.

In a recent webinar Q&A for Kremlin students, Musk was asked if he had plans to expand his empire to Russia. The Tesla and SpaceX boss answered in the affirmative, saying that he thinks they are "close" to establishing a presence in the country.

Just how far does Musk have to stray before the U.S. starts to place some sort of legal boundaries on him?
It wasn't long after that that CNS stopped being concerned about putting legal boundaries on Musk. A December 2021 article by Bannister touted how Musk said that "People should be taught how to debug their brains and purge mental malware," Bannister followed that with a Dec. 15 article cheering how "After Sen. Elizabeth Warren (D-Mass.) accused Tesla and SpaceX CEO Elon Musk of "freeloading," the billionaire who publicly opposes Democrats' $1.75 trillion "Build Back Better" plan, fired back with a series of barbs and rebuttals," including "liken[ing] Warren to an angry woman who yells at everyone for no reason and applying the pejorative moniker 'Karen' to the senator."
When Musk bought a stake in Twitter in early April, Bannister rushed to approve with an April 7 article featuring fave Republican Rep. Rand Paul claiming that "Musk's impact will be even more beneficial to free speech if liberal outrage over the news prompts Twitter's "left-wing crazies" to abandon the social media platform they currently dominate." Susan Jones whined about criticism of Musk's offer to buy all of Twitter in an April 15 article:
"Morning Joe" anchor Mika Brzezinski on Friday left no doubt about where she stands on speech she doesn't like.

She not only slammed Twitter as "Donald Trump's playground to be...cruel toward people," but she also called Elon Musk's attempted takeover of Twitter a "very dangerous precedent."

To help Brzezinski buttress the Musk-bashing, MSNBC brought on a little-known columnist who slammed Musk as a "petulant billionaire" and -- yes, of course -- a "racist."
Jones buried in a transcript how the "little-known columnist" -- Linette Lopez of Business Insider -- pointed out inconvenient facts such as Tesla being sued for discrimination and needing a "Twitter sitter" because "He's not allowed to tweet things about Tesla without legal review because he used Twitter to commit fraud" (though Jones did link to outside items proving Lopez correct). Jones never explained why she denigrated Lopez as a "little-known columnist" when she was actually fact-checking and verifying the things Lopez said.
An April 18 article by Bannister promoted former SEC Chairman Harvey Pitt giving Twitter's handling of Musk's bid for purportedly ignoring their responsibility to act in the best interests of the company's shareholders. And managing editor Michael W. Chapman used an April 20 article to detail a non-Twitter-related pontification from Musk: "Although some climate change activists claim overpopulation is a serious problem that contributes to global warming and must be curtailed, investor and business giant Elon Musk said it is a "false impression" that there are too many people in the world, and added that the 'Earth could maintain a population many times the current level.'"
Bannister followed up with an April 22 article forwarding an implied threat to Twitter's board: "A letter sent Friday and signed by a group of 18 House Republicans, headlined by Rep. Jim Jordan (R-Ohio), calls on Twitter's board members to prepare to provide information about their efforts to prevent billionaire entrepreneur Elon Musk from buying the social media platform." Bannister went on to gush that "Musk is seeking to buy the social media giant in order to rid it of its partisan censorship practices," as if any proof existed to back up Musk's words.
When the Twitter board accepted Musk's offer on April 25, the editorial floodgates opened at CNS as if it was working for Musk directly:
CNS' columnists were in a gushing mood as well. Ryan McMaken wrote an April 26 column headlined "Is Musk's Twitter Buyout the First Counteroffensive Against 'Woke CEOs'?" while Ben Shapiro proclaimed that "Musk may be just the man to help restore institutional trust to social media. But that will require him to bulldoze those who helped undermine that trust in the first place."
Needless to say, there was no mention of Musk's real-life record on free-speech issues; as Judd Legum detailed, Musk is all too eager to censor speech by trying to shut down critics, firing Tesla workers for union advocacy, and asking the Chinese government to silence Tesla critics in that country.
Chapman cheered Musk's endorsement of right-wing talking points on the Biden administration's planned Disinformation Governance Board in an April 29 article:
In response to comment that the Department of Homeland Security is now operating a "Ministry of Truth," like in George Orwell's dystopian novel 1984 billionaire businessman Elon Musk tweeted, "This is messed up."

On Wednesday, the Secretary of Homeland Security, Alejandro Mayorkas, testified before Congress and revealed that his department is now operating a "Disinformation Governance Board." Its alleged purpose is to monitor speech and look for "mis- and disinformation" to protect "election security" and "homeland security."

[...]

Mayorkas' revelation was roundly denounced by many Republican lawmakers, civil libertarians, and legal experts.

Tom Fitton, president of Judicial Watch, a non-profit government watchdog, tweeted, "'Ministry of Truth'" is trending [on Twitter] because Biden admin appointed a radical leftist to run a censorship board in the Department of Homeland Security a few days after @ElonMusk purchase of @Twitter announced."
Chapman did not note whether Fitton offered any evidence to back up his suggestion that the creation of the board is directly linked to Musk's attempts to purchase Twitter. Then again, Chapman is a slavish stenographer for Judicial Watch.
CNS then started piling up the Musk-fluffing articles, many of which also echoed right-wing narratives:
CNS also published more pro-Musk commentaries. A May 9 commentary by Ron Paul declared that "Any doubt that many progressives have abandoned their commitment to free speech was erased by the hysterical reaction to Elon Musk's effort to purchase Twitter and return the company to its roots as a free speech zone." And a May 27 commentary by Michael Rechtenwald absolved Musk of any previous sins because he claims to support "free speech" by buying Twitter because he now has conservatively correct enemies:
Many criticisms have been leveled against Elon Musk — that he's part of the elite, that Tesla has been the beneficiary of government handouts and exemptions, that his transhumanist Neuralink is a brain-data-mining operation. Yet his planned purchase of Twitter, his supposed free-speech absolutism, and his subsequent renunciation of the Democratic Party as "the party of division & hate" have put Musk squarely in the crosshairs of the woke cartel.

[...]

I'm not suggesting that Musk is a free-market hero or a lowercase libertarian, but there is little doubt that he's become corporate enemy number one for the state-backed woke cartel. The battle shaping up between Musk and the regime will prove to be an important one, if only because it pits the power of the latter against a high-visibility manufacturer and the reputed "richest man in the world." What we will learn is how powerful the woke cartel is and just how far it will go to infringe on property rights and eradicate any remaining legitimate (consumer-based) market criteria — no matter how much its moves reek of hypocrisy or how obvious its vendetta.
There was no mention in any of these articles about Musk's coziness to China or his lack of commitment to free speech in real life.
As Musk wavered on buying Twitter over the summer, CNS' interest in him dwindled, doing only one story on him, a July 27 piece touting how Musk snarked "bon voyage" to Russia's plans to exit the International Space Station.
In the meantime, however, CNS' (and the MRC's) anti-Twitter narratives were still operative -- as were the corporate narrative that there is no such thing as an objective definition of misinformation -- which explains an Aug. 11 article by Bannister attacking Twitter's plans to fight misinformation:
On Thursday, Twitter announced "Our Approach to the 2022 U.S. Midterms," detailing its plan to suppress some speech regarding the elections, and to advance other narratives it deems acceptable.

Specifically, Twitter says it is will be using "prebuttals" to "get ahead" of political narratives it subjectively considers "misinformation" - and "proactively" promote other speech it endorses:

[...]

Twitter will also actively suppress and denounce comments of some of those who question the legitimacy or results of elections, the announcement says:

"The Civic Integrity Policy covers the most common types of harmful misleading information about elections and civic events, such as: claims about how to participate in a civic process like how to vote, misleading content intended to intimidate or dissuade people from participating in the election, and misleading claims intended to undermine public confidence in an election – including false information about the outcome of the election."

When Twitter sees a tweet it considers "misleading" or "false," it will suppress and label the tweet and prevent it from being liked or shared in order to "prevent the spread" of speech it doesn't like:
Bannister offered no evidence that pre-Musk Twitter's definition of "acceptable" speech it "endorses" involved anything beyond allowing facts and discouraging lies and misinformation. He also did not explain why any attack on "the legitimacy or results of elections" should be allowed to stand if it's based on falsehoods and misinformation.
After Musk finally agreed to buy Twitter at the terms he originally agreed to, Bannister fed a conspiracy theory in an Oct. 5 article:
Following Tuesday's news that billionaire entrepreneur Elon Musk's original offer to buy Twitter had been accepted by both parties to the deal, prominent conservatives began tweeting complaints that they had suddenly lost thousands of followers on the giant social media platform.

Conservatives have long attributed sudden, massive, loses of followers to a Twitter "purge" of right-of-center voices. But, on Tuesday, many added the theory that Twitter has begun deleting "bots," automated accounts passed off as accounts managed by humans. The contention that bots have inflated the number of users accounts on Twitter, and thus, Twitter's value, had been a major sticking point in Musk's purchase deal.
When Musk ultimately closed on his Twitter purchase, intern Lauren Shank spent an Oct. 27 article gushing over it, uncritically quoting Musk self-aggrandizing claim that he didn't buy Twitter "because it would be easy. I didn't do it to make more money. I did it to try to help humanity, whom I love. And I do so with humility, recognizing that failure in pursuing this goal, despite our best efforts, is a very real possibility."
More hero worship of Musk followed:
There was also an agenda item in the form of a Nov. 7 article from Patrick Goodenough complaining that certain people have yet to be "censored" by Twitter: "Amid concern in mostly liberal quarters that Elon Musk's takeover of Twitter will amplify harmful content, Iranian supreme leader Ayatollah Ali Khamenei on Sunday again used the platform – as he has done for years – to spread anti-America sentiment to his well over one million followers."
A Nov. 15 article by Bannister helped CNS complete its Musk flip-flop by attacking President Biden for pointing that Musk's foreign entanglements are worth monitoring (while falsely claiming that Biden was demanding an investigation):
"It has nothing to do with national security," former Director of National Intelligence (DNI) John Ratcliffe says of President Joe Biden's call for Elon Musk to be investigated as a national security threat because the billionaire owner of SpaceX acquired Twitter.

"Whether or not he is doing anything inappropriate, I'm not suggesting that. I'm suggesting that it's worth being looked at," President last week, when asked by a reporter if Musk should be investigated as a national security threat now that he has purchased Twitter.

"What the hell's going on here?" Host Dan Bongino asked Ratcliffe in an interview Saturday on "Unfiltered," noting that, in America, "We don't investigate people in search of crimes; we investigate crimes in search of people."

"That's absolutely right, Dan. And, you're right: I do have an informed view on this," the former Director of National Intelligence for the Trump Administration agreed. "This is clearly personal. This is clearly political. It has absolutely nothing to do with national security."

"And, it does have everything to do with weaponizing the national security apparatus for political reasons," Ratcliffe said, explaining that the Biden Administration has shared some of the nation's most sensitive technologies with Musk and given him billions of dollars of contracts over the past year:
Bannister cheered Musk's restoration of the Twitter account of the right-wing "satire" site Babylon Bee in a Nov. 18 article, while intern Peyton Holliday gushed that "entrepreneur and business magnate" Musk advanced the current right-wing obsession with hating investments that focus on environmental, social and governmental issues by declaring that "ESG is the devil." Bannister returned for a Nov. 29 article again pushing the idea that any claim of misinformation is inherently subjective:
Billionaire Elon Musk's recently-purchased Twitter has ended enforcement of its controversial, subjectively-enforced policy of censoring and suspending accounts posting COVID-19 comments and claims.

"Effective November 23, 2022, Twitter is no longer enforcing the COVID-19 misleading information policy," Twitter declares on its "Transparency" page.

[...]

Prior to Musk's acquisition of Twitter, and his subsequent promise to open it up to free speech, the behemoth social media platform had come under fire for punishing accounts for posting content that challenged liberal claims, mandates, shutdowns and policies regarding the coronavirus pandemic.

In April, when Musk joined Twitter's board of directors after purchasing a 9.2% stake in the company, physician and Senator Rand Paul (R-Ky.), who has led the charge to refute false COVID narratives promoted by the Biden Administration, expressed optimism that Musk's commitment to free speech would improve the platform.
Bannister offered no evidence of how pre-Musk misinformation policies were "subjectively-enforced," and he hid the fact that Musk had been suspending accounts that made fun of him, putting significant doubt about his purported "commitment to free speech."
'Twitter files' stenography
When Musk selectively released internal Twitter documents to hand-picked journalists, CNS stayed on the same right-wing pro-Musk talking points its MRC parent was helping Musk push. Susan Jones cheered in a Nov. 30 article:
Elon Musk has promised to "soon" release the "Twitter Files on free speech suppression." As he tweeted on Monday, "The public deserves to know what really happened..."

The incoming chairman of the House Oversight Committee, Rep. James Comer (R-Ky.), says he's "pretty certain somebody affiliated with this government in Washington, D.C., was calling Twitter, telling them to suppress conservative speech."

[...]

Bartiromo asked Comer if he thinks the Twitter documents will show "how the White House called Twitter and others to say, censor the Hunter Biden story, don't let anybody know about Hunter Biden influence-peddling, making money on Joe Biden's name."

"Well, somebody called Twitter," Comer said.
Melanie Arter tried to turn Musk in to a victim in a Dec. 1 article that noted "White House Press Secretary Karine Jean-Pierre said Wednesday that the White House monitors the news and 'the misinformation that's out there' after being questioned about whether the White House would try to shut down Twitter if they see something they don't like," adding that "House Minority Leader Kevin McCarthy (R-Calif.) said Tuesday that he found it 'offensive' that the White House wants to keep an eye on Elon Musk's ownership of Twitter."
As those "Twitter files" started coming out, CNS piled on the accolades (and the bashing of those who wouldn't blindly follow the narrative):
CNS also gave Musk praise for his claimed focus on removing child sex and sex exploitation materials from Twitter (as if pre-Musk Twitter wasn't also trying to do that).Intern Lauren Shank gushed in a Dec. 2 article:
Business magnate Elon Musk, the CEO of Twitter, SpaceX, and Tesla said eliminating child exploitation on Twitter will "forever be our top priority." At the same time, the idea of an OnlyFans competitor on the social media platform remains in question.

Musk tweeted on Nov. 29, "This will forever be our top priority," after Liz Wheeler, a conservative political commentator publicly thanked him for his actions to remove child pornography and child trafficking hashtags from Twitter.
That was followed by a Dec. 8 post by Craig Bannister repeating how Fox News host Greg Gutfeld "lampooned liberals and left-wing media for trying to find excuses to criticize Twitter's new owner, Elon Musk, for purging child porn from the social media platform" -- though he provided no evidence anyone is actually doing that.
(Musk does not seem to be doing a good job of this, by the way; hashtags and thinly veiled terms were still being found on Twitter a month later. Those particular terms were blocked only after NBC reported on it.)
Bannister served up talking points on behalf of a right-wing actor in a Dec. 6 article:
After new Twitter owner Elon Musk released Friday the first batch of tweets showing that Democrats had called on the giant social media platform to suppress opposition posts, conservative actor James Woods told Musk he'd gladly be a plaintiff in a Musk-funded class action suit.

Woods, appearing on Tucker Carlson's Fox News Channel show as the tweets were being released, said that his career had been destroyed by the targeting of conservative celebrities:

[...]

"Twitter acting by itself to suppress free speech is not a 1st amendment violation, but acting under orders from the government to suppress free speech, with no judicial review, is," Musk tweeted Friday, commenting on the release of a trove of tweets suggesting Democrats directed the censorship of conservatives.

"Agree. How would you like to fund a class @elonmusk," Woods offered, replying to Musk's tweet.
Bannister didn't mention that one of the "opposition tweets" from Woods that was "suppressed" was of an image of Hunter Biden with his penis exposed, which violated Twitter policies against non-consenual nudity then and now.

Chapman used the files as an excuse to spend a Dec. 7 article rehashing the MRC's election-fraud conspiracy theory that suppression of the Hunter Biden laptop story stole the 2020 presidential election from Donald Trump. As ConWebWatch has documented, that dubious conclusion is based on polls the MRC bought from Trump's own 2020 election pollster and a polling firm founded by Trump adviser Kellyanne Conway.

Of course, CNS' commentary side was similarly laudatory of Musk and help advance the narrative:

A Dec. 12 commentary by two employees of the right-wing American Institute for Economic Research chimed in as well:
Victims of Twitter's practices include Dr. Jay Bhattacharya, Stanford professor of medicine and co-author of the Great Barrington Declaration (GBD). Weiss's thread and The Twitter Files confirm what we've long suspected. Seeking to prop up Anthony Fauci and the lockdown policies he promoted in response to the COVID-19 pandemic, Twitter (and other Big Tech companies) intentionally blacklisted, censored, suppressed, and targeted the GBD and its signers.

[...]

Posts referencing the GBD were popular Reddit threads such as r/COVID-19 and r/Coronavirus, and large online communities with millions of members. Google also played a role. In the week after the GBD's release in October 2020, Google's news site search algorithms suppressed mainstream coverage of the document by outlets such as Fox News and th Wall Street Journal.

Instead, it steered news searches for "Great Barrington Declaration" toward anti-GBD hit pieces in fringe venues such as the Byline Times, a blog featuring 9/11 conspiracy theorist Nafeez Ahmed. Google algorithms reportedly prioritized an anti-GBD political editorial in Wired Magazine that Anthony Fauci also mined for his own anti-GBD talking points in the press.

These acts of censorship occurred at a time when government officials were working hard behind the scenes to discredit the GBD and its authors. Most notably, NIAID director Anthony Fauci and NIH director Francis Collins collaborated to wage a "devastating published take down" campaign against the GBD, labeling it "nonsense" or "misinformation."
In fact, the Great Barrington Declaration pushed dangerous "herd immunity" at a time when COVID was killing large numbers of Americans before vaccines were developed -- a strategy most virus experts opposed -- so it actually was misinformation. The declaration had numerous fake signatures, and even Bhattacharya himself walked back his support for it.
The latest from