WND Touts Ridiculous 'Late Exit Poll' Claiming Kari Lake Won
Topic: WorldNetDaily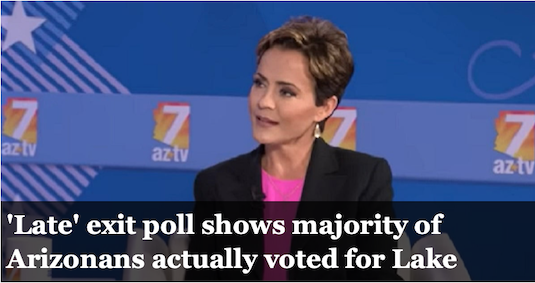 An anonymous WorldNetDaily writer stated in a March 17 article:
The idea that the 2020 and 2022 elections across American were clean, accurate and without fault took another broadside this week when a poll confirmed that Republican Kari Lake got 51% of the vote for governor in Arizona, while Democrat Katie Hobbs got 43%.

Only Hobbs was installed as governor in an election result that still includes many unanswered questions.

Also, the poll showed that voters chose Abe Hamadeh and Mark Finchem, both Republicans – even though Democrats were declared winners in those political races.

The details were reported by the Arizona Sun Times.

The results come from Rasmussen Reports and College Republicans United, which released results from their "late exit" poll.
The report said, "Women voted for Lake over Hobbs by a 49 to 43 percent margin. Similarly, Arizonans have a more favorable view of Lake than Hobbs. Over 50 percent view Lake positively; 30 percent find her 'very favorable,' and 21 percent 'somewhat favorable.' In contrast, Hobbs' favorability is at 44 percent, with 25 percent viewing her as 'very favorable' and 19 percent as 'somewhat favorable.'"
Yeah, no. As the Washington Post explained, the Rasmussen poll is "a flawed poll from a deeply partisan company that very obviously conflicts with reality":
The firm has always leaned right but, in recent years has adopted an aggressively partisan position that's apparent in the question it asks. Its focus on "likely voters," even well before actual elections, seemed to lead it to weight its results in a way that advantaged Republicans. But now the firm trumpets its partisanship explicitly, perhaps hoping that other right-leaning groups will bring it sponsored polls to conduct.

[...]

Speaking to Bannon, Rasmussen's Mitchell explained how they came to the conclusion that, actually, Kari Lake did win her race.

"A lot of pollsters, ones with maybe less courage, would really use those results to weight the poll to match the outcome of the elections," he said, "and then bury the questions and pretend that they never even asked them. And, you know, to be honest, these results were just so unbelievable that we had to report out." Instead of weighting the responses to the results, he said, they weighted it to exit polls.

"What we found," he added later, "is that voters told us that just four months ago they elected Kari Lake as the governor of Arizona by 8 points."

[...]

Beyond questions about the accuracy of exit polls — which are themselves weighted to election results, mind you — consider what those exit polls found. There were more Republicans who turned out than Democrats, which Mitchell says is roughly the weighting they used. But a plurality of voters were independents, and they preferred Hobbs by 7 points. Among Republicans, meanwhile, the exit polls from Edison Research show that about 1 in 11 also preferred Hobbs, twice the rate at which Democrats voted for Lake.

In Rasmussen's results, independents voted for Lake by 14 points while 1 in 6 Democrats and Republicans crossed party lines to support the other candidate. This is simply not credible, even setting aside the fact that we know what actually happened.
WND is not going to tell you any of this, of course -- it cares only what the poll says because it advances the correct pro-Lake narratives, and it doesn't matter that neither it nor those narratives have no basis in reality.
Posted by Terry K. at 8:57 PM EDT