CNS Pushed Anti-Transgender Narratives In Its Final Weeks
Topic: CNSNews.com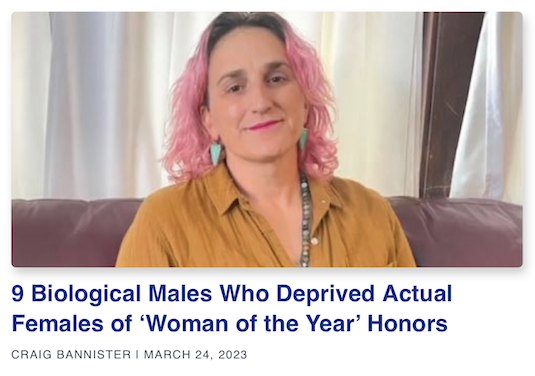 In its final weeks, CNSNews.com dutifully spread right-wing anti-transgender grievances and talking points. Craig Bannister huffed in a March 3 article:
Hershey's is airing an advertisement featuring a biological male who identifies as a woman, in celebration of International Women's Day.

Fae Johnstone, a "2SLGBTQIA+" transgender "woman" is featured in the ad airing nationwide in Canada. "Limited-edition Hershey's SHE bars will be available nationwide in four unique wrappers in both a 1.55-ounce standard bar and a 4.4-ounce XL bar, while supplies last,"Pennsylvania's Fox 43 reports.

"My name is Fae Johnstone, I'm the executive director of 'Wisdom to Action.' We can create a world where everyone is able to live in public space as their honest and authentic selves," Johnstone declares in the ad.
A few days later, Bannister touted a stunt from right-wingers triggered by the Hershey promotion:
"Thanks to Jeremy's Chocolate, you can stop eating chocolate that hates you," Daily Wire co-CEO Jeremy Boreing says, touting the success of his new non-woke candy bars, responding to an advertisement by Hershey celebrating International Women's Day – featuring a biological male.

"As long as corporations and institutions across America continue to alienate half the country, The Daily Wire will continue building alternatives. Stop giving your money to woke chocolate companies that hate you," Boreing said.

In the first 36 hours on the market, Boreing reportedly sold three hundred thousand of his "chocolate binary" bars. A four-pack of the 1.5 once bars goes for $27.96, but is currently on sale for $24.99, or about $6.25 per par.
Bannister spent a March 9 article whining that a transgender woman received a "women of courage" award at the White House:
First Lady Jill Biden presented a "women of courage" award to a biological male on Wednesday, during a White House ceremony celebrating International Women's Day.

Alba Rueda, a biological male who identifies as a woman, was among the recipients of the "International Women of Courage" award, at the annual event hosted by the First Lady and Secretary of State Antony Blinken.

Rueda, who serves as Argentina's Special Envoy for Sexual Orientation and Gender Identity, was one of 11 "extraordinary women" honored with the award.
In an apparent follow-up, Bannister used a March 24 article to repeat a right-wing rant about transgender women receiving awards:
"Nothing says 'we respect women' like elbowing them out of their own awards to laud a man who makes a mockery of womanhood," Elle Purnell, assistant editor for The Federalist, says.

In her article, published Friday, Purnell chronicles the stories of nine biological men who have usurped "Woman of the Year" honors from biological females.

USA Today is the most recent organization to bestow a biological male with an award for women, Purnell notes at the beginning of her piece:
An April 10 article by Bannister touted a right-wing darling bashing transgender people: "The American Left ran out of human rights and civil rights to fight for, so they created the transgender movement, presidential candidate Vivek Ramaswamy says." Bannister also joined his fellow Media Research Center employees and other right-wingers in being triggered that a transgender woman was allowed to drink beer in another April 10 article:
Bud Light has been staying off social media, ever since a backlash began on April 1, when biological male and transgender "influencer" Dylan Mulvaney revealed a gift from Bud Light: a picture of his face on a can of the product.

The controversy and social media backlash began after Bud Light began celebrating the one-year anniversary of the man identifying as a woman, by creating the Bud Light trans-cans and a video of Mulvaney in a bathtub.

[...]

The transgender promotion prompted calls for a boycott of the beer, and even some celebrities protested the Bud Light trans-cans:

Conservative rock singer Kid Rock used several Bud Light cases for target practice in a viral video.

"I will be deleting all Anheuser-Busch products from my tour hospitality rider. I know many other artists who are doing the same," Multi-Platinum Grammy-Winning Country singer Travis Tritt announced on Twitter.
An April 14 article by Bannister featured the maker of Bud Light trying to appease haters like him:
On Friday, Anheuser-Busch CEO Brendan Whitworth issued a vague statement, two days after it was reported that the beer company had lost more than $5 billion since a stunt that revealed its branding partnership with transgender "influencer" Dylan Mulvaney.

"We never intended to be part of a discussion that divides people. We are in the business of bringing people together over a beer," Whitworth says in the statement, which does not specifically cite the controversy, which erupted two weeks earlier on April 1, and does not name Mulvaney.

The statement expresses support for "military, first responders, sports fans and hard-working Americans everywhere" and "the values upon which America was founded."
CNS was shut down six days later.
Posted by Terry K. at 1:08 AM EDT