MRC Helps Trump By Attacking Prosecutor As Soros-Linked
Topic: Media Research Center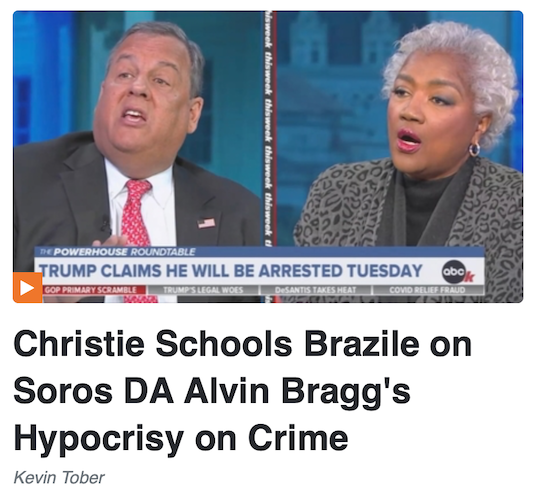 As rumors heated up about Donald Trump facing justice, the Media Research Center helped Trump play the victim by attacking district attorney Alvin Bragg, the initital prosecutor Trump would be facing. Kevin Tober devoted a March 19 post to recounting attacks on Bragg by Republican Chris Christie, making sure to tar him further by linking him to the MRC's greatest bogeyman, George Soros:
With the news Saturday that corrupt George Soros-backed Manhattan District Attorney Alvin Bragg is reportedly ready to charge former President Donald Trump over accusations of "hush money" payments to former porn star Stormy Daniels, on Sunday former DNC chair Donna Brazile during ABC's This Week was ready to paint the entire GOP with being hypocrites on "law & order." Former New Jersey Republican Governor Chris Christie didn't let her get away with trying to turn the radical left's double standard on crime around on him and the Republican Party.

During the "PowerHouse RoundTable" discussion, Brazile ironically cried hypocrisy on Republicans using tough-on-crime rhetoric when it's convenient: "This is a party that continues to say that they are for law and order when it suits them. But it doesn't suit them when the crime is gun violence, when the crime is seeing this country suffer from the kind of violence, and crime across the board."

Things immediately got heated when Christie jumped in and let Brazile know "I'm not going to stand up for that."

[...]

What Christie said is blatantly obvious to anyone who has visited a major city in recent years, let alone crime-ridden New York City. Thanks to left-wing Soros-backed prosecutors like Bragg, many crimes in New York City are given lenient punishments while the book is thrown at Republicans like Donald Trump.

In fact, violent crimes have risen so dramatically that the leftist rag The New York Times was forced to report how "major crimes" rose a staggering 22 percent over the past year.
Actually, people who are actual experts in crime statistics (asopposed to partisans like Christie and Tober) poimnt out that crime is decreasing in New York City and that rates for certain crimes are actually higher in Columubus Ohio -- the sdtate from which Republican Rep. Jim Jordan hails -- than in NYC.
A March 20 post by Mark Finkelstein tried to frame any prosecution of Trump as political: "As for those who deny that this indictment is politically motivated, consider the record of Alvin Bragg, the hyper-liberal Manhattan DA who has expended huge resources on this investigation, grand jury proceedings, and countless more if the case actually goes to trial." Luis Cornelio similarly attacked Bragg as a Soros-linked partisan in a post the next day:
Alvin Bragg, the Manhattan District Attorney behind the alleged incoming indictment of former President Donald J. Trump, boasted about his ability to prosecute Trump even before taking office as DA.

Bragg touted his experience investigating Trump in an interview with Hot 97's "Ebro in the Morning" during his run for Manhattan DA. He said prosecuting Trump was "the number one issue."

[...]

Bragg's comments and recent rumors that he will indict Trump are unsurprising considering his ties to Soros money, which are under scrutiny. Bragg was elected District Attorney of Manhattan in November 2021 and received over $1 million in aid from the Color Of Change PAC, a group that received funding from leftist mega-donor George Soros, Daily Mail reported on Mar. 20.

The New York Times reported on Jun. 21, 2021, that Soros "pledged $1 million to the super PAC Color of Change, aimed at helping another district attorney candidate, Alvin Bragg." The Times added that "[a] spokeswoman for the super PAC said that nearly $500,000 had been spent on Mr. Bragg's behalf" at the time. The Soros-tied Color Of Me PAC pulled out half of that donation after an unnamed woman made a "disturbing allegation" against Bragg. The details of the claims and the woman's identity remain unknown, according to Daily Mail.
Joseph Vazquez hyped the the Soros link in another March 21 post, whining that non-right-wing media weren't parroting the right-wing narrative:
The ABC, CBS and NBC evening news shows conveniently ignored mentioning that the district attorney trying to secure an indictment against former President Donald Trump on dubious legal grounds is connected to leftist billionaire George Soros.

George Soros donated $1,000,000 to the racially-charged, defund-the-police group Color of Change PAC on May 14, 2021. Just a few days prior to Soros' donation, Color of Change PAC announced Alvin Bragg, who would later win his race for Manhattan, New York District Attorney in November 2021.
Vazquez had another anti-Bragg freakout in a March 23 post:
The media hacks at Politico changed an outrageous headline characterizing the George Soros-tied Manhattan District Attorney as an apolitical, "by-the-book" prosecutor.

Politico conducted a March 20 public relations stunt on behalf of Manhattan DA Alvin Bragg, who's reportedly set to indict former President Donald Trump based on a seven-year old case. The Politico headline read: "By-the-book DA confronts unpredictable opponent in Trump." Politico reporter Erica Orden fawned in her anti-Trump agitprop that Bragg was a "low key, politics-averse prosecutor prepar[ing] to take on the brash, mudslinging former president." Orden must have forgotten that Bragg made prosecuting Trump a centerpiece of his political campaign for the DA position. Also, calling any political figure that's connected to Soros "politics averse" is just absurd.

Her headline was later changed to: "Liberal Manhattan DA takes on Trump in perilous legal fight." However, Orden didn't appear to mind the irony of doubling down on how Bragg was still supposedly "politics-averse" while simultaneously admitting that Bragg was a "liberal" in the new headline. Orden got heavily ratioed on Twitter for her faux pas.
Vazquez laughably added: "MRC Business reached out to the Manhattan District Attorney's offices six times for comment, but has received no response as of the publication of this article." Vazquez didn't explain why Bragg would ever want to talk to a right-wing activist like him who's only interested in manufacturing anti-Bragg agitprop.
So desperate is the MRC to attack Bragg that it trotted out an old enemy -- Michael Avenatti, currently in prison -- to trash Bragg's alleged case, even though he cannot possibly know all the details. P.J. Gladnick declared: "Most likely you read here for the first time this analysis by Avenatti about what a weak case Bragg has. Why? Because the mainstream media which formerly couldn't hype Avenatti enough are now shunning him because his analysis acts as a buzzkill to their excitement over a possible Trump indictment." Gladnick didn't explain why he suddenly finds a convicted criminal to be credible.
Posted by Terry K. at 11:03 PM EDT