WND Tries To Whitewash Jan. 6 Rioter's Actions, Falsely Portray Him As A Victim
Topic: WorldNetDaily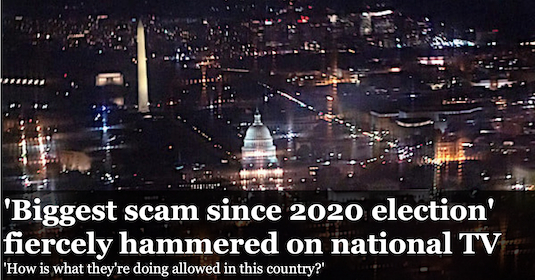 Peter LaBarbera tried to turn an insurrectionist into a victim in a March 15 WorldNetDaily article:
Tucker Carlson used his popular Fox News show to highlight the case of Jan. 6 defendant Daniel Goodwyn, who faces up to a year in prison for entering the U.S. Capitol and leaving within one minute, committing no violence of any kind.

Carlson interviewed Goodwyn and his attorney, Carol Stewart, and played surveillance video released to him by House Speaker Kevin McCarthy. The J6 video aired by Carlson shows Goodwyn entering the Capitol building ("through an open door," Carlson notes) and then exiting less than a minute later after being asked to leave by police.

As video plays in the background showing the footage of Goodwyn amongst the crowd in the Capitol, Carlson states, "This is video of a man called Daniel Goodwyn walking through the Capitol, through an open door, on January 6, 2021 at exactly 3:32 PM. That is long after the doors were breached.

"In it you can clearly see that Goodwyn was inside for less than a minute. When he was asked to leave, he left!" Carlson said. "There's no dispute about any of that. It's all on tape." He said the footage was also provided to Goodwyn's attorneys.

"But the DOJ is still trying to send Goodwyn to prison, and in the meantime they have wrecked his life," he said.
Because LaBarbera is serving as Carlson's stenographer and not as a reporter -- right down to uncritically repeating his bogus statement that "January 6th, I think, is probably second only to the 2020 election as the biggest scam in my lifetime" -- he failed to tell his readers important information about Goodwyn that helps to explain his current situation.First of all, Goodwyn considers himself a member of the Proud Boys, a violent right-wing militia group, and that several members of that group are facing charges of seditious conspiracy for their actions in the riot. He had posted images of the Proud Boys logo with the words "Stand Back, Stand By" -- the phrase Donald Trump spoke during a presidential debate that the group adopted as a rallying cry. And contrary to his claim that he did nothing beyond entering the building, prosecutors said he egged on other rioters.
LaBarbera also censored the fact that Goodwyn disrupted his legal proceeding by refusing to wear a mask at a time when COVID was still spreading rapidly, prompting the judge at one point to ask him, "When did you go to medical school, sir?"
Even though LaBarbera's article has a section called "Background on Daniel Goodwyn," he failed to include this highly relevant background; instead, he simply regurgitated things from a pro-Goodwyn website that portray him as a victim. But the government is not the one who "wrecked his life" -- Goodwyn wrecked his own life by choosing to take part in a violent insurrection and is now falsely portraying himself as a victim because he has to face the consequences of his actions.
LaBarbera is, of course, a right-wing activist and not a reporter, so it's unsurprising that he would hide information that conflicted with the narrative he was being paid to push.
Posted by Terry K. at 2:15 PM EDT