Anti-Trans Mocking And Misgendering: MRC Spews Hate At Rachel Levine
Topic: Media Research Center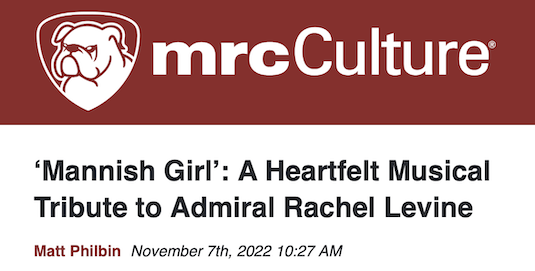 Not only does the Media Research Center hate transgender people in general, it has particular loathing for individual transgender people like Dylan Mulvaney. Another target has been transgender Biden administraiton official Rachel Levine, and it showed all through last year. Gabriel Hays sneered ina March 2022 post:
So we have another very serious, highly respected "Women of the Year" list given to us by USA TODAY and would you look at that? A biological man has been included among the roster of the influential and powerful women.

Oh wow. What an amazing, groundbreaking historical moment we have here!

The world's first Assistant Health and Human Services Secretary to be considered a woman (even though he's a biological man), Dr. Rachel Levine, now has the honor of being called one of USA TODAY's Women of the Year.

So a man is now woman of the year? And damn right, it's our duty as politically correct Americans to nod along while clapping vigorously for her achievement.

Suzanne Hackney wrote the outlet's entry on Levine's new honorable female status on March 13, stating, "Rachel Levine is one of USA TODAY's Women of the Year, a recognition of women across the country who have made a significant impact." Ok first of all. He's not a woman, and secondly, how does Hackney feel knowing that she has helped the patriarchy insert a male into a "woman of the year" category?

[...]

He's not a freaking woman – no matter how much of a looker he is with his long gray hair cascading down over his spiffy new female-styled HHS Naval uniform.

And USA TODAY, how do you feel about taking this spot away from a real biological woman? Does that feel like true equality to you? Or might it be that you're actually taking away from the achievements of actual women?
Shortly afterward, the MRC did a lot of complaining on behalf of right-wingers who faced consequences for their transpobic reactions to Levine. A few days later, it whined that Twitter temporarily locked the account of unfunny right-wing "satire" site The Babylon Bee "after the satire site posted that Rachel Levine was the site's "Man of the Year." Levine is a transgender woman." That was followed by a post from Alexander Hall citing another transphobe facing consequences:
Twitter censored Turning Point USA founder Charlie Kirk for declaring that United States Assistant Secretary for Health Rachel Levine had lived for many years as a male.

Who's the man? It depends on who you ask, apparently. "Charlie Kirk, founder of TPUSA, talk radio host and outspoken conservative commentator, was suspended from Twitter on Tuesday after identifying President Joe Biden's assistant health secretary in the Department of Health and Human Services as a man," The Post Millennial reported March 22. Kirk reportedly called out Levine and slammed the fact the official was awarded for being a notable "woman" by USA Today:

"'Richard Levine,' Kirk wrote, 'spent 54 years of his life as a man. He had a wife and family. He "transitioned" to being a woman in 2011, Joe Biden appointed Levine to be a 4-Star Admiral, and now USA Today has named "Rachel" Levine as a "Woman of the Year"[.] Where are the feminists??'"

[...]

Kirk reportedly explained to The Post Millennial that "Everything I said was precisely accurate" He noted further that "Twitter still suspended my account. That should terrify every American, even those who disagree with me. What they want is submission. They have become the enemy of the truth."
That was followed by Joseph Vazquez insisting the Bee's insult was just "benign humor" -- apparently, that's how right-wingers treat all mocking of transgender people -- and whining that another Bee employee had his account suspended for spreading it. Then came a post by Autumn Johnson grumbling that a right-wing Federalist writer also got his account suspended for misgendering Levine. Tierin-Rose Mandelburg returned to whining in promoting her April 6 podcast:
Rachel Levine is the Assistant Secretary of Health for the U.S. Department of Health and Human Services. Levine is also "the first female four-star admiral of the [U.S. Public Health Service] Commissioned Corps." Ironically, the left has labeled Levine as transgender, despite the fact that Levine spent 54 years as a male before transitioning to a "female."

Levine's biological sex is male. Levine has the X and Y chromosomes, and scientifically is a male. Mention of that fact on social media, however, apparently draws censorship.

[...]

Big Tech allows false narratives to spread rapidly, but censors any content that doesn't fit within the constructs of the left's woke ideology.
Yes, not hating transgender people and treating them with the respect that every human deserves is apparently a "woke ideology."
Tim Graham spent a May 1 post complaining that anti-trans right-wingers weren't quoted in an NPR story about Levine:
The most ridiculous joke that airs daily on National Public Radio is that their evening news program is called All Things Considered.

On the Friday night commute, NPR listeners witnessed an audio press release of sorts for the Biden administration. Transgender activist and assistant HHS secretary Rachel Levine is giving a speech to an LGBTQ health conference at Texas Christian University, and NPR promoted it like a press secretary. No opposing view was considered, certainly not about the "Christian" part.

[...]

Conservatives are forced to fund this one-sided propaganda. They are not considered.
Conservatives like Graham don't want people like Levine to exist, let alone be gainfully employed. Why would anyone think that's a legitimate argument that deserves amplification? Nevertheless, he further whined about this in his podcast the next day.
A June 23 post by Gabriela Pariseau complaining that anti-trans right-wingers were "censored" for things like attacking Levine dishonestly framed that hate as affirming "science." In a July 20 post, Pariseau and Brian Bradley factored Levine into their completely made-up "secondhand censorship" metric, insisting that all those transphobes suspended by Twitter for insulting Levine were merely being "critical of the left's transgender narrative."
Matt Philbin ramped up the misgendering and mocking of Levine in a Nov. 7 post that we can assume he considers "benign humor":
You can't keep a good man down. Health and Human Services Assistant Secretary Rachel Levine is proof. Already an admiral of some sort and a USA Today Woman of the Year, Levine was recently elected to the National Academy of Medicine.

It's another honor, sure, but it's also another responsibility for someone so busy berating opponents of child mutilation (Rachel is proof you can have it all, ladies!)

One day he's at a Boston chop shop "to highlight the importance of the work that they are doing for vulnerable, transgender and gender diverse children and their families," to warn that opposition to double mastectomies for 14 year-olds is "the tip of the spear of the culture wars." (Stop snickering!)

Another day he's in California warning state governments to mind their own business when they see electrical storms and eerie lights up at Castle Frankenstein.

So in light of his good work and achievements, and as his political party makes ready to reap the electoral fruits of its focus on these important kitchen table issues, we offer up this heartfelt original musical tribute to the Good Doctor. With apologies to the memory of Muddy Waters, please enjoy "Mannish Girl" by The Unwoke.
A Dec. 30 post by Catherine Salgado complained that Levine advocated for a crackdown on anti-trans hate, which she unsurprisingly falsely framed as "censorship":
Transgender activist and Assistant Secretary for Health Dr. Rachel Levine reportedly tried to galvanize doctors to demand increased censorship from Big Tech.

Levine actively encouraged state medical board doctors to pressure Big Tech platforms to censor criticism of transgender ideology, Daily Signal Managing Editor Tyler O'Neil wrote in an op-ed Thursday.

Levine's transgenderism has been linked to Big Tech censorship before. Satire site The Babylon Bee named Levine its "Man of the Year" and was suspended on Twitter until recently restored by new Twitter owner Elon Musk.

Levine falsely claimed that any such critiques were "medical misinformation" because there's supposedly no "scientific or medical dispute" about the positives of experimental drugs and "transgender" surgeries.

There is actually a great deal of scientific and medical debate, and not just from conservatives. Even the leftist New York Times recently published an in-depth piece on the potential severe long-term effects of puberty blockers on "trans" kids. Activists like Levine claim that "transgender" people are likely to commit suicide unless they can get drugs or body-altering surgeries to "change" their sex.
Salgado concluded: "This is advancement of leftist dogma through the means of biased censorship." But right-wing transphobia is not a "dogma"?
Posted by Terry K. at 8:41 PM EDT