The MRC's DeSantis Defense Brigade: Election Division
The Media Research Center effectively served as part of the campaign PR operation for GOP Florida governor Ron DeSantis as he ran for re-election, hyping his dubious election-cop operation and bashing his critics.
By Terry Krepel
Posted 3/8/2023
---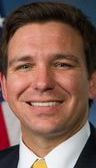 Ron DeSantis
There's nothing Republican Florida Gov. Ron DeSantis does that the Media Research Center won't defend. When DeSantis formed a special police unit to enforce "election integrity" in early 2022, the MRC unsurprisingly rushed to defend him. Kyle Drennen complained in a Feb. 7 post:
On Monday, CBS Mornings adopted the left-wing premise that a new election fraud investigative unit in the State of Florida was a threat to democracy and proceeded to line up Democrats to denounce the specialized law enforcement team as a racist "goon squad." The segment ultimately concluded that Republican Governor Ron DeSantis – unlike his Democratic opponents – was entirely motivated by "politics."

[...]

Wrapping up the segment, Dokoupil asked this loaded question: "So, Ed, as you point out, there are vanishingly few cases of actual election fraud and zero evidence of any kind of systematic fraud....So what's behind this new effort in Florida, and by all these Republicans in different states?" O'Keefe promptly dismissed the measures: "Politics. It's about appealing to the Trump base."

Funny how the Democrats O'Keefe featured – including those not properly identified as such – were not depicted as having any ulterior political motivation at all.
Drennen offered no evidence that there was no partisan motivation behind DeSantis' election squad.
Kevin Tober served up more complaints about criticism in an April 25 post:
On Monday night's episode of The ReidOut, the vile and race-obsessed MSNBC host Joy Reid opened her show by throwing a tantrum over Florida Governor Ron DeSantis signing into law the creation of a new state election integrity unit that will be tasked with helping the state enforce election laws and crackdown on voter fraud or other election irregularities.

Reid started off by referring to DeSantis as "Baby MAGA" and wailed that he "signed a bill that allows him to create his own private police force that is tasked with pursuing alleged election law violations."

Doubling down on the myth that conservatives who want to uphold the integrity of our elections are promoting "the big lie", Reid quipped "just lovely, the big lie will now have its own battalion of goons. I wonder who they'll go after first. I think you can guess."

[...]

It's telling that Joy Reid hears the news of DeSantis wanting to crack down on voter fraud and immediately thinks of black people. Is she telling us that only black people commit voter fraud? Who's the real racist? It seems like Reid is the only racist in this equation, not DeSantis.
An April 26 post by Alex Christy complaining about a CNN report on the DeSantis' election cops tried to turn the tables by insisting that the election cops won't intimidate voters but, instead, it's speculation about them that will actually suppress voter turnout: "CNN has set up a self-fulfilling prophecy. It doesn't matter that Florida isn't intimidating voters, but if it falsely reports that it is, people will believe it, which will lead to a lower turnout, which they will then claim validates their false reporting."
When DeSantis announced that his election cops had arrested 20 people for allegedly voting when not eligible, it was Curtis Houck's turn to deflect from criticism in an Aug. 23 post:
In an editorial for Tuesday's print edition, The Washington Post screeched over an announcement last week from Governor Ron DeSantis (R-FL) that, as per a release from his office, 20 people were arrested for having despite having been banned from voting for having been convicted of either murder or sex crimes.

The Post's argument? Such a measure to protect our elections systems "will have a chilling effect" on our democracy. To put this another way, The Post is so deranged and hates conservatives so much that, in order to oppose them, they'll go to the mat for murderers and sex offenders.

The piece began by lamenting the event announcing the charges "felt like a rally for an unannounced 2024 presidential campaign" and that the charges themselves were "a clear effort to deter legitimate voting."

But again, it was against the law for these convicted felons to vote.

[...]

Another grievance? The fact that "most were from the heavily Democratic counties of Palm Beach, Broward and Miami-Dade" so as to make it seem like it's only a problem for one side of the aisle.
Actually, that focus on people of color in Democratic counties would seem to more than justify the fears the MRC had previously dismissed. As the Post noted, four people from Florida's right-wing senior enclave The Villages have also been arrested for alleged voting fraud, but DeSantis "did not hold a press conference to celebrate that triumph of law enforcement."
Houck also complained that "The Post explained that their gripe derived in part from the fact that 'the tiny number of cases brought so far underscores the paucity of voter fraud' and excused away the actions of the defendants due to what they speculated was some confusion." Given that, as the Post also reported, those 20 alleged violations occurred in an election in which more than 11 million people voted.
There's also a legitimate concern regarding the confusion angle. Advocates for those arrested have said those accused had no deliberate intent -- which is required under state law -- and some said government officials had actually sent them voter registration materials, leading them to believe they were eligible to vote.
But the MRC's readers don't about these developments because it has not addressed the story again. DeSantis can't be questioned, after all.
Indeed, after the dubiousness of the election-cop program was demonstrated again, the MRC again rushed to DeSantis' defense -- not that Kevin Tober framed it that way in an Oct. 18 post:
On Tuesday, during a segment on CBS Evening News, the leftwing newscast seemed shocked and appalled that in Florida, violent felons are being arrested for committing an act of voter fraud by illegally voting when they had lost their right to cast their ballots after being convicted of felonies.

"In footage obtained by CBS News on August 18, police showed up at the Tampa home of Tony Patterson a registered sex offender who was told he was under arrest for voter fraud," correspondent Ed O'Keefe announced.

"That same day, Romona Oliver, who served 18 years on a second-degree murder charge was arrested for voting illegally in 2020 even though she'd received a voter I.D. card from the state," O'Keefe added.

He then reported that "Patterson and 18 others were accused of violating a 2018 state law that allows most former felons to vote after they complete their sentences. But not those convicted of murder or felony sex offenses. As Patterson and Oliver were."

Then what's the problem? O'Keefe admitted that they were forbidden from voting because of the crimes they were convicted of. The purpose of running this story is obviously an attempt to smear Florida Republican Governor Ron DeSantis.
It wasn't until later in his post that Tober got around to alluding to the real issue: Many of these people were not explicitly told they were not eligible to vote, and their voting applications were not rejected by the state, which presumably would have a running list of which former felons are not eligible to vote. But Tober depicted reporting of that relevant context as "whining."
Nicholas Fondacaro echoed this dishonest framing a day later:
Leave it to ABC's The View to take up the position that murderers, pedophiles, and other sex offenders deserve to vote and commit voter fraud. That was the hill they wanted to die on Wednesday after body-camera video surfaced showing Florida law enforcement officers arresting individuals accused of illegally voting. The cast didn't seem to know what the law was with one claiming they were illegally arrested and another claiming the Republicans were cheating to win.

It was Whoopi Goldberg who seemed unable to understand the law as she decried "Florida Governor Ron DeSantis imposing his crackdown on so-called 'voter fraud' when he sent cops out to arrest people…" She also seemed to suggest DeSantis had a racist motivation, noting the "crackdown wound up with all of 20 arrests in total, 13 of whom were black."

"Clearly, it's not written anywhere or they would not have allowed him to do this,"Goldberg proclaimed, seemingly saying that the law didn't really bar murderers and pedophiles from voting. She then started screaming at DeSantis through the camera (using air quotes to describe the voter fraud they allegedly committed):
Fondacaro also got annoyed when the co-hosts pointed out that DeSantis wasn't sending any police raids to the folks in The Villages:
Hostin went on to declare the law was "racially targeted" (an odd thing to argue since the law does not mention race, just that murderers and sex offenders can't vote). Assuming only white people are Republican, she angrily demanded elderly folks from a Florida retirement community be arrested in front of cameras:


The Villages. Overwhelmingly they found the amount of voter fraud that, like, 0.006 were Republicans, elderly people from there. Why were they not paraded in front of cameras? Why were they not arrested in front of cameras?

Hostin is a former federal prosecutor but doesn't understand that video of the arrests was from police body cameras. "Well, I don't think they were paraded. It was actually body-cam footage," explained "conservative" co-host Alyssa Farah Griffin.

For Farah Griffin's part, she had the job of trying to explain to the rest of the cast that they were taking "bait" supposedly placed by DeSantis. "This is what he does. He knows how to drive news attention. He wants us all to say, 'of course, murderers should be able to vote,'" she lamented.
Farah Griffin is right, of course, given that this is the exact framing both Tober and Fondacaro used in their posts -- but Fondacaro irrationally hates her too much to ever admit that.
Tober repeated his dishonest framing again in an Oct. 19 post:
On Wednesday night's edition of MSNBC's The ReidOut, host Joy Reid opened the show by lashing out at Florida Republican Governor Ron DeSantis for daring to enforce the laws of his state and not allow violent felons to illegally vote in elections. Reid who presumably wants violent felons to be allowed to vote melted down and accused Florida of being a Jim Crow state.

[...]

Of course, there's nothing wrong with DeSantis cracking down on voter fraud. Reid knows the only way her Democrat candidates in Florida can win is if violent criminals are allowed to vote. That's why she's melting down over police arresting rapists and murderers for voting illegally.
Tober, of course, censored the issues with DeSantis' election cops.
Two days after Tober's post, the first defendant arrested by DeSantis' election cops had his case dismissed, albeit due to a jurisdiction issue. The MRC was completely silent about that. In late December, a third case brought by DeSantis' election police was thrown out; the MRC said nothing about that either.
More defense
The MRC has defended DeSantis on smaller issues over the past year as well.
Margaret Buckley defended DeSantis in an Aug. 5 post over criticism from the folks on "Morning Joe" for suspending elected state prosecutor Andrew Warren for not kowtowing to DeSantis' anti-LGBTQ agenda:
Since Warren had "vowed" to not follow ethical laws that protect unborn children from being killed and protect confused and impressionable children from groomers, it is safe to say that DeSantis had good reasons for the suspension.

In reaction to separate clips of DeSantis and Warren giving their respective statements, Joe Scarborough exclaimed to his wife Brzezinski, "I mean Mika, Ron DeSantis is such a dope. He didn't even wait for any action to take place."

Warren was even allegedly letting dangerous people back onto the streets, only God knew what they were capable of doing to innocent people.
Buckley attacked Warren again in an Aug. 9 post when the "rogue attorney" appeared on "Morning Joe":
Morning Joe tried to get viewers' tears flowing for democracy on Tuesday by bringing on Florida state attorney, Democrat, and lefty-caterer Andrew Warren. Warren was recently suspended by Governor Ron DeSantis for refusing "to enforce Florida's 15-week ban on abortion and gender-affirming care." Warren's response? Acting like a free-speech martyr and calling DeSantis a "wannabe dictator," and the MSNBC cast was fine with it.

[...]

So, Warren and the minority of people he is clearly kissing up to do not feel free, all because they cannot kill unborn children, or groom young and impressionable children by encouraging them to (seemingly) change their gender.
Tim Graham spent an Aug. 11 post complaining about an Associated Press article citing right-wingers in general -- and DeSantis in particular for his "don't say gay" law, a term Graham hates -- for fueling a rise in anti-LGBTQ hate. An Aug. 15 post by Graham whined that DeSantis tweeting out an image of the "Don't Tread on Me" Gadsden flag as a license plate design was (not incorrectly) interpreted as an embrace of "a dangerous far-right extremist ideology" by NPR, serving up lame whataboutism in response:
How do you know the left-wing media is gunning for Ron DeSantis? When taxpayer-funded NPR suddenly finds the "Don't Tread on Me" flag from the Revolutionary War to be a "far-right" emblem of lies and violence.

[...]

This is a little funny, since NPR has an affinity for dangerous far-left extremist ideology. They favorably reviewed the book In Defense of Looting in 2020. Looting is a "powerful tool." NPR gets goosebumps over books about how leftist riots for racial "justice" should be called "rebellions," not riots, and should be considered a respectable form of activism.

Naturally, NPR turned to the left-wing "extremism experts," who claimed "most of the public"....thinks like NPR?

[...]

Biden won, and January 6 was awful, but smearing this Gadsden flag as associated with far-right kookery is nothing new. Liberal media stars also tried this tactic when it was a Tea Party favorite in the Obama years. Chris Matthews called it "McCarthyite," and also turned to the SPLC to decry this symbol. Juan Williams associated it with Oklahoma City bomber Timothy McVeigh. Even porny Playboy got into the act as it ripped Glenn Beck.
Alex Christy used an Aug. 19 post to defend from CNN commentator Bakari Sellers a DeSantis-promoted law designed to censor certain discussions of race, particularly if they involve the right-wing buzzword of critical race theory:
Like abortion laws, it is clear media personalities commenting on these laws have not read them. There is nothing in the law that prohibits teachings of "racial discrimination, as well as topics relating to the enactment and enforcement of laws resulting in racial oppression."

Sellers would argue that black people are treated differently in America, which is an argument that he would be allowed to present under the Florida law. He just couldn't indoctrinate people by insisting it is true while ignoring Stewart's point of view.

Actually, black people are treated differently in America.
In a Sept. 22 post, Kevin Tober complained that "demonic" MSNBC host Joy Reid used the Martha's Vineyard flights "to harken back to when he informed high school students at a public event that they weren't required to wear masks as the same as "whipping up a mob at the University of Mississippi because James Meredith was coming and then cheering it on as four people are killed in that mob."(Needless to say, the MRC defended DeSantis over the mask incident.) Tober huffed in response: "Reid either doesn't know her history, or she's pretending that Republicans were for the evil racist violence that was so common in the old south during the early to mid-1960s. Regardless, any person with a firm grasp on reality knows Ron DeSantis doesn't support violence of any kind and is against racism."
Even book reviews were not exempt. Clay Waters complained in a Sept. 23 post that a review by Stephen King of a book that referenced a library's empty shelves lest people be exposed to "dangerous ideas" and added that "The Florida Parental Rights Bill, signed by Governor DeSantis in March of this year, is basically a free pass to text censorship." Waters huffed in response: "Wrong! It's age-inappropriate obscenity and sexual scenes, not 'dangerous ideas,' being 'censored' (as in, removed from school libraries)."
Jason Cohen spent a Sept. 29 post complaining that knee-jerk right-wing praise of DeSantis was being called as creepy and authoritarian-looking:
This is awfully unfair to the millions of Floridians and Americans who are proponents of DeSantis's policies, which are less authoritarian than many leftwing governors'. Nobody wants to acknowledge backing a figure whose views are beyond the pale, according to the mainstream media. It naturally has a chilling effect on speech. (It also hands liberals some nasty surprises on election day, since voters won't admit their preferences to pollsters.)

It also helps heighten the already terrible tension and tribalism setting up a false and divisive good vs. evil dichotomy. The media should be responsible enough to know better than to use such rhetoric. Criticizing politicians should be commonplace, but designating them as demons is disgraceful. "DeSatan" is literally trending on Twitter today.
Waters returned for a Sept. 30 post calling out DeSantis' hypocrisy in demanding federal hurricane relief while flouting federal COVID guidelines: "They decided to drag COVID into the act, foolishly, given DeSantis's impressive record of reopening his state without the catastrophic consequences predicted by the Times and other liberals." Waters then added a bit of whataboutism: "Still the reporters kept itching for DeSantis to lunge at the Biden administration, while failing to mention the other side: At the height of the damage wrought by Hurricane Ian on Wednesday night, Biden attended a fundraiser to defeat Republican governors...like Ron DeSantis."

Curtis Houck used an Oct. 13 post to attack a CBS segment pointing out the right-wing obsession with labeling any critic as "woke" and that "a portion of the segment from socialist co-host Tony Dokoupil took aim at Governor Ron DeSantis (R-FL) for what Dokoupil complained in a tease was 'say[ing] the word' work [sic] 'a lot.'" He added: "Dokoupil then teed off on DeSantis, lamenting that, 'in the battle to define America,' the Sunshine State leader 'has what amounts to his very own fight song,' 'a campaign ad inspired by Top Gun' and the word woke serving as the "one political target he seems to favor above all others." Houck found none of that creepy and authoritarian, of course -- heck, he couldn't even be bothered to explain why he thinks Dokoupil is "socialist."
The brigade's re-election office
Given that DeSantis was running for re-election in 2022, the Defense Brigade stepped things up on the way to the midterms to shout down criticism and opposition. Houck served as DeSantis' press agent in an Oct. 3 post praising the governor for lashing out at criticism of his handling of recovery efforts after Hurricane Ian hit the state:
Over the weekend, the liberal media made the pivot to pin blame for Hurricane Ian's catastrophic destruction and loss of life in Florida n Governor Ron DeSantis (R) and Lee County officials. CNN was naturally part of this campaign Sunday afternoon as they sent correspondent Nadia Romero to confront DeSantis. Spoiler alert: It didn't go well for them as DeSantis wiped the floor with the assembled journalists.

CNN chief carnival barker Jim Acosta tossed to Romero in the 4:00 p.m. Eastern hour after he led off his newscast by insisting Florida officials "are facing mounting questions about the timing of their mandatory evacuation orders" in Lee County.

Romero began with snark: "Why do you stand behind Lee County's decision to not have that mandatory evacuation until the day before the storm?"

Showing why he's more polished than anyone in politics and seen by many conservatives as their top 2024 pick, DeSantis promptly wiped the floor: "[W]here was your industry station when the storm hit? Were you guys in Lee County? No, you were in Tampa. So, that's — yeah, they were following the weather track and they had to make decisions based on that."

DeSantis added that, 72 hours from landfall, the area wasn't "even in the cone" and "the periphery" at 48 hours, "[s]o, you've got to make the decisions the best you can."
Alex Christy served up more post-Ian cleanup for DeSantis in a Oct. 5 post, complaining that PolitiFact called DeSantis' complaint about Lee County not being in the cone until three days before the hurricane hit was "mostly false" because part of the county actually was; Christy whined that this part is merely "an uninhabited state park." Kathleen Krumhansl, meanwhile, huffed in an Oct. 6 post (also in Spanish):
The want for a steady audience to ensure their networks' survival got the best of Univision and Telemundo's newsrooms during their reports this week about four looters -- three of whom are undocumented migrants -- that were arrested in the hurricane-ravaged community of Fort Myers, Florida.

As part of their efforts to portray Florida Governor Ron DeSantis (R) as anti-immigrant -- and imply the lootings were justifiable -- the scripts at both networks went from accusing DeSantis of seizing on the arrest of the looters in order to trash undocumented migrants, to hinting that the thieves were acting on their emotions, to saying for a fact that DeSantis had not seen "the recovery efforts involving tens, hundreds of Hispanics".

[...]

In effect, the takes were a colossal insult for the hard-working, law-abiding Latinos watching the news reports that aired as part of Telemundo and Univision's coverage of President Biden's visit to Florida on Wednesday, October 5th.

To make matters worse and drive the corporate media's talking points of DeSantis being anti-migrant, Telemundo reporter Rogelio Mora-Tagle lumped all immigrants -- legal and illegal -- into one group.
Krumhansl then cranked out a statement that was worthy of a DeSantis campaign ad:
Missing from the report: the fact that since day one, Governor DeSantis has been on the ground (including in Ft. Myers) coordinating and participating in recovery efforts involving tens, hundreds of Hispanics, along with people of all races and backgrounds that have come together as one to help their fellow Americans in a moment of tragedy.

That should be the focus at Univision and Telemundo in applauding the good deeds and calling out crime for what it is: punishable by law.
Houck spent an Oct. 25 post raging that TV news dared to mention DeSantis' opponent:
On Tuesday morning, the "big three" of ABC, CBS, and NBC engaged in a comical and hopeless rescue mission to convince viewers that turncoat and Congressman Charlie Crist (D-FL) has a chance to retake Florida's governorship against incumbent Governor Ron DeSantis (R) thanks to a debate in which Crist attacked the "firebrand" DeSantis over his "controversial policies" and possible 2024 bid for president.

ABC's Good Morning America was most enthusiastic about Crist. Co-host and former Clinton official George Stephanopoulos boasted in a tease: "Florida face-off. Overnight, Governor Ron DeSantis and Charlie Crist in their only debate in the race for governor. The economy and abortion take center stage with polls in the Sunshine State open."

After Stephanopoulos said at the onset of the segment that it was "an explosive debate," chief White House correspondent Cecilia Vega insisted DeSantis has "a commanding lead in the polls," but nonetheless tried to make a mountain out of a mole hill.
"That "mole hill" was DeSantis refusing to say that he would fill out his entire term and not quit in the middle of it to run for president in 2024. Houck's whining continued:
CBS Mornings had an extended news brief on the foray. Co-host and Democratic donor Gayle King lamented in the "Eye Opener" that DeSantis was "running for a second term, but refusing to say if he'll run for president."

Co-host Nate Burleson boasted of "fireworks" in which "DeSantis sparred with...Crist on issues like inflation, immigration, and the state's response to Hurricane Ian."

Again doing Crist's bidding, Burleson made the only soundbite about Crist's desperate focus on 2024 and praised it as "heated."
Houck unironically claimed that the shows were " simping for liberals," apparently oblivious to the fact that he's simping for DeSantis.
Clay Waters whined about the New York Times' coverage of the DeSantis-Crist debate in an Oct. 28 post:
New York Times reporters Patricia Mazzei and Maggie Astor reported on Monday evening's one and only debate in the Florida governor's race, pitting sitting Republican Ron DeSantis against Democrat and former state governor Charlie Crist.

But under the guise of fighting misinformation on abortion and transgender issues by Ron DeSantis, the reporters spread their own.

They even questioned the moderator's impartiality (dimissed as "working the referees" when done by conservative candidates) noting the moderator's connection to Sinclair, a television news conglomerate (regularly targeted by the Times) that doesn't follow conventional liberal media wisdom.

[...]

They half-heartedly tried to boost Crist's ridiculous assertions that DeSantis "ignored science" by defying the liberal lust for lockdowns during the height of the Covid crisis, and that DeSantis's impressive response to Hurricane Ian was grievously flawed.
Houck served up more DeSantis simping in a Nov. 3 post:
For anyone who's been censored, dismissed, mocked, and trashed for opposing the initial, conventional wisdom on the coronavirus pandemic, Thursday's CBS Mornings brought about some schadenfreude as co-host Tony Dokoupil went to Florida and found that Governor Ron DeSantis's (R-FL) policies on the virus were not only popular, but even admitted that he might have been right.

Dokoupil said on one of two teases that COVID-19 "hit Florida hard, but Governor Ron DeSantis says he took the right approach for the state's economy," adding he would "show how pandemic politics are playing into the race for governor."

He explained at the onset that "we are going to begin this hour with the legacy of COVID" as Florida "had the 12th highest death rate in the country, 382 fatalities for every 100,000 people, according to the CDC" while, "at the same time, Governor Ron DeSantis says he was right to reopen the state's economy and remove restrictions long before many of his more cautious peers."
Having a higher COVID death rate than 37 other states is hardly anything to brag about, let alone evidence that DeSantis was "right," but you be you, Curt.
Tim Graham spent a Nov. 7 post whining about supposed "hit pieces in the last weekend of the campaign" in both the New York Times and the Washington Post. Houck returned for another simping post on Nov. 8 gloating that a newscast apparently "couldn't find a single hater of Governor Ron DeSantis (R-FL) and open supporter for his opponent, Congressman Charlie Crist (D-FL)."
The MRC also made sure to simp and gloat when DeSantis handily won re-election. Nicholas Fondacaro cheered that "DeSantis winning a majority of Latinos in his runaway victory against Democrat Charlie Crist" was "a bright spot in what turned out to be wet blanket Election Day for Republicans," while Christy complained that Republican strategist Ana Navarro pointed out that DeSantis "gamed the system" by changing election laws, huffing in response: "Sounds like DeSantis won because of a combination of his own strengths and Democratic weakness, not gaming the system, but that Navarro just doesn't want to admit it."
The latest from