CNS' Nitpicky War on Biden
CNSNews.com has made it a mission to attack President Biden for even the most minor mistakes -- something it didn't do, and still won't, regarding Donald Trump.
By Terry Krepel
Posted 8/9/2021
---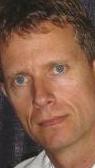 Patrick Goodenough
CNSNews.com has made clear that it will attack and smear Joe Biden and his presidency the same way it carried water for Donald Trump's presidency. One of the ways it's doing that is to hold Biden to factual and rhetorical standards it refused to enforce on Trump.

In writing a Biden town hall in February, CNS reporter Patrick Goodenough -- who has a bit of a thing about refugees -- nitpicked President Biden's numbers regarding refugees in a Feb. 18 article, with a headline claim that Biden made "3 errors in 12 seconds":
In the space of 12 seconds during his CNN town hall in Milwaukee on Tuesday night, President Joe Biden made three separate errors when talking about refugee admissions to the United States.

"We used to allow refugees, 125,000 refugees into the United States in a yearly basis," he said. "It was as high as 250,000. Trump cut it to 5,000."

[...]

Biden is correct in saying that President Trump slashed refugee admission numbers to record-low numbers. But all three figures he gave were off the mark.

--Over the years since the modern-day refugee admission program was established in 1980, the highest number of refugees to be resettled in the U.S. in any one year was 207,116, in fiscal year 1980, according to the numbers published by the State Department. It was not 250,000, as Biden asserted. (Even had he been referring to the ceiling rather than the actual number of admissions, the highest ceiling ever set, by the Carter administration for FY 1980, was 231,700, not "as high as 250,000.")

--Biden said the U.S. "used to allow … 125,000 refugees into the United States in a yearly basis." In fact, according to the State Department, over the 42 years since the Refugee Act was enacted in 1980, the U.S. admitted 125,000 or more refugees only three times – in fiscal years 1980 (207,116 refugees), 1981 (159,252 refugees), and 1992 (132,531 refugees). The average number of refugees admitted a year over that 42-year period stands at 88,207.

--Biden said Trump reduced the number of refugee admissions to 5,000. In fact, the lowest number of refugees resettled in the U.S. during the Trump presidency was 11,814, in FY 2020. Of the five years accounting for the smallest number of refugee admissions since 1980, three were under Trump – fiscal years 2020 (11,814 refugees), 2018 (22,517 refugees) and 2019 (30,000 refugees) – and two under President George W. Bush – fiscal years 2002 (27,131 refugees) and 2003 (28,403 refugees).
Goodenough weirdly added at the end of his article: "During his presidency Trump was frequently criticized or mocked for giving exaggerated or inaccurate figures during speeches or interviews." He didn't mention that he never pointed out those inaccuracies they way he did to Biden.
That's not because he didn't have a chance to do so. A little over a week later, Goodenough -- who has also been working to burnish Trump's reputation since he left the White House -- had the chance to put his words in action by pointing out false and misleading claims former President Trump, he punted. Instead, Goodenough's Feb. 28 article on Trump's speech at the Conservative Political Action Conference is largely fluff and stenography, leading with Trump's narcissistic teasing about a 2024 presidential run:
Former President Trump made his return to the political arena in a fired-up speech on Sunday, slamming the five-week-old Biden administration's record and making clear he has no intention of going away quietly. He stopped short of announcing plans to run again for the White House in 2024.

Addressing the Conservative Political Action Conference (CPAC) in Orlando, Florida just two weeks after the U.S. Senate acquitted him of inciting insurrection, Trump pledged to throw his support behind strong conservative candidates, while dismissing by name those he characterized as "Republicans in Name Only."

But he left hanging the question of whether he envisaged being the party's standard-bearer in the next presidential race.
While actual news outlets have performed fact-checks of the speech focused solely on Trump's claims of election fraud that purportedly cost him the election, this fawning statement is all Goodenough wrote about it: "Evidently unfazed by the criticism he received for his reaction to the declared outcome of November's election, Trump returned to the issue several times."
And while there are many fact-checks of Trump's speech as a whole, Goodenough didn't reference them or do any-fact-checking of his own here or in any other article. Instead, he uncritically forwarded Trump's rants that Biden has had "the most disastrous first month of any American president in modern history" (by what metric? Goodenough didn't seem interested in finding out) and that the Biden administration is "anti-jobs, anti-family, anti-borders, anti-energy, anti-women and anti-science."
If one was looking for a compare-and-contrast of how CNS' pro-Trump, anti-Biden editorial agenda operates, Goodenough couldn't have delivered a better example.
Goodenough did this nitpick-and-fail routine a month later. On March 26, Goodenough wrote an article headlined "On Afghanistan, Biden Makes Three Gaffes in 30 Seconds":
During his first press conference on Thursday, President Biden within the space of 30 seconds made three gaffes when responding to a question about Afghanistan.

He got a name wrong; he implicitly questioned the status of an elected U.S. ally who is Afghanistan's head of state and commander-in-chief of the armed forces; and he corrected himself on "if" troops leave to "when we leave."

When asked about one of the three gaffes, Biden reversed himself. The other two raised no comment.
But on the same day, Trump called into Fox News and, well, this happened:
Former President Donald Trump on Thursday attempted to whitewash the history of the January 6 Capitol riot by pushing the false suggestion that his supporters were "hugging and kissing" police officers and posed "zero threat" despite widespread violence, injuries to law enforcement officers and five deaths.

It's an outrageous attempt by Trump to rewrite the history of the insurrection, which he stoked by repeatedly and falsely claiming the 2020 election was stolen from him. There is no evidence of widespread fraud, but Trump and many of his conservative allies in the media and on Capitol Hill have continued to push the "big lie" regardless.

Calling into Fox News on Thursday night, Trump was asked if he was concerned about the US Capitol's beefed up security, including razor-wire fencing, which he derided as "disgraceful" and a "political maneuver."

"It was zero threat, right from the start, it was zero threat. Look, they went in, they shouldn't have done it. Some of them went in, and they are hugging and kissing the police and the guards, you know, they had great relationships," Trump told Fox News' Laura Ingraham. "A lot of the people were waved in, and then they walked in and they walked out."

Trump's latest whitewash attempt comes after the world has been presented with reams of video evidence of the violence that broke out on January 6, criminal charges filed against participants, law enforcement officials testimony, police officers' accounts of the violence, and lawmakers' descriptions of the fear they experienced that day.
Goodenough didn't whitewash this -- instead, he ignored it completely, as did every other CNS employee. There's no mention of Trump's Fox News appearance that we could find at CNS.
It's clear that CNS is holding Biden to a different standard that it holds Trump. It's as if there's a pronounced ideological bias there.
CNS' nitpicking of Biden reached a point where even the hated "liberal media" Washington Post became an ally. Susan Jones wrote in a March 31 article:
At his March 25 news conference, President Joe Biden called Georgia's new election integrity law "un-American" and "sick."

"It's sick, deciding in some states that you cannot bring water to people standing in line, waiting to vote, deciding that you're going to end voting at 5:00 when working people are just getting off work, deciding that there will be no absentee ballots under the most rigid circumstances."

A day later,Biden issued a statement, titled, "the Attack on the Right to Vote in Georgia," saying in part: "Among the outrageous parts of this new state law, it ends voting hours early so working people can't cast their vote after their shift is over."

His remarks are false. In fact, the Washington Post is giving Biden "four pinnochios" for saying what he did.
You will not be surprised to learn that, according to a search of the CNS archive, CNS has not only never devoted an article to a Washington Post fact-check of Donald Trump, it attacked the Post for fact-checking him at all.
In a May 2019 column, for instance, Brent Bozell and Tim Graham -- the people who run CNS' parent, the Media Research Center -- complained that the Post made a big deal of counting 10,000 falsehoods spoken by Trump, whining that the Post engaged in "bias by target selection," "nitpicking" and "bias by multiplying nitpicking times 100" to reach that number , ultimately dismissing the number as "10,000 gotchas."
Nitpicky Biden speech coverage
CNS served up the biased coverage of President Biden's speech to Congress in April that anyone with a pulse was expecting -- cherry-picking moments it could portray in a negative light for its right-wing audience while failing to cover the speech as a whole. Things started off with a biased complaint from Patrick Goodenough, who grumbled that Nancy Pelosi was nicer in introducing Biden than she was a year earlier in introducing then-President Trump:
What a difference a year makes.

As she introduced President Joe Biden ahead of his address to a joint session of Congress on Wednesday night, House Speaker Nancy Pelosi did not hide her enthusiasm.

"Members of Congress," she said, in muffled tones through her mask. "I have the high privilege and distinct honor to present to you the president of the United States."

Moments beforehand, Biden had handed her a copy of his speech, and the two met eyes over their masks, with Biden briefly raising one hand. When Biden finished his address, they bumped elbows.

Almost 15 months earlier, as Pelosi introduced President Trump for what would be his last State of the Union address, she said simply, "Members of Congress, the president of the United States."
CNS then launched into a series of articles target various aspects of Biden's speech:
By contrast, Susan Jones was quite reverential to Rep. Tim Scott's Republican response to Biden, oddly highlighting his response to things in Biden's speech that CNS never reported on:
Shortly after President Joe Biden urged Americans to seize the opportunity "to root out systemic racism that plagues America," Sen. Tim Scott -- a black man who has experienced discrimination firsthand -- rejected the claim that this is a racist country:

"Hear me clearly: America is not a racist country," Scott said in his response to Biden's speech.

[...]

Scott said he has experienced the pain of discrimination, including from "progressives" who disagree with his conservative views:

"I know what it feels like to be pulled over for no reason. To be followed around a store while I'm shopping...I've also experienced a different kind of intolerance.

"I get called "Uncle Tom" and the N-word -- by "progressives"! By liberals! Just last week, a national newspaper suggested my family's poverty was actually privilege because a relative owned land generations before my time. Believe me, I know firsthand our healing is not finished."

(Indeed, "Uncle Tim" began trending on Twitter Wednesday night as Sen. Scott spoke.)
To add insult to bias, Jones contributed an article on former President Trump's reaction to Biden's speech, putting his sneer that "Nancy's mask was the biggest mask I think I've ever seen" right in the headline. She rehashed a good part of that article in a follow-up piece on Pelosi explaining why members of Congress wore masks.
The coverage concluded with editor Terry Jeffrey playing mask gotcha (as CNS is prone to do):
When a masked President Joe Biden entered the chamber of the U.S. House of Representatives on Wednesday to deliver his address to a limited number of senators and congressmen—as the video below shows--he fist-pumped the bare knuckles of at least eight people.

Then he patted Chief Justice John Roberts on the arm.

As he then gave his speech—with Vice President Kamala Harris and Speaker Nancy Pelosi conspicuously wearing masks behind him--Biden repeatedly put his hand to his face.

Sometimes he wiped his open mouth. Sometimes he rubbed the base of his nose. Then he wiped his eye.

On the way out of the chamber, he had skin-to-skin contact with multiple members—including one who held his fist in her hand and another who shook his hand.

He did this at an event where many members of Congress were denied entry into the chamber in order to avoid the risk of spreading COVID-19.
This is what CNS deemed to be more important than a comprehensive, objective overview of Biden's speech.
More negative Biden-bashing
The day after this address to Congress, Biden flew to Georgia and gave another speech. CNS trashed and nitpicked that one too. The big takeaway, as far as Susan Jones was concerned, was Biden misspeaking:
"End detention now! End detention now!" cried protesters who interrupted President Joe Biden's speech in Duluth, Georgia on Thursday.

"Abolish ICE," they shouted, holding up a large orange banner that read, "communities not cages." Biden could not read the banner because it faced the crowd.

Biden, distracted, paused several times to listen to the protesters. He also responded to them:

"I agree with you. I'm working on it, man. Give me another five days," Biden told them. "Folks, y'all know what they're talking about. There should be no private prisons, period. None, period. That's what they're talking about. And private detention centers. They should not exist. And we are working to close all of them."
Jones went on to complain that "his administration ordered ICE and Border agents to change their language as it relates to illegal aliens" -- which, of course, CNS framed as "censorship"; an April 19 article by Craig Bannister summarized that right-wing talking point in the headline: "Biden Censors ICE, CBP Vocabulary; Bans Words Like 'Alien' and 'Immigrant Assimilation'." Bannister further complained that the new terms suggest that, instead of expecting illegal aliens to 'assimilate' to U.S. laws and culture, American society must change in order to "integrate" and accommodate the newcomers."

Jones -- who along with the rest of CNS loves to cast aspersions on Biden's purported "cognitive decline" while pretending to be insulted that anyone ever dared to question Donald Trump's mental health -- cranked another article, insultingly headlined "Biden Makes It Clear: 'I Am Jill's Husband. It's Obvious to Everybody'":
After saying hello to the crowd, Joe veered into an (unscripted) wife joke:

"Well, I'm ready to go home, because she never says that to me at home. I was--this was worth the trip, hearing that. I am Jill's husband. It's obvious to everybody. I never get introduced as 'she's my wife.' I'm her husband. And, you know, I'm proud to be..."

Shortly after he started speaking, Biden was interrupted by -- and distracted by -- protesters screaming, "End detention now! Abolish private detention centers!" He tried to mollify them by agreeing with the need to get rid of private prisons.
Jones went on to whine that "Biden then launched into a recitation of his jobs program, his intention to halve child poverty through new tax credits and social programs, his climate change agenda, and his intention to raise taxes on the rich for the benefit of the poor -- and so much more. Biden made the same points he outlined in Wednesday night's speech to a sparsely populated, well-masked, joint session of Congress."
Jones served up one more negative smear, this one on Biden misplacing his mask:
"I'm looking for my mask. I'm in trouble," President Joe Biden explained to a drive-in rally in Duluth, Georgia on Thursday when he remained at the podium after ending his speech and after introducing Georgia's two senators.

Democrat [sic] Senators Jon Ossoff and Raphael Warnock waited awkwardly behind the president, as he scrambled to find his mask.

Nope, it wasn't in his speech folder. No, it hadn't fallen to the floor. Where could it be?

First Lady Jill Biden walked over to help her husband look, as the music ("Your love keeps lifting me higher") played on.

In a remarkable moment, Biden, helped by Jill, finally found his mask -- whipped it out of his pocket -- just as the song reached the line, "I'm so glad I finally found you."

Watch the video. It's funny.
Jones only thinks it's "funny" because it gives her and her CNS colleagues an opportunity to depict Biden as a doddering old man -- something she would never have done of Trump despite his similar mock-worthy behavior.
Tulsa speech distortions
When Biden went to Tulsa, Okla., to speak on the 100th anniversary of the Tulsa race massacre, CNS once again cherry-picked his words in an effort to distort them and/or make him look like a doddering idiot. Jones complained under the headline "'Guys Like Me': Biden Finds Common Ground With Black Victims of White Supremacists":
President Joe Biden said he went to Tulsa on Tuesday "to shine a light, to make sure America knows the story" of a white mob viciously attacking a successful black community one hundred years ago.

Biden told the story in great, gory detail -- how "one night changed everything -- everything changed."
The "guys like me" remark that so offended Jones got relegated to a speech transcript in which Biden (accurately) noted that the Ku Klux Klan was anti-Catholic as well as racist. Jones then groused that "Biden talked a lot about 'hate,' using the word at least ten times in his speech, as he reopened very old wounds" -- falsely suggesting that Biden was actually endorsing the massacre, which he most definitely was not, as the transcript Jones attached to her article demonstrated.
In another article, Jones seemed annoyed that Biden tried to relate the Tulsa massacre to modern events:
President Joe Biden spent much of Tuesday urging the nation to focus on hatred, especially white-on-black hatred, or what he called "the stain on the soul of America."

Biden was speaking in Tulsa, Oklahoma, commemorating a violent attack by a white mob on the black community of Greenwood 100 years ago.

He drew a "line" from what happened in Tulsa way back then to hatred that "exists today still."

He also asserted that "terrorism from white supremacy is the most lethal threat to the homeland today -- not ISIS, not al Qaeda -- white supremacists."
In her third article on the speech, Jones huffed that Biden brought up voting rights with a biased view of Democrat-promoted election reform bills:
On a trip to Tulsa where he focused on racial hatred and division, President Joe Biden brought up voting rights and the Democrats' push to pass H.R. 1, a bill that would relax voting rules and give the federal government more control over how states and localities run their elections.

Democrats continue to make the case that Republican state legislatures are specifically trying to suppress the black vote by requiring voter identification, for example, or by eliminating the unsolicited mailing of ballots to everyone on the voter registration rolls, which often are outdated.
Jones then stopped being a journalist and went into right-wing-activist mode by aggressively defending Republican-promoted election changes:
Texas is among the Republican-led states that has come under leftists' fire for election reforms it has so far been unable to pass.

As Gov. Greg Abbott described it, the bill, which he declared to be an emergency measure, would "prevent election officials from jeopardizing the election process and encouraging voter fraud through the abuse of mail ballots and drive-thru voting." The bill also would promote transparency at the polls by ensuring that poll watchers in Texas are not obstructed from observing the counting of ballots.

"Our objective in Texas is to ensure that every eligible voter gets to vote and that only eligible ballots are counted," said Governor Abbott in a March news release. "In the 2020 election, we witnessed actions throughout our state that could risk the integrity of our elections and enable voter fraud, which is why I made election integrity an emergency item this session."

(Biden in a news release called the Texas bill an attack on "the sacred right to vote" and an "assault on democracy.")

[...]

But to Biden and his fellow Democrats, rules like the ones mentioned above will suppress the vote, even though American voters have never had so many options for early voting, absentee voting, and in-person voting.
These articles were followed by one from Melanie Arter pushing CNS' "cognitive decline" narrative by noting that Biden talked to a couple of young girls about ice cream before the speech:
Before giving his speech in remembrance of the 1921 Tulsa race massacre - considered to be one of the worst incidents of racial violence in U.S. history - President Joe Biden wandered off stage to see if two white girls want ice cream.

As soon as the president was introduced, he stepped up to the podium, asked the predominantly African-American crowd to have a seat.

"Please if you have a seat, sit down, and I gotta make one check," he said.

The president walked over to the two little girls who were seated in the front row off to the side of the stage and talked to them and their mother.

He walked back on stage, and announced, "I just had to make sure that two girls got ice cream when this is over."

"Imagine how excited you'd be when you're 4? 5?" he asked their mother. "Almost 5 years old coming to hear a president speak. My Lord, in my faith we call that purgatory."
That's not news -- that's a political attack done to push a malicious partisan narrative. And it would never admit that Trump would never have associated with a child in such a fashion.
The latest from