MRC Mad That Anti-Semitic Dog Whistle Of Linking DA To Soros Was Called Out
Topic: Media Research Center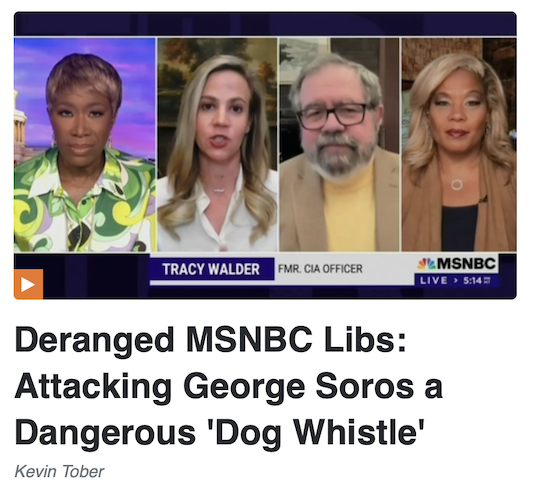 The Media Research Center offering aid and comfort to Donald Trump by attacking district attorney Alvin Bragg as a "Soros-backed prosecutor" has been accompanied by a series of defensive articles denying that it's invoking an anti-Semitic dog whistle by hyping the George Soros bogeyman (even though it has a history of doing just that). Kevin Tober whined in a March 22 post:
On MSNBC's The ReidOut, host Joy Reid and her three guests, who all appeared to resemble a Mount Rushmore of stupid, engaged in another smear fest against Republicans. This time, they accused the GOP of engaging in a dangerous "dog whistle" for simply pointing out the amount of death, destruction, and decay that George Soros has caused in American society. Reid and her assembled panel had no facts to support their arguments. So, like good leftists, they simply maligned the intentions of their political opponents.

Reid turned to former CIA officer Tracy Walder to cry about conservatives being mean to Soros for merely pointing out he's a puppetmaster behind every destructive force in the United States: "[T]he fact that they keep throwing George Soros' name, we've talked a lot in our show meetings, is it definitely feels like a dog whistle that is dangerous."

Walder agreed with Reid, adding: "[I]t absolutely feels like a dog whistle that's dangerous. Look, most of these groups, the Oath Keepers, Boogaloo Boys, Proud Boys, they all subscribe to what you are all referring to as the great replacement theory."

She never explained what these fringe groups that the overwhelming majority of Americans of all sides have never heard of have to do with evoking the name of George Soros.
Yes, Tober is effectively -- and falsely -- accusing Soros of murder. His example of Soros causing "death" was that a "Soros-backed prosecutor" dropped a gun-related charge against a man who later killed three people at Michigan State University. But as we pointed out, the gun charge that was dropped involved carrying a concealed gun without a permit -- something conservatives heartily support. Sounds like Tober needs to engrave himself on that "Mount Rushmore of stupid."
Tober lashed out at Reid again in a March 31 post for making the same point centered around another figure for whom the MRC serves as PR flacks:
After news broke Thursday that the leftist prosecutor Alvin Bragg and his Grand Jury voted to indict Trump, Florida Republican governor Ron DeSantis took to Twitter with a statement defending Trump and letting Americans know he would not help extradite the former President to New York to be arraigned. This news triggered the always unhinged MSNBC ReidOut host Joy Reid who used to occasion to claim DeSantis's statement was a dog whistle that African Americans like Bragg are controlled by Jewish millionaires.

"The governor of Florida does not know the facts so he cannot talk about questionable facts in this case he doesn't know them. Only the Grand Jury knows them and this is a sealed indictment," Reid huffed.

[...]

Nowhere in her incoherent ramblings did she explain how attacking Bragg amounted to a "dog whistle" that he's controlled by "Jewish millionaires."
Tober never explained why it wasn't. Joseph Vazquez similarly defended DeSantis from the dog-whistle criticism the same day:
Don't criticize leftist billionaire George Soros' agenda to overhaul the criminal justice system or you're an anti-Semite! At least, that's the ridiculous pejorative that MSNBC host Joe Scarbough hurled at Florida Governor Ron DeSantis (R).

Scarborough railed at DeSantis' tweet signaling that he would not be cooperating with "Soros-backed" Manhattan District Attorney Alvin Bragg in the extradition of former President Donald Trump following his vendetta to indict him on dubious legal grounds. Scarborough, apparently ignorant of the fact that Soros himself made his agenda to elect leftist prosecutors across the country widely known, set up a strawman argument by arbitrarily making DeSantis' criticism seem like a swipe at Soros' race. "It's just Jews. They're attacking Jewish, international bankers. It's what anti-Semites have been doing for hundreds of years — attacking Jewish, international bankers," Scarborough spewed on the March 31 edition of MSNBC's Morning Joe.

Scarborough repeated himself like a broken record and used an overused left-wing strategy by likening DeSantis to Nazis: "That's what they do. They try to blame everything on Jewish international bankers. It's Germany 1933." MRC Business Vice President Dan Schneider, who is Jewish, ripped Scarborough apart on Twitter for his senseless comparison of DeSantis to Nazi Germany: "@JoeNBC diminishes the evilness of the holocaust and anti-Semitism by blabbering such [treif]. THAT is evil." Schneider later said in a follow-up statement: "Scarborough diminishing the evils of anti-Semitism this way is anti-Semitism. I call on him to apologize to all Jews."
This plays into the MRC's narrative that Soros is a Jew conservatives are permitted to hate -- something Vazquez and Schneider didn't mention. Instead, he huffed that "to Scarborough, DeSantis simply criticizing Soros for using his enormous influence to further his soft-on-crime agenda — which in practice has led to significant spikes in urban crime rates — makes DeSantis an anti-Semite."
(Schneider's tweet tried to be gratuitously Jewish by using the word "traife," a Yiddish word describing non-kosher food, which Vazquez for some reason changed to "treif," though both appear to be accepted spellings.)
Alex Christy tried to defend the attack line in an April 1 post:
PBS NewsHour twice accused GOP critics of Manhattan D.A. Alvin Bragg and left-wing political donor George Soros of anti-Semitism on Friday's show. Those doing the accusing were not cantankerous liberal guests, but host Amna Nawaz and White House correspondent Laura Barron-Lopez.

Barron-Lopez was up first. Talking about the potential for violence when former President Trump is arraigned on Tuesday, she lamented that Rep. Marjorie Taylor Greene plans to travel to New York to lead protests and that Fox News's Tucker Carlson "is telling his viewers that it's probably not a good time for them to get rid of their AR-15s."

Greene and Carlson's remarks come at a time when "Trump and a number of his allies have been using dog whistle attacks, anti-Semitic attacks against—when they attack D.A. Alvin Bragg by saying that he is backed by George Soros, who is Jewish."

Of course, Barron-Lopez provided no evidence that criticizing Soros is anti-Semitic other than simply declaring it. However much the media may strain to claim he is, Soros is not a code word for all Jews and the conspiracy theory that Jewish money controls the world. Soros is an individual person with dangerous beliefs about law and justice.
Christy didn't explain how having beliefes about law and justice that differ from right-wing narratives are, by definition, "dangerous."
Posted by Terry K. at 10:30 PM EDT
Updated: Wednesday, May 3, 2023 4:42 PM EDT