Another WND Columnist Falsely Fearmongers About (Nonexistent) Digital 'Biden Bucks'
Topic: WorldNetDaily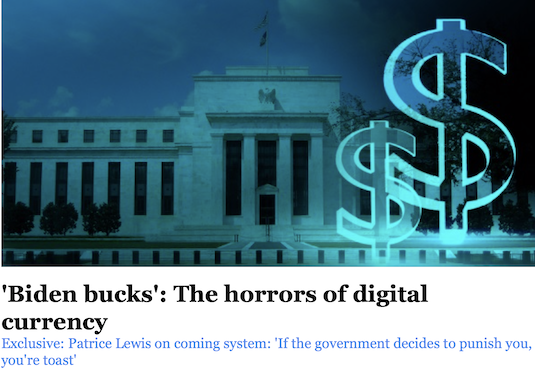 Joseph Farah isn't the only WorldNetDaily columnist who's falsely fearmongering about a Biden administration executive order exploring digital currency. Patrice Lewis served up her take in her Sept. 30 column:
Of the many horrors introduced by the Biden administration – open borders inviting millions of unvetted illegal immigrants, including human traffickers, criminals, and terrorists; untold quantities of fentanyl and other dangerous drugs flooding the nation; shutting down pipelines and otherwise making our nation energy-vulnerable; inflation due to rampant money printing – one of the most horrifying is coming down the pipeline. I refer to digital currency.

In Biden's vision, digital currency will "advance democracies to lift people up, not to hold them down." Naturally, digital currency is being offered as a "solution" to problems we never realized we had. It's touted as far more efficient, easy, environmentally beneficial and even more sanitary than paper currency. With digital currency, gone are the troublesome days when cash must be printed or minted. Now the government can flood the system with untold trillions of digital dollars at the push of a button. Now that's efficiency!

But despite whatever pretty words they use, there is no question digital currency is a horror show waiting to happen.

[...]

When traditional currency is phased out, everyone will suffer. You can no longer tip your hairdresser or drop a few bucks into a homeless person's cup. You can no longer sell unneeded items at a yard sale or send your grandkid a $10 bill in a birthday card.

Bitcoin expert Anthony Pompliano calls digital currency "one of the greatest violations of human rights in history." He writes, "Once a central bank digital currency is in the hands of a population, the central bank has solidified complete control. They will no longer have to go to the court system or invoke emergency powers to tell you who you can transact with. This can all be implemented through remote, digital technologies. These central bankers will be able to see what is in your bank account, who you transact with, what you purchase, and anything else they are curious about in your financial life. That full transparency with the state removes all elements of privacy, while also giving the institutions the ability to censor any and all transactions, regardless of whether they have a legitimate reason or not."

No wonder the current administration is slavering to introduce the so-called "Biden Bucks."
Actually, nobody is "slavering" to do anything. As we pointed out when Farah served up similar fearmongering, the only thing the Biden executive order does is explore whether the Federal Reserve should even get involved in issuing digital currency and the legislative hurdles involved in doing so.But because facts don't matter to Lewis, the fearmongering continued:
The fact is, digital currency is being introduced for one reason, and one reason only: so it can be weaponized against political enemies. And as Biden himself has made abundantly clear in the last few weeks, his political enemies include anyone and everyone who doesn't wholeheartedly support his growing reign of terror.
Digital currency will allow the government to seize assets at will. Forget those middle-of-the-night FBI raids; just click a button, and the victim has nothing. The mere threat of this possibility will be enough to bring all but the most die-hard rebels into line with the régime.

[...]

If you think the term "digital concentration camp" sounds extreme and over-the-top, think again. If the government decides to punish you, you're toast. You can't pay your power bill, so your electricity is shut off. You can't pay your water bill, so your water is shut off. You can't buy gas, so you can't drive. You can't pay your rent or mortgage, so you're evicted. You can't pay your property taxes, so your (paid-for) home is seized. You can't buy food. Forget medical care; that's out of the question.

This cascading series of events can happen literally at the push of a button. You won't be jailed, but you won't have to be. Your life will become a living hell.

[...]

You might claim this is mere conspiracy theory, but imagine this: Had digital currency been around two years ago, would it have been tied to mandatory COVID vaccines? Short answer: Yes. No vaccine, no access to your money. Easy peasy lemon squeezy.
Lewis cited no authoritative source to back up her claim that this will all be happening imminently -- just her fellow conspiracy theorists.
Posted by Terry K. at 5:06 PM EDT