MRC Roots For Book Bans While Complaining About Being Called Censors
Topic: Media Research Center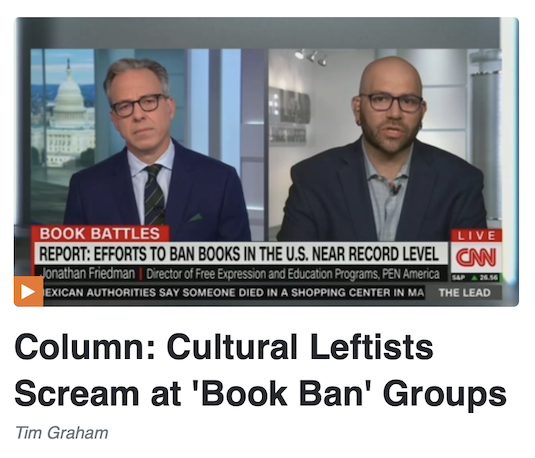 Earlier this year, we noted how the Media Research Center played the "it's not book banning when we do it" approach to book bans, because they're playing the protecting-children card when supporting book bans and censoring subjects they have decided they don't want people to know about. That enthusiasm for and defense of book bans and censorship, as well as effectively demanding the censorship of books it doesn't like -- ironic given how the MRC loves to rage about purported "censorship" by social media -- continued thoughout the year.
An April 18 post by Curtis Houck complained that musician Janelle Monae -- dismissed in the headline as a "lefty singer" -- criticized GOP Texas Gov. Greg Abbott for signing "a law that bans us talking about the LGBTQIA+ communities in books, bans critical race theory," huffing in response: "Of course, the laws in states like Texas aim to and do nothing of the sort. This is unless Monáe meant teaching sex education to preschoolers and teaching white kindergartners that, by existing, they're oppressors toward their black classmates." Houck offered no evidence that any of that was happening in Texas. On April 28, Alex Christy huffed that a CNN correspondent, "with the help of an anonymous teenager, accused adults of throwing temper tantrums as they seek to attack 'non-binary' youth when they seek to remove books about left-wing gender ideology from schools." He didn't explain what "left-wing gender ideology" is, let alone why it must be censored.
Wallace White screamed for censorship in a July 12 post by using the old tool of the wannabe censor, taking things out of context:
If there isn't a surge in homeschooling in Oregon's Salem Keizer School District, something is very wrong with the water in that part of the world. As reported by Libs of TikTok July 12, a school district committee has voted to keep Gender Queer available for children. It's an extremely pornographic LGBT book.

The school formed a "special committee to determine if the book should be removed," per Libs of TikTok. The head of the committee, Suzzane West, has a job description that reads, "Crafting and developing strategies that support the district's movement to become a more anti-racist and anti-oppressive school system." In other words, normal parents didn't stand a chance.

The book contains graphic sexual imagery and nudity, as well as panels about binders for transgender people and sex toys. Also featured is an image of gay sex. I wish I was joking. If you don't believe me, look for yourself (at your own risk).
White then got mad that people brought up pesky things like context in opposition to his plucking random images from the book out for shock value:
West desperately tried to justify her decision to lots of righteously angry parents in emails sent in reply to complaints. One reads, "The book will be necessary to keep in schools, to help be more inclusive and allow all students from the LGBTQ+ community to have a resource to refer to. In addition, the pages taken out of context do not represent the intention of the book and only served as an illustration to help provide understanding of what the author was trying to portray in their book."

Yeah, I don't think context is going to fix the fact there is graphic depictions of gay sex in a book children can read.
In fact, there is a thing called the Miller test, which is the Supreme Court's measurement of whether a work is obscene -- and one of those requirements is to judge the work as a whole. Indeed, a couple weeks after White's manufactured-outrage post, a court refused to ban "Gender Queer" as obscene. And author Maia Kobabe, who wrote the book based on personal growing-up experiences, implored readers to "please read the whole book and judge it based on the entire contents, not just a tiny snippet" -- something White clearly did not do.
Tierin-Rose Mandelburg cheered official censorhip in a July 21 post, which, again, was based on cherry-picked out-=of-context images and not the entire work:
Well this is shocking! A school board just rejected wokeism ... for now.

The Miami-Dade County School Board just reversed a previously made decision to approve sex-ed books for students. The vote was 5-to-4 against using the textbooks! Thank goodness.

[...]

According to the scanned pages, books provided information about "pulling out" and even explained the difference between sex and gender. Ah! Indoctrination at its finest. One page talked about what people do with unplanned pregnancies. It said that some "choose to place the child for adoption, or in some cases, end the pregnancy." As a cherry on top, one book also presented questions for kids to ask doctors like "Will you tell my parents or others the information I tell you?" and "If I want to, can I talk to you without my parents in the room?"
Mandelburg got petulant when a parent pointed out the censorship stuff:
A different parent, Marika Lynch claimed that the vote against the books "is an attack by right-wing extremists," who are "trying to censor books all across the country."

Oh so if you don't want your kid indoctrinated, you're a "right-wing extremist." Got it.

The book does have inappropriate content in it and shouldn't be distributed. That's the bottom line.

The school board will be going through new material before the school-year starts. Hopefully stuff that kids should actually learn about and not this woke crap.
Kevin Tober played the "indoctrination" card in an Aug. 18 post:
On Wednesday night's The 11th Hour on MSNBC, host Stephanie Ruhle proved that she hates conservatives who want to prevent the ideological and sexual indoctrination of children so much that she allowed one of her guests to compare their efforts to that of book burnings in Nazi Germany.

After smearing Florida Republican Governor Ron DeSantis for preventing Critical Race Theory and LGBTQ indoctrination from being taught in schools, which she suggested is making the teacher shortage worse, she cried to Texas Democrat Senator Roland Gutierrez: "Texas is also facing a teacher shortage. It's not a surprise. Teachers are woefully overworked, underpaid, and now under attack. How do you get more qualified teachers in Texas classrooms?"
Of course, neither Mandelburg nor Tober are actually opposed to indoctrinating children in schools -- they simply want their favored right-wing indoctrination.
Mandelburg was back to demanding censorship of inconvenient things in an Aug. 31 post, raging against a high school health book that "listed the following for types of gender identities: agender, androgynous, bigender, cisgender, gender fluid, gender nonconforming, gender questioning, nonbinary and transgender," going on to huff:
Kids, high school students included, are easy targets. They are in developing years and are extremely impressionable and easily influenced. Targeting them at this stage is a perfect way to groom and, as the mother said, exploit them and their innocence.

Parents can supposedly choose to "opt-out" of certain lessons, but if the school was even willing to order these books, there's no telling what other sort of indoctrinating, explicit and grooming conduct goes on behind closed school doors.
Teaching young adults about gender identity isn't "grooming," no matter how mad Mandelburg gets over it.
Tim Graham complained about right-wingers being (accurately) called censors in his Sept. 21 column with the usual out-of-context content:
The cultural left never stops trying to drag America into their supposedly glorious "tolerant" future where we have an ever-expanding array of gender identities and grade-school children know as much about masturbation as they do about multiplication.

Unsurprisingly, CNN is promoting left-wing "anti-censorship" groups raging against conservative parents who object to precocious pornographic indoctrination. On The Lead with Jake Tapper, the CNN host interviewed Jonathan Friedman, the "director of free expression and education programs" at PEN America, pitched merely as a "nonprofit literary advocacy organization." They advocate for literature, not for a cultural revolution.

Their latest report boils over at alleged racism and homophobia in parental objections in education. They assert most "book bans" are about "works with LGBTQ+ characters, protagonists of color, about race and racism, or with sexual content."

[...]

As usual, Tapper didn't challenge the "free expression" champion on the actual contents of controversial books, like Gender Queer by Maia Kobabe, the most challenged "literary" work. The New York Times gently notes this comic book ("graphic novel") includes depictions of sexual experiences, masturbation, and menstrual blood. Put that on TV!

The Times explained how this book entered libraries across America. In 2020, Gender Queer won an Alex Award, a prize given by the American Library Association (ALA) to books written for adults that hold "special appeal to young adults, ages 12 through 18." Librarians across the country look to awards like this when ordering new books, so high schools and some middle school libraries around the country began stocking it.

So the ALA promotes the book, and then goes on a "free speech" crusade when it's challenged. Jonathan Friedman is quoted in the Times alleging "There's definitely an element of anti LGBTQ+ backlash." You can't object without being the bigoted "backlash," and not a part of "free expression."
Graham concluded by whining:
The "anti-censorship" groups promoted by the liberal media have the same ideological sensibilities as their friends in the "news" business and the Big Tech sector. They all claim they're saviors of "democracy," but they don't act like it. Their "free expression" credentials are just as easily questioned. They all tend to "censor" the specifics of what makes books objectionable. They aren't good at debate. They're good at squelching debate.
Actually, Graham and his MRC subordinates are are the ones who are trying to squelch debate by pulling allegedly offensive snippets of books out of context -- in defiance of the Miller test -- and demanding they be censored because they're "protecting" children from "indoctrination," while labeling anyone who opposes this approach as "groomers."
Posted by Terry K. at 9:29 PM EST
Updated: Tuesday, December 27, 2022 10:12 PM EST