MRC Lashes Out At Nancy Pelosi's Daughter For Making Documentary About Her Mom
Topic: Media Research Center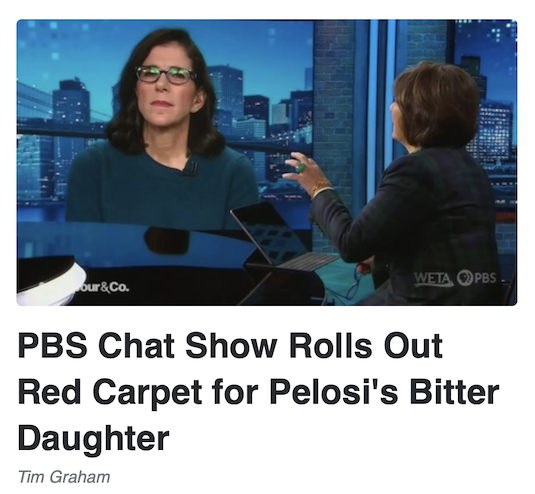 The Media Research Center's Nancy Pelosi Derangement Syndrome has extended to her daughter for making a documentary about her. Right-wing film critic Christian Toto spent a Dec. 3 post complaining that the documentary has a certain bias (you know, like a lot of documentaries do):
The new documentary, debuting December 13 on HBO, is directed by Alexandra Pelosi. Yes, that's the House Speaker's daughter, a veteran filmmaker whose body of work reflects her family's progressive bona fides.

To be clear, HBO hired Nancy Pelosi's filmmaking daughter to shoot a documentary about mom. Just imagine a platform like HBO or Showtime releasing a docuseries on President Donald Trump produced by Ivanka or Eric Trump.

It's not possible because it wouldn't happen. Nor should it.

HBO's marketing team makes no effort to hide the nepotism on full display, to its credit. The film's synopsis, though, suggests an attempt to place the outgoing speaker in the context of modern history … as seen through the eyes of a daughter who shot, produced and directed the film.

Even if Alexandra Pelosi could capture her mother's political life in an unflinchingly neutral fashion HBO shouldn't choose her to film such a project.

[...]

Recent documentaries like Fauci, Bring Down the House andHillary similarly fawn over their subjects, pushing objectivity to the curb.

At least Pelosi in the House silences any chance of a fair and balanced look at a consequential Democrat right from the start.
We suspect Toto has never criticized a right-leaning documentary for being biased.
Kevin Tober spent a Dec. 11 post being angry that the Pelosis were -- gasp! -- promoting their film, with a little petty Brittney Griner-bashing mixed in:
On Sunday, CBS Sunday Morning anchor Jane Pauley opened her show by fawning over her pal and fellow Democrat, Speaker of the House Nancy Pelosi. Pauley gushed that it "might be an understatement" when Forbes Magazine named Pelosi in their top 100 most powerful women in the world.

"This past week, Forbes Magazine named House Speaker Nancy Pelosi one of the 100 most powerful women in the world. That might be an understatement. Nancy Pelosi is our 52nd Speaker of the House, the first woman to hold the job and second in line to the presidency," Pauley swooned like a starstruck teenager.

She never explained why this warranted the opening segment of CBS's flagship Sunday morning news program despite there being much bigger and more important news, like the Biden administration leaving Marine Paul Whelan behind enemy lines in Russia while securing the release of an anti-American WNBA player.
Perhaps because nobody has ever accused "Sunday Morning" of being a hard-news show, airing as it does on Sunday morning?
Tim Graham devoted his Dec. 14 column to spewing rage at more film promotion:
On December 12, CBS Mornings gushed over filmmaker Alexandra Pelosi, who's made a series of political documentaries for HBO. But the latest is Pelosi in the House, a valentine to her mother and her career. This isn't a first for HBO. Ten years ago, Rory Kennedy made a film about her mother Ethel, the widow of Robert F. Kennedy. At least, Ethel Kennedy didn't have her own political legacy to promote. But these are more like home movies. What makes them interesting is daughters making films about their mothers.

CBS, like other supine publicists, touted Alexandra's "extraordinary access," which is actually quite ordinary for mother and daughter. She ridiculously claimed "I was never actually given permission" to film. CBS, like other soft-touch outlets, let Alexandra claim "I'm not a political person." This is transparently false. You can't make political documentaries and claim you're not a political person.
Graham went on to whine that the "bitter" Alexandra Pelosi said that the violent attack on her father, Paul Pelosi, was likely inspired by what she said could be traced to "hundreds of millions of dollars have been spent to demonize Nancy Pelosi over the years":
This doesn't make her unique. Hundreds of millions of dollars and endless hours of "news" have demonized the Trump family. Partisans have demonized the Reagans, the Bushes, the Clintons, and so on. But no one at CBS was going to curtail this rant, and no one was going to wonder out loud how the attack on her father happened – in the presence of police. Conservatives had to be blamed.

[...]

Political people know that politics isn't always noble. Dividing and demonizing is often how you win the game and get the votes. Democrats and their media enablers do plenty of that. Blaming conservatives across America for the Paul Pelosi attack before all the facts are in is just the latest attempt.
Graham didn't mention that a few million of those dollars were spent by his employer, or that his employer spent money and time making Paul Pelosi a target.
Later that day, Alex Christy trashed the documentary itself by listing what are purportedly is "worst monents" that he called "a gushing look at Pelosi's career with plenty lowlights from the cringe worthy to the outrageous" -- though those are really mostly Pelosi defending herself against criticism over the years from the likes of right-wingers like Christy.
A Dec. 15 post by Graham again smeared Alexandra Pelosi as "bitter" for pointing out that right-wing attacks on her mother likely primed the attack on her father by pointing out that "I watch Fox News, I would hate Nancy Pelosi, too." Graham made no effort to rebut the claim this time, and he didn't explain why someone criticizing partisan political activists who appear to have incited a violent attack on her father must be attacked as "bitter" and not, say, praised as a realist.
Nicholas Fondacaro attacked Alexandra Pelosi as well for pointing out that uncomfortable yet logical realization, going on to twist her words:
According to her, Republican rhetoric was responsible for what "happened to Steve Scalise." In reality, the terrorist that attacked the Republican congressional baseball practice was a liberal extremist and rabid MSNBC viewer.
Fondacaro named no anti-Scalise rhetoric that was equivalent to the anti-Pelosi hate that spewed on a near-daily basis from Fox News and the MRC.
Posted by Terry K. at 8:09 PM EST