MRC Gives A Pass To Book Banners
Topic: Media Research Center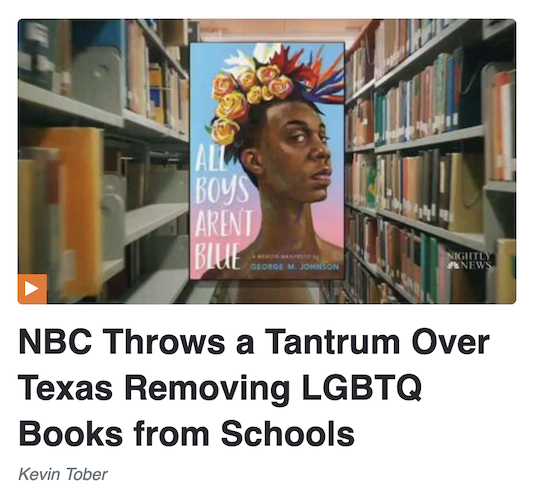 The Media Research Center's Alex Christy complained in a Jan. 27 post that CNN was trying to "portray Republicans as a bunch of dictator-loving book burners" but he didn't really do much to dispel that image.
Christy used his post to complain that "Trumper-turned-Never Trumper Joe Walsh" was calling out Republicans in Florida and elsewhere trying to censor school content purportedly in order to keep children from feeling "discomfort" about issues such as race and the Holocaust. He went on to grumble:
Walsh's reference to the Holocaust was the original premise of the segment. A Tennessee school board voted to remove Maus from its eighth-grade reading list for profanity and nudity, but it is a stretch to say that they even banned it and irresponsibly false to say they banned it because they do not want to educate students about the Holocaust.
Christy then linked to a statement from the school board that banned it -- if you're prohibiting a book from being taught, it's a ban; because it's apparently not a total ban doesn't make it less of a ban -- that complained about the book's purportedly "unnecessary use of profanity and nudity and its depiction of violence and suicide."
Ironically, a few years earlier, a 2014 MRC post touted the graphic novel edition of right-winger Amity Shlaes' revisionist, anti-FDR retelling of the New Deal years, "The Forgotten Man" as a classic on par with "Maus": "But graphic novels can be very sophisticated. Shlaes mentioned Maus: A Survivor's Tale which is a critically acclaimed Holocaust narrative that won a Pulitzer Prize in 1992."
Kevin Tober used a Feb. 1 post to wonder why students were allowed to read books he didn't llike:
On Tuesday night, NBC Nightly News decided it was a good use of airtime to dedicate an entire segment complaining about how a school district in Katy, Texas has removed sexually inappropriate books from their library.

Anchor Lester Holt opened the segment by tossing to NBC News correspondent Antonia Hylton who proceeded to interview a young student by the name of Iris Chang who, according to Hylton, "identifies as queer always loved learning about the world from her hometown of Katy, Texas, until this fall when her district started banning books."

Chang told Hylton that "students of color and queer students are especially taking this hard", referring to the banning of her favorite book The Joy Luck Club by Amy Tan.

Hylton claims "an NBC News investigation found that the Katy Independent School District is one of at least a dozen Texas districts that have removed books about race, gender, and sexual identity after a statewide surge of parent complaints."

But the question remains, why were books about gender and sexual identity allowed in school libraries in the first place?
Tober didn't explain why the books must be censored.
Tober went on to huff that "Katy Texas isn't the first public school to have sexually inappropriate books on its shelves." But it's clear that his definition of "sexually inappropriate" involved anything that didn't promote heterosexuality.
Clay Waters tried to play whataboutism in a Feb. 1 post:
Monday's front-page New York Times story -- headlined "Politics Fuels Surge in Calls For Book Bans" -- did liberal Democrats a favor, posing them in their flattering former costumes of fierce free-speech advocates. Meanwhile, today's actual left-wing is a hive of free-speech squelchers and book banners, including the Times' own reporters, who have an unseemly and anti-journalistic eagerness to "deplatform" voices they don't like...when they're conservative "bigots."
But that's a false comparison. Public libraries being forbidden from making certain books available to a certain audience is not the same thing as a private business seeking to enforce standards and terms of service on its platform to battle lies and misinformation. Yet the whataboutism continued: "Besides the daily double standards of restrictions on Twitter, Facebook, and YouTube, Amazon.com pulled a book on transgender issues from its online shelf, and Netflix tried to cancel comedian Dave Chappelle for offensive jokes about transgenders."
We could play whataboutism too, pointing out that the MRC has long raged against "censorship" of social media while tacitly endorsing it at school libraries. Wonder what Waters would say about that?
Posted by Terry K. at 8:54 PM EST
Updated: Thursday, March 10, 2022 8:57 PM EST