MRC Whines WH Press Secretary Didn't Hold Enough Briefings Last Month -- But It Covered Only One
Topic: Media Research Center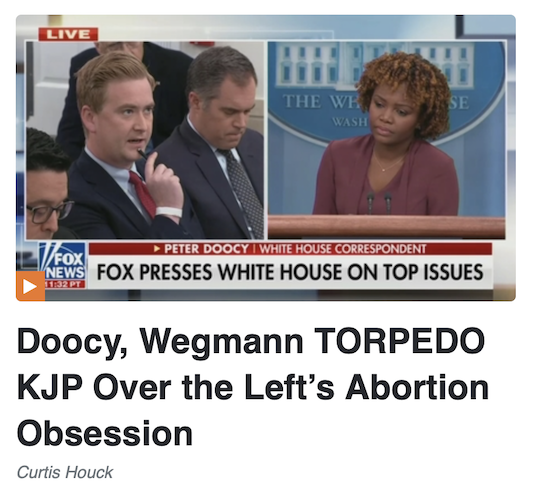 It's so like Media Research Center writer Curtis Houck to blame others for his own laziness. In an Oct. 18 post, he complained that White House press secretary Karine Jean-Pierre had only given four press briefings in the month -- but this was first briefing of the month that he bothered to write about. Apparently, his pet White House reporters from Fox News and other right-wing outlets were sufficiently trashing Jean-Pierre to his satisfaction, nor was he able to make up yet another reason to denigrate her as an incompetent diversity hire. (It's also quite ironic because he never complained at all that one of Donald Trump press secretaries, Stephanie Grisham, gave no press briefings at all during her tenure.) Still, Houck gave it the ol' college try in gerating his usual Doocy-fluffing:
In only the fourth White House press briefing this month, Press Secretary Karine Jean-Pierre faced a litany of questions Tuesday about the left's fixation on abortion (instead of crime or the economy).

As we've come to expect, Fox's Peter Doocy and Real Clear Politics' Philip Wegmann turned up the heat with Doocy asking if the White House is more concerned about abortions than struggling Americans and Wegmann wondering whether President Biden supports a limit on abortion.

CBS News Radio's Steven Portnoy set the table by asking Jean-Pierre how many more Senate Democrats Biden needs Roe and, after Jean-Pierre repeatedly ducked, he instead asked if abortion would be Biden's "top legislative priority in" 2023.

Jean-Pierre ducked, accusing him of engaging in "hypotheticals." Portnoy pressed one last time by wondering if this abortion focus means it's already his top issue, Jean-Pierre said Biden has "show[n]...how important Roe is to him, how important reproductive rights is because a majority of Americans believe that this right needs to stand."

Jean-Pierre promptly stepped in it: "The President's going to continue to talk about issues that matter to the American people and abortion is one of them. A majority of the American people disagree with the decision that — that the Supreme Court made the Dobbs decision....When it comes to the economy...it is the — his number one economic priority".

Doocy picked up on Jean-Pierre's description of inflation only being "his number one economic priority." And when she suggested Biden has created a roaring economy, Doocy fired off a scorcher on how could that be the case when Bloomberg said a recession is indisputable (click "expand"):

[...]

Predictably, Jean-Pierre blamed oil companies for high prices:"There is no shortage of opportunities or incentive for oil companies to ramp up production. We've made that clear. Oil companies are ranking in record profits".
Predictably, Houck was silent about just how much profit the oil companies are making so he wouldn't have to admit that Jean-Pierre has a point and effectively sound like an oil industrylobbistslike his co-workers at CNSNews.com.
Houck continued his laziness: Even though Jean-Pierre held three more briefings in October (plus several other informal "press gaggles" throughout the month), Houck couldn't be bothered to write about them either. If Houck continues such laziness in his hackery, what are we going to write about?
Posted by Terry K. at 11:34 PM EST