CNS Is Still (Mostly) Censoring Herschel Walker's Abortion Scandals
Topic: CNSNews.com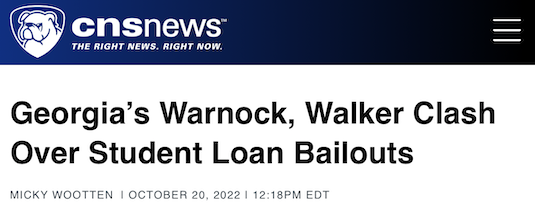 We've documented how CNSNews.com completely censored the story of Republican Senate candidate (and ontime coverage favorite) Herschel Walker paying for a girlfriend's abortion. It continued to do censor it -- with only a couple brief, passing mentions -- in the runup to the midterm elections.
An Oct. 20 article by Micky Wootten on a debate between Walker and his Democratic incumbent opponent, Raphael Warnock, completely censored any mention of Walker's abortion scandal, even though it was discussed during the debate. Instead, Wootten deceptively kept his story focused on financial issues, noting that they "clashed over student loan debt but apparently agreed that there should not be a federal minimum wage."
An Oct. 27 article by Melanie Arter provided the first mention in a "news" article of Walker's abortion scandal -- which came only after a second woman came forward to say Walker paid her for an abortion. But the main focus of her article was promoting how "Sen. Lindsey Graham (R-S.C.) said Wednesday that the reason why liberals are so intent on defeating Hershel Walker's bid to become the next senator from Georgia is because if Walker 'becomes a Republican, maybe every other young child in America of color might want to be a Republican.'" It wasn't until the third paragraph that Arter noted that "Walker told Fox News' 'Hannity' that the latest allegation against him that he pressured a woman into getting an abortion is 'a lie.'"
A Nov. 4 article by Lauren Shank supplied the only other pre-election reference to the scandal. Ity was effectively a press relesase for a so-called study by CNS' parent, the Media Research Center, complaining about supposedly "negative" coverage of Republican candidates, an example of which was "anonymous and unverified allegations that GOP candidate Herschel Walker years ago paid for two women's abortions, charges that Walker vehemently denied."
An anonymously written Nov. 9 article on the Walker-Warnock race going to a runoff went back to censoring the abortion scandal and offering Walker puffery instead: ">Walker, a Georgia native, played running back for the University of Georgia and won the Heisman Trophy in 1982. He then played professional football in the USFL and the NFL."
CNS' mission statement claims that it "endeavors to fairly present all legitimate sides of a story." Yet again, it's refusing to live up to its own words.
Posted by Terry K. at 6:37 PM EST
Updated: Thursday, November 17, 2022 8:10 PM EST