CNS Can't Stop Complaining About Committee Looking Into Capitol Riot
Topic: CNSNews.com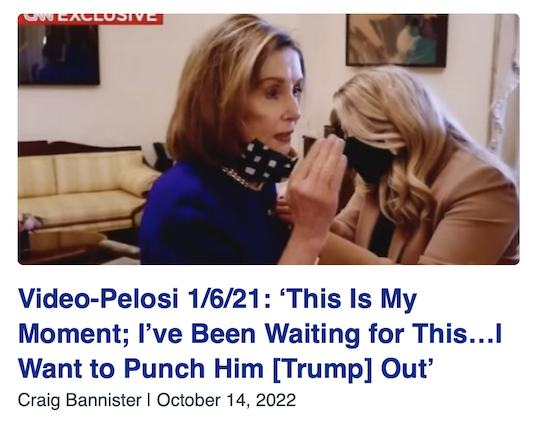 CNSNews.com hates Nancy Pelosi and hated the House committee hearings looking into the Capitol riot, so it's unsurprising that its initial story related to the final committee hearing on Oct. 13 was not about what was discussed during said hearing but, rather, an Oct. 14 article by Craig Bannister on a video of Pelosi released after the hearing:
"I've been waiting for this," House Speaker Rep. Nancy Pelosi (D-Calif.) says in a newly-released video, in which she says claims "punch him out," if then-President Donald Trump comes to the U.S. Capitol during the January 6, 2021 riot.

"I'm going to punch him out," House Speaker Rep. Nancy Pelosi (D-Calif.) said of Trump as the Capitol riot unfolded, according to video obtained from Pelosi's daughter and aired by CNN Thursday.

CNN describes the scene, in which Pelosi declares that "this is my moment; I've been waiting for this," gesturing emphatically, before threatening to "punch" then-President Trump:
Bannister did tacitly concede, unlike WorldNetDaily, that Pelosi's remarks came in the context of a violent Trump-inflamed mob attacking the Capitol.
Indeed, CNS did no news article whatsoever on the contents of the hearing -- which arguably belies its claim to be a "news" operation. Instead, intern Lauren Shank wrote an Oct. 14 article uncritically repeating Donald Trump's grievances:
Former President Donald Trump spoke out against the House Select Committee investigating the Jan. 6 attack on the U.S Capitol, questioning why they did not ask him to testify months ago.

"Why didn't the Unselect Committee ask me to testify months ago? Why did they wait until the very end, the final moments of their last meeting?" Trump asked on his Truth Social platform.

"Because the Committee is a total 'BUST' that has only served to further divide our Country which, by the way, is doing very badly – A laughing stock all over the world?"

In another post he wrote, "The Unselect Committee knowingly failed to examine the massive voter fraud which took place during the 2020 Presidential Election – The reason for what took place on January 6th."

"Why didn't Crazy Nancy Pelosi call out the 'troops' before January 6th, which I strongly recommended that she do," said Trump. "It was her responsibility, but she 'didn't like the look.' Crazy Nancy failed the American People!"
Shank refused to fact-check this claim -- if she had, she would have known that Trump never signed an order to deploy National Guard troops that day, so Pelosi could not possibly have turned it down.
Shank did eventually get around to describing something that actually happened at the hearing, while, of course, putting some biased spin on it:
While the potential of Thursday's hearing may be its last on the Jan. 6 attacks, the committee, consisting of seven Democrats and two Republicans, all said "aye" in voting to subpoena Trump.

(The two Republicans, Rep. Adam Kinzinger (Ill.) and Rep. Lynne Cheney (Wyo.), had expressed their disapproval of Trump even before the events of Jan. 6, 2021 and had voted for his impeachment.)

[...]

Although Trump's critics frequently describe the Jan. 6 attack on the U.S. Capitol as an insurrection, to date not one person (of 900-plus arrested) apparently has been charged with insurrection.

The harshest charge has been "seditious conspiracy," and brought against only 11 people.
Shank didn't expaloin why someone has to actually be charged with insurrection to describe the riot as an "insurrection."
Even though there will be no more committee hearings, CNS continued to attack the committee. Bannister invoked two of his favorite right-wingers to go after Pelosi again in a Nov. 10 article:
Democrats "never intended" their January 6 Select Committee to be political and "it was never planned as a political tactic," House Speaker Rep. Nancy Pelosi (D-Calif.) – who refused to allow Republicans to seat their own committee members – said Tuesday as the midterm elections were taking place.

Pelosi insisted that Democrats' one-sided January 6 Select Committee hearings had no political agenda, when asked by PBS NewsHour Host Judy Woodruff about voters' disinterest in the televised, public hearings.

"Well, well never intended it to be a political item. It's about seeking the truth," Pelosi responded.

"[I]t was never planned as a political tactic," Pelosi added, repeating Democrats' mantra that "democracy is at stake" in this year's midterm elections.

But, as Constitution Scholar Mark Levin has explained on his "Life, Liberty & Levin" television program, the "illegitimate" hearings are an unconstitutional effort to indict and smear former President Donald Trump and his Republican colleagues:

[...]

Former House Speaker Newt Gingrich (R), who spent 20 years in Congress, has also explained how the one-sided hearings have been purely political.

"What I saw last night was a show trial worthy of Joseph Stalin," Gingrich observed, following one of the hearings conducted in June. "Last night's January 6 Committee propaganda show had nothing in common with legitimate congressional hearings."

"There is a sense of fairness and Due Process which is central to American freedom and independence. The January 6 Committee has violated every aspect of due process, presumption of innocence, and impartial search for truth," Gingrich noted.
Bannister didn't mention that because the committee hearings were not part of a legal process, there was not a duty to follow due process. He also didn't mention that Republicans had every right to hold their own hearings to build a counter-narrative to the House committee but chose not to.
Managing editor Michael W. Chapman tried to help Republicans fiorward a conspiracy theory about the riot in a Nov. 15 article:
At a hearing held before the House Homeland Security Committee on Nov. 15, FBI Director Christopher Wray declined to say whether the FBI had used "confidential human sources" "dressed as Trump supporters" in the Capitol during the Jan. 6, 2021 insurrection.

House Rep. Clay Higgins (R-La.) asked Wray, "Does the FBI have confidential human sources -- did the FBI have confidential human sources embedded within the January 6 protesters on January 6, 2021?"

FBI Director Wray replied, "Congressman, as I'm sure you can appreciate, I have to be very careful about what I can say about when -- may I finish -- about when we do and do not and where we have and have not used confidential human sources."

"But to the extent that there's a suggestion, for example, that the FBI's confidential human sources or FBI employees in some way, instigated or orchestrated January 6, that's categorically false," said Wray.

Higgins then asked, "Did you have confidential human sources dressed as Trump supporters inside the Capitol on January 6, prior to the doors being opened?"

Wray replied, "Again, I have to be very careful --."

At that point, Higgins interjected, "It should be a no. Can you not tell the American people no, we did not have confidential human sources dressed as Trump supporters positioned inside the Capitol?"

Wray then responded, "You should not read anything into my decision not to share information on confidential human sources."

At that point, Committee chairman Benny Thompson (D-Miss.) said Higgins' time was up and they moved on to another congressman.
Higgins' line of questioning leaned into a conspiracy theory forwarded by right-wingers that secret FBI agents embedded in the crowd caused the violence that day. Chapman failed to explain that to his readers.
Posted by Terry K. at 12:43 AM EST