MRC's Jean-Pierre-Bashing, Doocy-Fluffing Watch
Topic: Media Research Center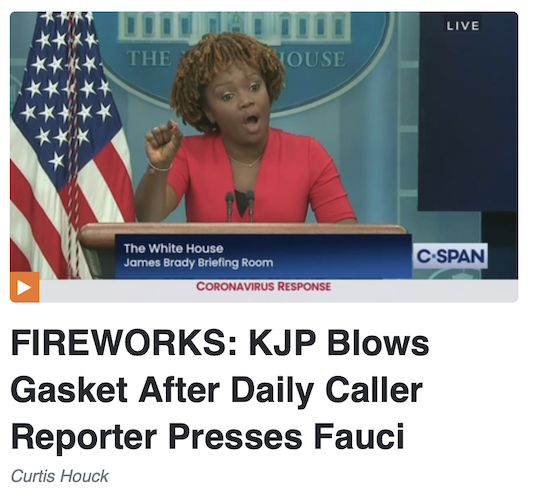 The Media Research Center seems to be getting bored with attacking White House press secretary Karine Jean-Pierre and fluffing Peter Doocy and the other right-wing reporters who hurl hostile questions at her, for its press briefing dispatches are getting more sporadic (though no less hostile to Jean-Pierre). Indeed, Curtis Houck was full of anti-Karine hostility -- and gushing for a new right-wing reporter -- in his writeup of the Nov. 22 briefing that also featured Anthony Fauci:
Between the run-up to the midterms and President Biden's lengthy foreign trip, White House briefings have been few and far between. But there was one Tuesday and it devolved into a near riot with Press Secretary Karine Jean-Pierre repeatedly excoriating Daily Caller's Diana Glebova and her defenders when she tried to shout questions to Dr. Tony Fauci about his role in the origins of COVID-19.

Glebova had a point to intervene considering questions for Fauci looked like this from ABC's Karen Travers: "You became a household name in large part because of your appearance is here at the early stages of COVID. What do you want Americans to remember about your service in government?"

Glebova interjected after Fauci's answer, asking what he was doing in relation to the "investigations into the origins of COVID," but Fauci and Jean-Pierre ignored it.

Fast-forward and there was more stupidity from the likes of theGrio's April Ryan lamenting that the country isn't "talking about mask-wearing" anymore since "[m]asks and the word masks have become a pejorative in some parts of this nation," and thus invited him to "talk about the importance of mask-wearing as you're worried about the holidays and people gathering together."

After Fauci insisted masks were one of "multiple actions...to protect ourselves" and Ryan followed up on masks "being a pejorative," Glebova tried again to bring up "the origins of COVID." Ryan promptly screeched at Glebova: "Don't be disrespectful."

Jean-Pierre said the same, so the New York Post's Steven Nelson intervened and called on Fauci to given them "an answer." Jean-Pierre squashed that, saying she didn't call on him either.
The "fireworks" promised on the headline came when Jean-Pierre had to deal with notorioiusly rude reporter Simon Ateba, who works for something called Today News Africa and who actually is as annoying as the MRC insisted Jim Acosta and Brian Karem were during the Trump years. But Houck has floip-flopped on briefing room rudeness because Ateba appears to be a right-wing ally and endorsed the question Glebova shouted at Jean-Pierre, Ateba shouted some more, and Houck made it look like Jean-Pierre was the bad guy: "Jean-Pierre snapped while also going back to [CNN's Jeremy] Diamond: 'I'm done. Simon, I'm done. I'm — Simon, I'm done. I'm done with you right now...You're taking time away from your colleagues.'"
Houck didn't forget his mancrush, though, making sure to note that "Doocy Time made a brief return when he pressed [White House COVID response coordinator Ashish] Jha on reports of shortages on key antibiotics and antivirals."
Gabriela Pariseau took over attack duties for the Nov. 28 briefing:
White House Press Secretary Karine Jean-Pierre sent a veiled threat Monday to Twitter owner Elon Musk when she claimed that the The White House is "monitoring" Twitter after Musk took over the platform.

When asked about the White House's concerns that a Musk-owned Twitter might become a "vector of misinformation,"Jean-Pierre made it clear that the White House has all eyes on Musk.

"This is something that we're certainly keeping an eye on," she said. "It is [social media platforms'] responsibility to make sure when it comes to misinformation, when it comes to the hate that we're seeing, that they take action, that they continue to take action. [W]e're all keeping a close eye on this. We're all monitoring what's currently occurring."
Despite idenitifying no actual threat by Jean-Pierre, veiled or otherwise, Pariseau went on to play the whataboutism card:
The White House didn't seem interested in "monitoring the situation" after social media companies allowed posts threatening violence after the U.S. Supreme Court's decision in Dobbs v. Jackson overturned Roe v. Wade. The administration was similarly silent when it first took office following a violent summer of BLM and ANTIFA riots, many of which proliferated on social media platforms.
For the Nov. 30 briefing, Houck brought full frontal Doocy-fluffing and unveiled contempt for Jean-Pierre:
Doocy started with the border and this fable that Biden has visited the border (which has been debunked: "Kevin McCarthy says that he invited President Biden down to the border. How has the President RSVP?"

Jean-Pierre and her fellow liberals in the press corps laughed, but Doocy kept asking: "We know — we know the President has never been down to the border. The possible next speaker says that he wants him to go with him, so is he going to?"

Jean-Pierre twice replied with the lie that he has "been there," so Doocy interjected to ask "when did he go to the border."

Naturally, she didn't answer and insisted Biden has been working since day one "to fix our immigration system and secure our border" while, on the other side, Republicans have shown zero "willingness to work with us on...fixing a situation that's been around for decades now" and instead engaged in "political stunts."

Doocy pivoted to Twitter and what would be a natural conclusion to the premise that the White House is somehow concerned about Twitter's safety: "When are you guys going to delete the White House Twitter account?"

Jean-Pierre fell right into his trap and wondered why they'd do that. He then let her know why he asked that: "Well, you're saying that you're keeping an eye on Twitter because it might not be a suitable platform, so why use it?"

Using one of her catchphrases that she "want[ed] to be very clear," Jean-Pierre argued that, while she didn't "have anything to share on any policy," Biden "has been very, very clear in his belief that it is important social media platforms to continue to take steps to reduce hate speech and misinformation."

Doocy tried one last time with another natural conclusion (which the White House admitted they were doing last year with Facebook on alleged coronavirus disinformation): "When you say that you're going to be monitoring some of the speech on there, if you see something that you don't like, would you try to shut Twitter down?"

Jean-Pierre clownishly thought she could put this to rest with some sarcasm, "I hate to break it to you, Peter, just like everybody else we very much monitor the news." She continued by reiterating that the White House "pay[s] close attention to everything that you all are reporting and Twitter is in the news a lot and so that's what we're paying attention to."
Houck went on to laughably and bizarrely describe the NAACP and the Anti-Defamation League as "far-left, pro-censorship groups" who are also monitoring Musk-era Twitter. Unsurprisingly, no explanation was given to justify the wacky description, or when fighting anti-Semitism as the ADL became a "far-left" position. (Probably around the time the MRC had trouble denouncing the anti-Semitism of Kanye West.)
Posted by Terry K. at 10:16 PM EST
Updated: Friday, December 16, 2022 10:20 PM EST