Like MRC Parent, CNS Loved Right-Wing Female Latino Who Briefly Filled House Seat
Topic: CNSNews.com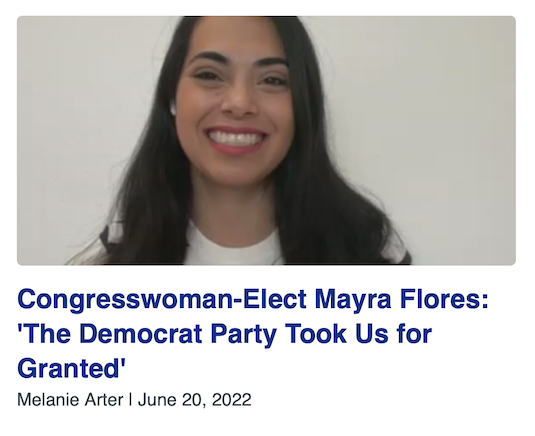 Like its Media Research Center parent, CNSNews.com got excited when Republican Mayra Flores won a special election in June to fill a congressional seat in Texas, and it immediately portrayed her as the vanguard of a movement to push Latinos in a more Republican direction. Melanie Arter transcribed in a June 15 article:
Republican Mayra Flores's win over Democrat Dan Sanchez in the special election to replace Rep. Filemon Vela (D-Texas), who resigned in March, spells the end of the Democrat Party in the Rio Grande Valley, Rep. August Pfluger (R-Texas) told Fox Business' "Mornings with Maria."

"Well, it's the beginning of the end of the Democrat Party in the Rio Grande Valley in South Texas and maybe for the Hispanic population who are hard-working, many of them work in the oil and gas industry," Pfluger said of Flores, who is the wife of a Border Patrol agent.

"Obviously they're tired of the border and tired of the inflation, the record inflation that we see. Their families are struggling alongside other families. So Mayra Flores winning this seat, she will be a congresswoman. This was a special election," the congressman said.

"I think what it tells you is that it tells you that the Hispanic population and that everyday working class Americans regardless of our backgrounds, race, ethnicity, are tired of Democrat lies, we are tired of an economy and a crisis that Biden has put us in, and we are tired of lack of transparency," he said.
Craig Bannister quoted her directly the same day:
Hispanics in her Southwest Texas district want border security, financial security and the economy to take priority over immigration reform, says Republican Rep.-elect Mayra Flores, who flipped a House seat in Tuesday's special election.

Her victory made her the first Mexican-born U.S. congresswoman and the first Republican ever to win the predominantly Hispanic district.

In an interview with Fox News, Flores said that she won, in large part, because she shares the values – God, family and community – of her Hispanic constituents:

[...]

Contrary to the narrative of Democrats and media, Hispanics actually support the Border Patrol, and don't like the way border agents are being disrespected, Flores told Ballasy.
Arter returned for more Flores stenography in a June 20 article:
Congresswoman-Elect Mayra Flores (R-Texas) told Fox News's "Sunday Morning Futures" that the Democrat Party took the people of South Texas for granted, which is why she won the special election to replace Rep. Filemon Vela (D-Texas).

"Well, to be honest with you South Texas has always been conservative. We're all about faith and family, and hard work. That is who we are but The Democrat party [sic] took us for granted. They felt entitled to our vote, making the same promised over and over and really not making nothing happen, and I honestly had enough," Flores said.

"I was really fed up with the compadrismo here in South Texas, and that's the reason why I decided to run and of course the Republican party is investing now in south Texas and that helps us significantly getting the funding out there to the entire district to be able to tell them the Republican party is fighting for their values, that Mayra Flores is fighting for their values - values that are worth fighting for," she said.
The next day, Bannister wrote an article hyping that "Hispanic voters in southwest border states disapprove of President Joe Biden's job performance and, nationally, the younger the Hispanic voter, the greater the disapproval, a new survey shows," adding that "The results come in the wake of last week's special election upset victory by Mexican-born Rep.-elect Mayra Flores, who became the first Republican ever to win a U.S. House seat in her predominantly Hispanic California [sic] district."
Just like its MRC parent, CNS censored the fact that Flores has far-right views and has been QAnon-curious. Nevertheless, the Flores party continued; we've already noted how CNS tried to manufacture a controversy about Nancy Pelosi allegedly elbowing Flores' child during her swearing-in ceremony (in fact, Pelosi was trying to make sure the cameras saw the girl).The accolades (and censoring of her far-right record) continued:
As Flores faced another election bid to permanently fill her seat, CNS cranked out some more stenography for her in October, in addition to including a comment from her among right-wingers praising Tulsi Gabbard for officially leaving the "Democrat Party":
Flores ultimately received the coveted victim designation in an Oct. 28 article by Bannister:
When the nation's first Mexican-born congresswoman tried to join the Congressional Hispanic Caucus (CHC), she was told she couldn't, because she didn't fit its stereotype of Hispanic values and party affiliation.

On Wednesday, Townhall broke the news that the CHC had rejected Rep. Mayra Flores' (R-Texas) request to join the caucus.

Nowhere on the "About" page of the caucus' website does it say that membership is restricted to Democrats, though CHC Spokesman Sebastian Roa says it is required by the group's bylaws. The caucus bylaws changed after former Republican Florida Rep. Carlos Curbelo's rejection in 2017.

[...]

"I thought joining the Congressional Hispanic Caucus would be a constructive way to build bridges and work in a bipartisan manner on behalf of our constituents. I was wrong," Flores told Townhall.

"This denial once again proves a bias towards conservative Latinas that don't fit their narrative or ideology," Flores added.
Bannister offered no evidence that a right-winger like Flores ever expressed any previous desire to "build bridges and work in a bipartisan manner."
That, however, appears to be the last hurrah for Flores at CNS (unless she fails upward on the right-wing media ladder). Flores lost the election to permanent fill that seat to a Democrat Vicente Gonzalez by more than 8 percentage points during a campaign that included Flores refusing to debate Gonzalez and a local Republican official being accused of sexual assault.
A Nov. 10 article by Lauren Shank about conservatives complaining that Republicans didn't sweep the midterms as expected included Flores rage-tweeting "The RED WAVE did not happen. Republicans and Independents stayed home. DO NOT COMPLAIN ABOUT THE RESULTS IF YOU DID NOT DO YOUR PART!" But it didn't mention that Flores lost her election. That's quite the brusque farewell.
Posted by Terry K. at 1:07 AM EST
Updated: Tuesday, November 15, 2022 1:10 AM EST