CNS' Uber-Catholics Bash Biden Some More
Topic: CNSNews.com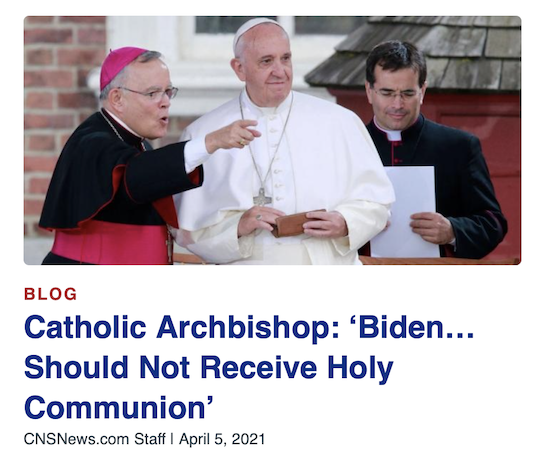 The uber-Catholics who run CNSNews.com love to demonstrate their supposed moral superiority over President Biden, a fellow Catholic, because he's not forcing all of America to abide by the right-wing Catholic policies CNS demand. Let's tally how CNS has tried to use Biden's Catholicism against him in the past few months.
Manging editor (and uber-Catholic) Michael W. Chapman invoked one of his favorite hardline catholics in a Feb. 16 article:
Two days after President Joe Biden and Vice President Kamala Harris announced that they are committed to codifying Roe v. Wade into law, Catholic Cardinal Raymond Burke, an American, gave a sermon in which he said such a plan is part of the Evil One's "program of lies and death."

This is the same Cardinal Burke who said in August that Biden "is not a Catholic in good standing and he should not approach to receive Holy Communion."
The same day, a column by anti-abortion activist Judie Brown criticized Catholic bishops for supposedly not bashing Biden hard enough on the issue of abortion: "As members of the media press hard for Biden's abortion agenda—including the repeal of laws that require parents to be notified if their minor child seeks to abort her baby—we find it nearly unbelievable that the bishops really need to clarify the obvious facts about abortion. What is it actually going to take for not only bishops, but Catholics in general, to awaken to the sad reality of our time?"
The next day, CNS' favorite dishonest Catholic, Bill Donohue, huffed: "President Biden used his first day in office to discuss human rights. However, he did not speak to this issue in a broad manner; rather, he limited his discussion to the rights of homosexuals and transgender persons. This tells us a great deal about his priorities."
That sort of hostile coverage continued:
As usual, CNS refused to give any Catholic Biden supporters a chance to respond to the attacks.
Posted by Terry K. at 12:46 AM EDT