Mainstreaming Extremism At CNS
CNSNews.com promoted Marjorie Taylor Greene even before she became a Republican congressional candidate and then a House member -- but it hid her extreme far-right views from readers until they finally became politically inconvenient.
By Terry Krepel
Posted 4/22/2021
---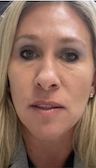 Marjorie Taylor Greene
In January 2019, CNSNews.com's Craig Bannister promoted a petition on the White House "We the People" website, "created by a person known only as M.G.," demanding that House Speaker Nancy Pelosi be impeached for treason, touting how 12 days after its creation "the petition had garnered more than 130,000 signatures – enough to earn a response" from the White House.

The petition, devoid of supporting evidence, is pure wackiness:
Nancy Pelosi is a TRAITOR to the American People!
The Constitution defines, "Treason against the US.. ..adhering to their Enemies, giving them Aid and Comfort." Illegal aliens are enemies that invade our country with drugs, human trafficking, and terrorist causing death and crime to American citizens. Nancy Pelosi adheres to these enemies by voting for and providing them aid and comfort through Sanctuary policies funded by US citizen tax dollars, and refuses to protect American people by refusing to fund our border wall, leaving our borders open and unsafe. Pelosi refused to meet with Angel families, caused the government shut down then traveled on US dollars to Hawaii and Puerto Rico while 800,000 Fed workers don't get paid, and uninvited Trump for SOTU. IMPEACH Pelosi for treason!
Yet Bannister thought this was of significant enough importance to devote an article to. So much so, in fact, that he did another article on it in October 2019, giving it the same undeserved serious coverage:
A White House website "We the People" petition calling on Congress to "IMPEACH Pelosi for treason!" has garnered more than a quarter-million signatures to-date.

As of Wednesday, October 23, 2019, more than 260,000 people have signed the petition to impeach House Speaker Nancy Pelosi (D-Calif.) created January 18, 2019 on the "We the People" website - more than two and a half times the minimum of 100,000 required to warrant an official response.

The Georgia woman who created the petition in January, Marjorie Taylor Greene, personally delivered a copy of the petition to Speaker Pelosi's House office on February 22 of this year. Greene continues to encourage Americans to sign the petition, aided by President Donald Trump's recent calls for Pelosi's impeachment for the way she has conducted her impeachment inquiry of him.

Since posting the petition, Greene – a business owner, wife and mother – has launched a campaign to become the Republican House candidate for Georgia's 6th district.
Bannister wouldn't tell you, however, that Greene is a far-right activist -- enough of one to have earned a profile from the Southern Poverty Law Center. The SPLC stated that Greene had been livestreaming her various stunts on Facebook (of which her delivery of the Pelosi petition was just one), where she "uses a cheery persona and smiles to sugarcoat a message of intolerance toward different targets – all based on the opportunity for publicity." She hangs out with Islamophobic extremists like Laura Loomer as well as anti-government militia leaders, and she has also heckled survivors of the Parkland school massacre as "brainwashed" for pushing to change gun laws.
After that, Greene became a candidate for a House seat in Georgia, where she continued to act out in publicity stunts. Bannister indulged her with a June 2 article:
"I have a message for ANTIFA terrorists," Marjorie Taylor Greene says while holding a semi-automatic rifle in an 18-second video on her Congressional campaign Twitter page.

Greene's message to domestic terrorists: "Stay the hell out of northwest Georgia. You won't burn our churches, loot our businesses or destroy our homes":

"President Trump declared ANTIFA a domestic terrorist organization.

"I have a message for ANTIFA terrorists: stay the hell out of northwest Georgia. You won't burn our churches, loot our businesses or destroy our homes.

"I'm Marjorie Greene and I approved this message."
Bannister didn't indicate whether Antifa was ever a threat in northwest Georgia. Instead, he promoted her campaign and once again plugged her anti-Pelosi petition.
Bannister was also pretty giddy in a June 10 post, touting that "Marjorie Taylor Greene, whose video campaign ad featuring her holding a semi-automatic rifle while warning Antifa terrorists to 'Stay the hell out of northwest Georgia' was banned from Facebook, handily garnered the top vote total in Tuesday's Georgia 14th district GOP primary." Not only does Greene not even live in the district (moving there only after she filed to run there), she didn't even fully win the primary; she was slated for a primary runoff with the second-place finisher in August.
Bannister obscured that fact, but he completely censored Greene's far-right extremism, which was further revealed after the primary. Turns out Greene made a series of racist, Islamophobic and anti-Semitic videos that she posted on Facebook, and is also an avid believer in fringe QAnon conspiracy theories, which has caused prominent Republicans to withdraw their support of her campaign.
Bannister, meanwhile, never breathed a word of this at CNS, which is not terribly interested in reporting the truth when it's inconvenient to its pro-Trump, pro-Republican agenda.
Greene not only won her primary runoff, she won the election for the seat, making her an actual congresswoman. With that victory, CNS felt it could start promoting her again -- while still censoring her extremism. In a Nov. 20 article, Melanie Arter promoted an appearance by Greene on Fox Business:
When asked what her priorities will be when she takes office, Congresswoman-Elect Marjorie Greene (R-Ga.) said Friday that she wants to fight back against Big Tech's censorship of conservatives and end abortion, because she believes it's "completely evil" and taxpayer dollars shouldn't have to pay for it.

"I absolutely support President Trump 100 percent, and he inspired me to run. I got frustrated throughout his presidency watching Big Tech censor conservatives, so I'll be fighting back on that, because everyone has the freedom of speech," Greene said in an interview with Fox Business's "Mornings with Maria Bartiromo." "You know if my 17-year-old son can run across porn on Twitter, then I believe our conservative voices should be able he to be heard and not censored," she added.
Arter made sure not to mention Greene's love of QAnon or her hateful Facebook videos.
CNS continued to promote Greene after that:
A Dec. 16 article by Bannister touted how Greene "says America is suffering from 'a spiritual blinding' in which truth is denied and untruths are accepted as truths," adding that she "bills herself on Twitter as 'Christian, Wife, Mom, Small Business Owner, Proud American, 100% Pro-Life, Pro-Gun, Pro-Trump.'" He didn't mention that Greene accepts the untruth of QAnon as truth.
On Dec. 23, Bannister gushed that Greene took "a shot at the foreign pork in the COVID-19 stimulus relief bill," calling it "the biggest F you to the American people."
Bannister served up more gushing in a Jan. 4 article a proposal to use gender-neutral language: "Despite House Speaker Nancy Pelosi's (D-Calif.) desire to deny it, there are only two genders, new Congresswoman Rep. Marjorie Taylor Greene (R-Ga.) said Monday, announcing that she will vote against Pelosi's proposed rules change."
Susan Jones served up a more full-throated defense of Greene in a Jan. 13 article:
Rep. Jason Crow (D-Colo.) told CNN on Wednesday that newly elected Rep. Marjorie Taylor Greene (R-Ga.) is among the "handful" of lawmakers who are "morally bankrupt," "depraved," and "dangerous."

Crow said House Democrats are looking at ways to "stop" Greene: "And whether this is an expulsion proceeding, a censure, you know, we can't let this stand," Crow said.

Crow was reacting to a tweet posted Monday night by Greene, a Trump supporter, who predicted that the latest impeachment effort would fail:

"President Trump will remain in office," Green tweeted overnight. "This Hail Mary attempt to remove him from the White House is an attack on every American who voted for him. Democrats must be held accountable for the political violence inspired by their rhetoric."

Twitter labeled the tweet, saying "Election officials have certified Joe Biden as the winner of the U.S. Presidential election."
In addition to censoring Greene's admiration for QAnon, Jones also omitted other relevant information for context, whereas Politico did not:
After Congress resumed its certification proceedings following the attack, Greene was one of the 147 congressional Republicans who still objected to the election results. She also drew criticism last week after video footage showed her, along with a handful of other House Republicans, refusing to wear a mask while sheltering with other lawmakers amid the violence. At least three House Democrats have since tested positive for Covid-19.

Greene, a freshman congresswoman elected last November, has previously endorsed elements of the dangerous QAnon conspiracy theory and made Islamophobic comments. She has won praise from Trump, who has called her a "future Republican star."
The next day, Jones cheered that "Freshman Rep. Marjorie Taylor Greene (R-Ga.) said on Wednesday she plan to file articles of impeachment against Democrat Joe Biden the day after he is sworn in as president," adding that "Greene is among President Trump's strongest congressional supporters, and at least one Democrat has mentioned 'expulsion' as a way to 'stop' her." Again, Jones forgot to mention that Greene is a right-wing extremist who is an adherent to the QAnon conspiracy theory. (She also forgot to mention any cause Greene has for impeaching Biden.
Finally admitting it
Greene's extreme views would become the subject of a controversy in the House -- coming after the revelation of even more extreme opinions -- but would CNS finally tell its readers the truth?
The start of the controversy didn't bode well. In a Jan. 28 article, Jones highlighted Nancy Pelosi saying that the enemy was "in the House of Representatives":
A reporter asked Pelosi, "What exactly did you mean that the enemy is within?"

"It means we have members of Congress who want to bring guns on the floor and have threatened violence on other members of Congress," Pelosi said.

Earlier, Pelosi mentioned freshman Rep. Marjorie Taylor Greene, a Georgia Republican, by name, blasting Republican leaders for assigning her to the Education Committee, given some of Greene's controversial and offensive social media posts.

Greene, a staunch Trump supporter, has been labeled a conspiracy theorist by the partisan media.
Nope, Jones wasn't ready to admit that Greene's views were extreme -- or even exactly what those views were -- given how quick she was to blame the "partisan media" and not, you know, common sense.
The same day, Bannister complained that entertainer Bette Midler was "'fantasizing' about three Republican members of Congress getting lost at sea, and that she isn't joking." The list included Greene and Lauren Boebert -- another extremist congresswoman whose extremism CNS won't acknowledge.
A Jan. 29 article by Jones didn't mention Greene by name, but it gave Republican Rep. Steve Scalise a platform to complain that "House Speaker Nancy Pelosi is playing a 'dangerous kind of game' by demonizing Republican lawmakers as the 'enemy,'" going on to approvingly cite Fox News host Laura Ingraham declaring that "Democrats, by making an overwhelming show of security at the Capitol and demonizing colleagues who exercise their right to carry guns, 'are setting the stage to make a run on the guns of law-abiding citizens...I think that is exactly right, whether it is going after ammo with obscene taxes on ammunition or other types of restrictions, I think you have just nailed it. I think that's exactly what's going on.'"
It was not until House leaders threatened to remove Greene from her committees that Jones finally felt compelled to discuss Greene in detail in a Feb. 2 article, though she took a somewhat lazy way out and simply quoted Senate GOP leader Mitch McConnell:
The House Rules Committee will meet on Wednesday to discuss "removing a certain member from certain standing committees of the House of Representatives."

The member in question is Rep. Marjorie Taylor Greene, a freshman Republican from Georgia, who sits on the House Education and Budget Committees. Greene has been blasted as a "menace" by Democrats and as a "cancer" on the Republican Party by Senate Republican leader Mitch McConnell.

In a statement released to the media on Monday, McConnell wrote:

Loony lies and conspiracy theories are cancer for the Republican Party and our country. Somebody who's suggested that perhaps no airplane hit the Pentagon on 9/11, that horrifying school shootings were pre-staged, and that the Clintons crashed JFK Jr.'s airplane is not living in reality. This has nothing to do with the challenges facing American families or the robust debates on substance that can strengthen our party.
Jones also added a few defiant tweets from Greene, such as a rant that "If Democrats remove me from my committees, I can assure them that the precedent they are setting will be used extensively against members on their side once we regain the majority after the 2022 elections."
The next day, however, Jones was serving up revisionist history, minimizing what Greene said as having been done before she was elected and engaging in more media-blaming:
Greene has come under fire for some of the comments and opinions she's aired on social media before taking office -- speech that Senate Republican leader Mitch McConnell called "looney lies and conspiracy theories."

She is a staunch supporter of former President Donald Trump, and partisan cable outlets are giving her plenty of unflattering coverage as a way to tarnish all conservative Republicans.
Jones was defending Greene again in a Feb. 4 article:
As Democrats in Congress and the media go all-out to make freshman Rep. Marjorie Taylor Greene (R-Ga.) the face of the Republican Party, today they'll go beyond demonizing her (and her fellow Republicans) by stripping Greene of her House committee assignments.

Greene, who has espoused or endorsed a number of crackpot theories, nevertheless says 13,000 "America First Patriots" have raised $175,000 in the last 48 hours "to defend my seat in Congress."

"The people have my back," she tweeted on Wednesday.

Even Republicans who object to Greene's remarks say her congressional service should be up to the voters in her district -- not to Democrats:

"Tomorrow, they (Democrats) are going to take the unprecedented action of substituting the will of Washington for the will of people in this country," Rep. Matt Gaetz (R-Fla.) told Fox News's Sean Hannity Wednesday night. "And when we get the majority back, we better apply the same standard."

[...]

With Thursday's vote, House Democrats want to get Republican lawmakers on record as supporting Greene by voting not to strip her of her committee assignments. It's always about the next political campaign, in other words.

Rep. Ted Lieu is among the Democrats – and there are many of them – who is using Greene to paint all Republicans as wacky conspiracy theorists: "Marjorie Taylor Greene has become the voice and face of the House @GOP Caucus," Lieu tweeted on Wednesday.
Jones didn't admit that CNS censored the details of Greene's "crackpot theories" until the issue was forced in the House. Curiously, CNS didn't devote a story to Greene's House floor speech the same day in which she claimed to express regret for the extreme views she espoused.
Related articles on ConWebWatch:
But on Feb. 8, Melanie Arter whitewashed Greene's views even more, bizarrely claiming that she had merely made "years of misstatements." She did, however, quote Republican Rep. Liz Cheney admitting that "The things that she has said don't have any place in our public discourse, and we as a Republican conference should deal with that issue. We should have dealt with it."

In the midst of all this, CNS did a curious thing. In a Feb. 5 article written after the House had stripped Greene of her committee assignments for her extreme-right views, Susan Jones was letting her have a little victory lap -- under the headline "Rep. Greene tweets: 'I Woke Up...Laughing, Thinking About What a Bunch of Morons the Democrats...Are'" -- while also trying to enforce the new narrative of CNS' owner, the Media Research Center, that Greene's views don't reflect those of the Republican Party:
Stripped of her two committee assignments, Rep. Marjorie Taylor Greene nevertheless tweeted on Friday that she woke up "laughing" about Democrat "morons" who are giving someone like her "free" publicity.

On Thursday, the House voted 230-199 -- with eleven Republicans joining Democrats -- to remove Greene from both the Education and Budget Committees, after Republican leaders declined to do so.

Greene's critics, including many Republicans, have condemned her espousal and apparent endorsement of kooky conspiracy theories and implied violence. Democrats and their media allies have painted Greene as representative of the entire Republican Party.

On Friday, Greene tweeted: "I woke up early this morning literally laughing thinking about what a bunch of morons the Democrats (+11) are for giving some one like me free time. In this Democrat tyrannical government, Conservative Republicans have no say on committees anyway."

Speaking on the House floor during Thursday's debate, House Republican leader Kevin McCarthy said the Democrat resolution to punish Greene "sets a dangerous new standard that will only deepen divisions within this House."

McCarthy said Democrats are declaring that "the majority has veto power over the minority members' selections for committee." He called it an unprecedented abuse of power by Democrats who are "blinded by partisanship and politics."

McCarthy said Rep. Greene's past comments and posts as private citizen do not represent the values of the Republican Party: "As a Republican, as a conservative, s an American, I condemned those views unequivocally. I condemned them when they first surfaced, and I condemn them today."

McCarthy said Greene has apologized for her past comments and acknowledged that House members have a responsibility to hold themselves to a "higher standard."

"I will hold her to her word and her actions going forward," he said.
Well, apparently someone at CNS thought better of this article, because it was deleted sometime after its publication. The original link goes to an empty page, and the article is no longer listed in Jones' article archive. CNS has not explained why it deleted Jones' article; perhaps it decided after the fact that it was a bad look to cheer on Greene's sick burn of the Dems when it's trying to distance itself and the entire conservative movement from her.
Jones' article remains for perpetuity at the Internet Archive, because the internet is forever -- as Greene herself has learned.
The latest from