CNS' Attacks on Garland's AG Nomination Were Lame
Topic: CNSNews.com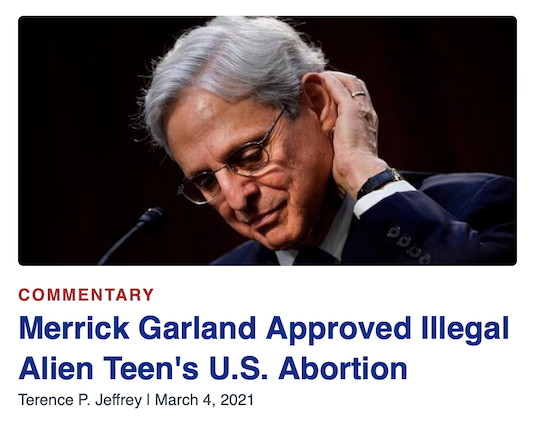 The Media Research Center had a hard time finding ways to attack Attorney General nominee Merrick Garland the way it has done to other Biden Cabinet nominees. It didn't go after him at all when he was first nominated, and its articles cherry-picking responses to questions during his confirmation hearing were lame at best.
A Feb. 22 article by Susan Jones appeared to compalin that Garland said he would prioritize the prosecution of "white supremacists and others who stormed the Capitol on January 6 -- a heinous attack that sought to disrupt a cornerstone of our democracy: the peaceful transfer of power to a newly elected government." Jones complained the next day that Garland said, in response to questions from mostly Republican senators, that he didn't have an opinion on the Second Amendment -- despite the fact that, because it is his job to enforce the law and not make law, he's not supposed to have an opinion on it. Another article by Jones merely summarized his views on "racism, disparate justice, and implicit bias."
It wasn't until March 4 that CNS came up with a plausible line of attack. Terry Jeffrey's column bashed Garland for, while serving as a judge, allowed a 17-year-old "illegal alien" arrested at the Mexican border to receive an abortion. "So, what was Garland thinking, if anything, when a pregnant alien teenager — caught trying to illegally enter the United States — came before his court, seeking his blessing to terminate her child?" Jeffrey huffed -- even though he repeatedly denied the humanity of the teen by repeatedly referring to her as an "alien."
And it wasn't until two days after Garland was confirmed by the full Senate on March 10 that CNS published an article by Emma Riley recounting how conservatives opposed Garland in a letter. "The letter cited Garland's ambiguity over the law on whether attacking a federal court house at night or during the day constitutes 'domestic terrorism'; his unwillingness to condemn remarks that 'black people are genetically superior to white people'; and his unwillingness to denounce the comment that 'any pro-life advocate is unfit for office,'" Riley wrote -- again, ignoring the fact that the attorney general is not supposed to have an opinion on such things.
The fact that even the highly biased "journalists" at CNS couldn't findmuch to attack Garland tells us that he likely won't be as bad as they think.
Posted by Terry K. at 1:44 PM EDT