CNS Attacked Even More Biden Cabinet Nominees
Topic: CNSNews.com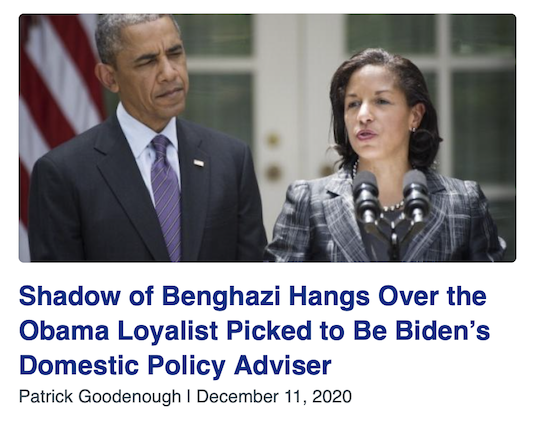 We've shown how CNSNews.com let its bias show with repeated attacks on Biden cabinet nominees Pete Buttigieg and Xavier Becerra. But it also went after several other nominees as well.
Biden's nomination of former U.S. ambassador to the United Nations Susan Rice brought a Dec. 11 article by Patrick Goodenough rehashing her "deeply controversial role in the September 2012 Benghazi affair." He highlighted how "the White House deployed Rice to deliver to five Sunday television talk shows the message that the attack was a "spontaneous reaction" to an online video mocking Islam's prophet," adding that it "stoked Republican suspicions that the administration was trying to spin the events for political ends – and mislead voters – in the closing weeks of Obama's re-election campaign." It wasn't until the final section of his 24-paragraph article that Goodenough got around to admitting that "Rice consistently maintained that her comments were based on the best information available to the intelligence community at the time."
Biden's nomination of Lloyd Austin as secretary of defense generated a Dec. 10 piece by Susan Jones trying to blame him for U.S. troops leaving Iraq:
The Obama-Biden administration's decision to pull combat troops out of Iraq in 2011 was heavily criticized at the time and years later for creating the vacuum eventually filled by the Islamic State. Obama ended up sending U.S. troops back to Iraq in 2014 to counter the rise of ISIS.

Obama later defended his controversial 2011 troop pullout by saying he had no choice -- "we needed the invitation of the Iraqi government" to keep them there, he said. So clearly the Austin-Biden diplomatic efforts did not persuade the Iraqi leadership to keep residual U.S. forces in the country.
CNS' first reaction to Biden's nomination of Tony Blinken as secretary of state was an article by Goodenough promoting Republican Sen. Tom Cotton sneering that Biden was "surrounding himself with panda huggers who will only reinforce his instincts to go soft on China." That was followed by a column from Ben Shapiro claiming that Blinken was "most famous for embracing the Iran deal and encouraging more American troops in Syria."
Jones penned a Dec. 2 attack on Blinken, uncritically quoting GOP Rep. Josh Hawley having "criticized Blinken as someone who advocates closer ties to China, a country that is and will be a continuing national security threat to the United States" and "noted that the election outcome is not yet settled, yet Biden already has nominated war hawk Tony Blinken as his secretary of state."
Craig Bannister bashed two nominees in a single Dec. 1 article:
At least two of presidential heir apparent Joe Biden's cabinet picks support burdensome new taxes.
Biden's choice to head up the Office of Management and Budget (OBM), Neera Tandemn [sic], has voiced support for two different costly soda tax proposals that would hit low-income Americans the hardest, Americans for Tax Reform (ATR) analysis reveals:

[...]

Biden's pick for Treasury Secretary, Janet Yellen, is a founding member of the Climate Leadership Council, a group lobbying Congress to pass a national carbon tax. As ATR reports<, such a carbon tax would cost Americans more than two trillion dollars over the next ten years, while sharply raising the average American's energy costs[.]
Bill Donohue devoted a column to smearing Tanden, declaring that "there is no reason to trust her" because she "was part of the email chain" of a group that was purportedly "fomenting a "revolution" in the Catholic Church." He concluded by ranting that "Senate Majority Leader Mitch McConnell should lead the fight to block her nomination as the new head of the Office of Management and Budget."
Posted by Terry K. at 12:30 AM EST
Updated: Friday, January 29, 2021 11:28 AM EST