CNS Lets Columnists Launch Bogus Attack On Another Biden Nominee
Topic: CNSNews.com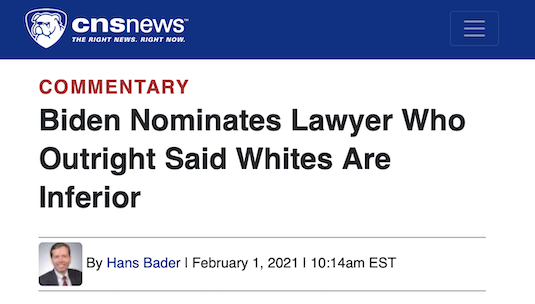 CNSNews.com has a very bad habit of launching partisan attacks on President Biden's nominees, and Kristen Clarke, nominated as assistant attorney general for civil rights, was no exception. CNS left it to its commentary section for the hit jobs on Clarke. In a Feb. 1 op-ed headlined "Biden Nominates Lawyer Who Outright Said Whites Are Inferior," Hans Bader claimed:
Clarke has said that blacks are genetically superior to whites.

"Melanin endows blacks with greater mental, physical and spiritual abilities," while "most whites are unable to produce melanin because their pineal glands are often calcified or non-functioning," wrote Clarke in the Harvard Crimson newspaper in 1994.

If Clarke still believes blacks are superior to whites, and is involved in formulating the Biden administration's affirmative-action policies, her racist views may affect their legality, by tainting their motivation.
In fact, it was clear then -- and was pointed out again during Clarke's confirmation hearing in April -- that Clarke's letter, published when she was a student at Harvard, was satire, a response to a controversial book (yet popular in right-wing circles) called "The Bell Curve," which tried to make connections between race and IQ and was co-written by a Harvard professor.
Nevertheless, this was followed by a Feb. 9 column by the Heritage Foundation's Hans von Spakovsky and Caitlin McDonough cited the satirical letter to claim "Clarke cited a number of 'experts' regarding what she called the 'truth' about the 'genetic differences between blacks and whites.'" The same day, Bader invoked the letter again to claim that Clarke "exhibited racism and anti-Semitism at Harvard Law School."
Despite publishing this misinformation, CNS refused to cover Clarke's confirmation hearing at which the truth was told about the letter. Instead, it published an April 19 column by Bader prestending that Clarke's satire wasn't clear at the time and that she only recently claimed it was satire:
Clarke now claims ;her anti-white statements were satirical, in contrast to the past, when she stood by them. But they occurred in a serious discussion, and she made these statements at a place and time where even shocking racial claims about whites were made in all seriousness.

Clarke and I both attended the same school, Harvard University. There, I encountered black students who believed crackpot racial theories that echoed Clarke's statements (such as the idea that blacks are, by nature, warm, communal, spiritual people, unlike whites, who are coldhearted oppressors). These bizarre racial claims were made without any hint of humor or irony. The black secretary of the Harvard Law School student government told me in all sincerity that his kids would fight mine in a race war some day. And I had thought he was my friend!

I don't believe Kristen Clarke, because she is a blatant liar. In the same April 14 hearing where she claimed her racist remarks were made in jest, she also denied having supported defunding the police, in an article in which she stated three times, "We must invest less in police."
Bader then cited right-wing publications claiming that it the satirical intent wasn't clear at the time, even though it came in the wake of "The Bell Curve," something Bader tried to downplay (not to mention the fact that Clarke was a 19-year-old undergrad at the time).
Posted by Terry K. at 3:36 PM EDT