A Black Woman Plays A Flute, And The MRC Is Outraged
Topic: Media Research Center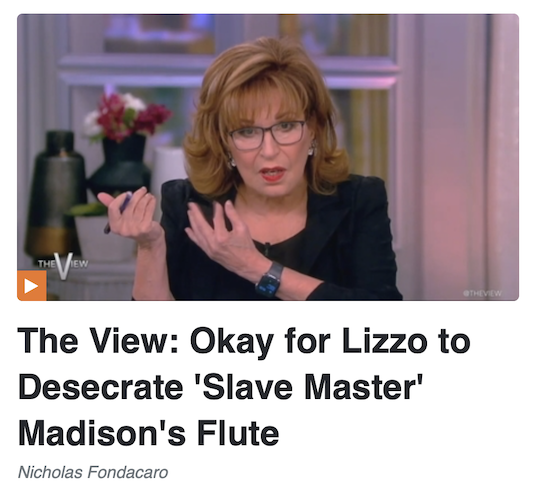 The Media Research Center has a thing about making fat jokes about the musician known as Lizzo. So when she was given the opportunity by the Library of Congress to play a 200-year-old crystal flute once belonging to James Madison, the MRC did not take it well. Jason Cohen wrote in a Sept. 28 post headlined "Plus Size Pop Icon Lizzo Lauded for Historically Inappropriate Moves" -- the "move" in question, preumably, being a non-skinny black woman playing a historic flute:
In a crazy clash of classiness and trashiness, popular singer Lizzo played James Madison's 200- year-old crystal flute at her concert in DC while scantily clad and twerking.

In typical narcissistic fashion, she tweeted:

"NOBODY HAS EVER HEARD THIS FAMOUS CRYSTAL FLUTE BEFORE

NOW YOU HAVE

IM THE FIRST & ONLY PERSON TO EVER PLAY THIS PRESIDENTIAL 200-YEAR-OLD CRYSTAL FLUTE— THANK YOU @librarycongress

As referenced in Lizzo's tweet, the flute is owned by the Library of Congress. Lizzo is mainly known for being a singer and "body positivity" icon, but she has also been a flutist since grade school.

Despite the distasteful display, Lizzo's actions were largely glorified by the media.

Adding to the obscenity, Lizzo exclaimed, "B***h, I just twerked and played James Madison's crystal flute from the 1800s. We just made history tonight!"

Ideas of history, along with those of beauty and class, just ain't what they used to be.
When the co-hosts of "The View" called out right-wing outrage over this "move," Nicholas Fondacaro raged in a Sept. 30 post:
In a publicity stunt, some argue was designed to generate outrage this week, the Library of Congress allowed degenerate singer Lizzo to parade around half naked on stage while twerking and playing former President James Madison's crystal flute. On Friday, the cackling coven of ABC's The View looked on with glee as they mocked some conservatives for getting upset and argued that the disgusting display was retribution against Madison because he owned slaves.

Getting into the segment, co-host Joy Behar suggested conservatives were more interested in the flute than helping people recover from Hurricane Ian and stemming inflation. "While the country deals with hurricanes, inflation, and fight for abortion rights, some conservatives are focusing their rage on Lizzo. Why? They're annoyed that she's playing a crystal flute, a flute," she chided (failing to mention President Biden was at a fundraiser while the storm killed people).

"These Trumpers need to have the same reverence for the Constitution as they do for the flute," she whined following a video of Lizzo's performance.

The hypocrisy in that statement was so thick that it ran like syrup. The View didn't care about revering the Constitution when they gave a platform to leftist extremist Elie Mystal to call it "trash" and cheer. They also defended 2016 election denialism and decried the Electoral College. And they've also called for packing the Supreme Court.

[...]

Hostin went on to suggest Lizzo's performance was justice, 200 years in the making. "Well, James Madison owned a hundred slaves. That's a degradation of history, right? And he still became the president. So, I think this is kind of a full-circle moment for American history," she snarked.
Fondacaro never explained what, exactly, is "degenerate" about Lizzo -- leaving us to speculate that his main gripe is that a non-skinny black woman was allowed to play a historic flute, --and he did not explain why that act was supposedly "designed to generate outrage." Then again, that "outrage" purportedly engendered by Lizzo's act was pretty much limited to perpetually outraged right-wingers like Fondacaro who are prone to see anything that makes them mad as a "liberal" provocation rather than a sign that they should lighten up a bit and stop being perpetual rage-bots.
Posted by Terry K. at 1:50 PM EDT