MRC Moves From Defense Mode To Attack Mode Over Walker Abortion Scandal
Topic: Media Research Center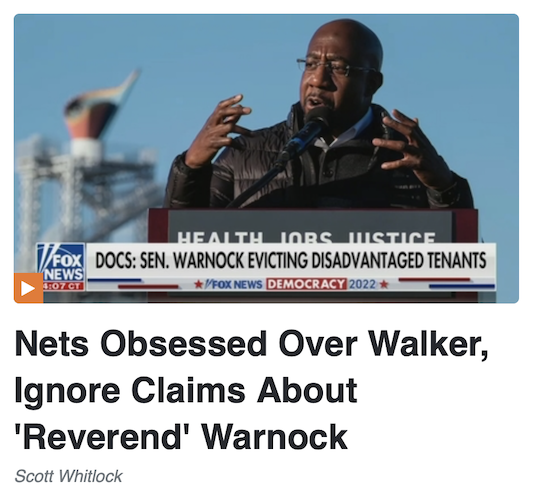 The Media Research Center quickly moved into defense mode over the credible allegation that Republican candidate Herschel Walker paid for an abortion for a girlfriend. The next step, of course, was attack mode. An Oct 7 post by Kevin Tober ranted that the story was a "smear" -- despite it being factually accurate, Tober's protestation that it is"ucorroborated" notwithstanding -- and lashed out at anyone who dared to criticize Walker's dubious sense of judgment:
The leftist media's smears against Georgia Republican Senate candidate Herschel Walker continued this week as MSNBC's All In host Chris Hayes, and Bulwark editor Tim Miller decided Thursday to accuse him of being mentally unfit for office. While much of the media this week spent considerable airtime accusing Walker of being a hypocrite for opposing abortion while allegedly paying for a woman's abortion over a decade ago, Hayes and Miller took the nasty partisan attacks a step forward.

Hayes kicked it off during the segment discussing the uncorroborated Daily Beast story which claimed Walker paid for a woman's abortion. "The whole thing, when you step back, is so ludicrous," Hayes claimed.

Letting his elitism show, he lectured Georgians about Walker's candidacy: "there's just no reason for him to be a U.S. Senator," Hayes preached. Since when is Hayes in charge of deciding who should and should not be in the United States Senate?

Hayes then argued that there are "thousands of people in the state of Georgia across the ideological spectrum, across lines of race and class, whatever, who you could pull out of a hat to be the Senate nominee that aren't Herschel Walker."

One would also argue that if Republicans dropped support for Walker tomorrow and somehow picked another candidate, Hayes would find something about the new candidate to cry about.
Tober deflected from the elephant in the room -- that the MRC and right-wingers, know for their anti-abortion extremism, are giving a pass to a candidate who paid for an abortion -- by cynically declaring that "Sometimes elections are a choice between the lesser of two evils."
Alex Christy similarly hated it when critics pointed out Repubilcans' hypocrisy, offering only whataboutism in response:
MSNBC's Katie Phang used her Saturday show to allege that the Republican response to the Herschel Walker-abortion allegations prove that they aren't really pro-life because "it was always about being pro-power." Co-host of the Democracy-ish podcast, Danielle Moodie agreed, claiming Republicans use that power to be the party of "cruelty and oppression" for "millions of people with uteruses."

Phang saw a connection between conservative reactions to Trump and Walker, "they did it before. Now, there's a certain group of GOP voters that looked at Donald Trump and said, 'he's going to give me a conservative SCOTUS and I'm going to see the end of Roe v. Wade' and that's exactly what Mitch McConnell delivered courtesy of Donald Trump, right?"

Moving on to Walker, Phang continued, "So, in some way these voters, again, a certain group of them, they don't have a problem owning this, they don't have a problem standing next to someone like Herschel Walker, but listen, you said it and it's true, this was never about being pro-life it was always about being pro-power."

It may be shocking for Phang to understand, but the power to enact laws only comes with winning elections. It is why Democrats stood behind everyone from Bill Clinton to Ted Kennedy.
Christy also nonsensically argued that electing right-=wing hypocrites would somehow end the hypocrisy: "Neither Phang nor Moodie realized that if Republicans are successful in passing pro-life laws they will make it illegal, or at least much more difficult, for them to be hypocritical on the issue."
Scott Whitlock served up his own whine in an Oct. 8 post:
The networks found their 2022 October Surprise, a Republican candidate to pounce on and work to destroy the GOP's chances in the midterms. In less than a week, ABC, CBS and NBC have devoted over 27 minutes to the Herschel Walker story and whether the Georgia Republican senatorial candidate paid for an abortion in 2009.

At the same time, they have ignored gaffes and the radically extreme policies of Democratic senatorial candidates. All of this is a familiar pattern: Every election cycle, ABC, CBS and NBC look for one (or more ) Republican candidates to try and trash the entire field. Strangely, this obsession never seems to happen to Democrats.
Instead of explaining why it's not wildly hypocritical for anti-abortion Republicans to stick with a candidate who paid for an abortion, Whitlock then rehashed old complaints -- going way to to 2012 -- that the media covered Republican Senate candidate Todd Akin's remark that women who suffer "legitimate rape" don't get pregnant.
Christy complained in an Oct. 11 post about the over the two strains of Christianity displayed by Walker and his Democratic opponent, paster Raphael Warnock:
On her Tuesday show on MSNBC, Chris Jansing portrayed the Georgia Senate race between Republican Herschel Walker and Democrat Raphael Warnock as a contest between two different versions of Christianity. Naturally, Walker was said to represent the bad "right-wing" version, while Warnock represents the good "Southern tradition of faith-based civil rights" version.

[...]

>Smikle replied by affirming Jansing's partisan descriptions of the two beliefs, "Well, faith is always an important component because as many theologians and even-- especially black theologians will tell you that the Old Testament is replete with social justice and the prophets are social justice advocates."

The prophets were not left-wing political activists and preaching at Martin Luther King's church, does not make Warnock the heir to MLK's legacy that all people who support civil rights must support. Nevertheless, Smikle hyped that, "in that tradition is Reverend Warnock, who is arguing in support of all Georgians and for Americans, you know, who are at every different sort of aspect of life whether you're rural, suburban, wealthy, or poor."

[...]

There is nothing more antithetical to the idea that Wanock "is arguing in support of all Georgians" the idea that he uses his pastoral career to justify violence against the most vulnerable among us in the name of choice.
Whitlock returned to whine that the non-right-wing media was still covering Walker while ignoring right-wing attack narratives against Warnock:
All three networks last week eagerly covered the allegation that Republican Senate candidate Herschel Walker paid for an abortion in 2009. But this week, with the claim that Democratic Senator Raphael Warnock — a pastor at Ebenezer Baptist Church in Georgia — is part of evicting the disadvantaged, the poor, and veterans from a church-owned apartment complex, they've shown no such zeal.

[...]

If the hypocrisy story of pro-life Walker allegedly paying for an abortion is news then so is Warnock, a senator who has decried unfair evictions of "families at risk." Journalists should ask Warnock about his church and that large $7,400 monthly housing allowance.
Funny, we remember when the MRC justified evicting people to keep landlords from going bankrupt due to having to house tenants who lost their jobs during the pandemic and have nowhere else to go. Whitlock also ignored evidence that none of the people who received eviction notices at the apartment building have actually been evicted.
Posted by Terry K. at 6:47 PM EDT