How CNS Flipped From Hating Kanye West To Loving Him
Topic: CNSNews.com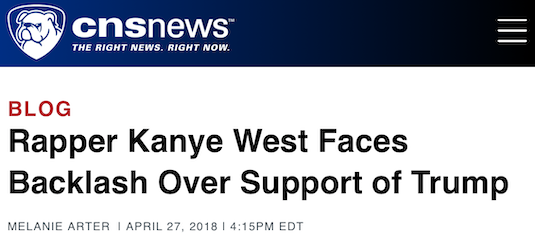 Like its Media Research Center parent, CNSNews.com hated Kanye West before it loved him, using its stable of columnists to do so:
It published a 2008 column by then-MRC apparatchik Dan Gainor complaining that "Top performers bash President Bush as a matter of faith," citing as an example "Kanye West's embarrassing stupid comments saying: 'George Bush doesn't care about black people'" during a benefit concert for the victims of Hurricane Katrina.
It also published a 2010 column by Michelle Malkin decaring that West won "the Olympic gold medal for racial grievance-mongering" for that comment, as well as a column that year by MRC boss Brent Bozell ranting about how "idiotic rapper Kanye West shouted during an NBC telethon that Bush didn't care about black people."
Bozell sneered in a 2012 column that "Rapper Kanye West, worth $70 million, showed up to the [Occupy Wall Street] protests in New York wearing gold chains."
Bozell devoted an entire 2013 column to ranting about West:
Egotistical musicians often exaggerate their political influence, none more than the nattering, narcissistic rapper Kanye West. He has compared himself in global stature to Apple founder Steve Jobs and has titled his latest album "Yeesus."

Rolling Stone magazine has posted part of a West song titled "I Am a God," where West raps that Jesus is the "Most High," but he's a "close high."

Now it's The New York Times pandering to West's colossal self-regard — and it's downright embarrassing. Mouth-breathing Times writer/superfan Jon Caramonica stooped to telling West that "what I find probably the most moving thing that you've ever done, which is calling out President Bush at the Hurricane Katrina telethon. To me, that moment is actually the peak of putting a message in a pop format." West agreed, designating it as "a very pop moment of a lifetime or generation."

Do you remember this? Does anyone? Let me remind you of that generation-shaping moment. In the middle of an NBC telethon, as celebrities somberly asked for donations to the Red Cross, West lashed out, for no reason, and stupidly, arrogantly and rudely declared that President Bush "doesn't care about black people." He proceeded to add black people were smeared as looters and "now they've given them [police?] permission to go down and shoot us."

Lyndon LaRouche is more rational than this idiot.
CNS, however, did turn more favorably toward West a little earlier than the rest of the MRC, which didn't do so until he embraced Donald Trump. A 2015 article by Melanie Arter may or may not have been mocking West by reporting his reaction to receiving an award that "I think I maybe for the first time in my life I understand how it is to feel humbled."Another article by Arter that year foreshadowed the Trump-Kanye bromance:
If there's one person you won't hear GOP presidential candidate Donald Trump bashing, it's rapper Kanye West. He told reporters Thursday that he loves West, because the rapper considers Trump to be his "all-time hero."

"Kanye West, you know what? I'll never say bad about him. You know why? Because he loves Trump. He loves Trump. He goes around saying Trump is my all-time hero. He says it to everybody, so Kanye West, I love him," said Trump.
But the day after that araticle, it also published a column by Bozell and Tim Graham yet again rehashing his Katrina remark: "In the early spin, race-baiting rapper Kanye West and "objective" anchors like Brian Williams were in rhetorical sync: George Bush didn't care about black people."
A few weeks after that, though, Mark Judge -- who a couple years later would become infamous as a bit player in the Brett Kavanaugh Supreme Court nomination as someone who engaged in drunken youthful antics with him (something his MRC employer sought to hide) -- touted how West praised another right-winger for president:
Rapper, Kardashian spouse and fashion designer Kanye West had high praise for Dr. Ben Carson, the Republican presidential candidate, in an interviewpublished today by Vanity Fair.

"When I run for president, I'd prefer not to run against someone," West said, while discussing his Yeezy fashion line and his desire to run for president in 2020.

"As soon as I heard [Ben] Carson speak, I tried for three weeks to get on the phone with him," said West. "I was like this is the most brilliant guy.

"And I think all of the people running now have something that each of the others needs," he said. "But the idea of this separation and this gladiator battle takes away from the main focus that the world needs help and the world needs all the people in a position of power or influence to come together."
Judge followed up a few days later with an article quoting Carson telling West to start "doing some music that might be uplifting that might give young women a sense of their value and young men a sense of responsibility." And a couple weeks after that, Judge touted how West "praised soldiers, police officers and firefighters as brave." In April 2016, Judge hyped how "Pop superstar Justin Bieber recently posted a photograph on Instagram of himself praying with fellow musicians Kanye West and Sean 'Puff Daddy' Combs."
Judg continued to obsess over West: An October 2016 article noted that musician David Crosby criticized West by claiming that he "can neither sing, nor write, nor play."A Decmeber 2016 article noted that West met with Trump to "discuss multicultural issues. These issues included bullying, supporting teachers, modernizing curriculums, and violence in Chicago."
West didn't surface again at CNS until 2018, when he voiced his support for Trump. An April 2018 article by MichaelMorris quoted right-wing talking hed Ben Shapiro asserting that West support of Trump "might actually matter" because it might draw support of Black people to Republicans.An article by Arter a few days later lamented that West "is facing continued backlash over his support for President Donald Trump and for recently voicing support for black conservative commentator Candace Owens." It then published a May 2018 column by Shaprio voicing hsi full support of West's support of Trump:
It's easy to dismiss Kanye West.

It's easy to dismiss him because he's nutty. This is a fellow who tweets about antique fish tanks and fur pillows. This is the guy who calls himself Yeezus (after Jesus) and suggested that then-President George W. Bush didn't care about black people in the aftermath of Hurricane Katrina. He isn't exactly known for his bouts of emotional stability.

And in our celebrity-driven culture, we shouldn't pay too much attention to those who haven't spent a lot of time studying policy. That's how we end up with celebrity politicians, emotion-driven policy and reality television substituting for news.

With that said, Kanye West did something deeply important over the last two weeks: He opened up the debate.

[...]

What's happening? It's doubtful that West started reading Edmund Burke. It may just be that West, like a lot of Americans tired of being told what to think by their industry and racialists on all sides, is getting tired of being told what to do. It's possible that West, like most Americans, sees America as a place with problems but a place where individuals can think and achieve freely. And he's clearly willing to take part in a political debate so many of his friends aren't.

That makes West an important voice, at least for now. It does take courage to buck your entire cadre in order to publicly declare what you think. West deserves credit for that.

Yes, it only took West spouting right-wing talking points for Shapiro to deem him "an important voice." Then, in true echo-chamber fashion, Morris wrote a "news" article the next day rehashing Shapiro's praise of West. And the right-wing praise from CNS continued to pour in:
A column by David Limbaugh hyped how "Democrats are losing their minds over Kanye West's praise of Trump and his assertion that African-Americans should be free to think for themselves and not be pressured into identity groupthink."
Onetime WND columnist Jesse Lee Peterson wrote: "For two weeks, President Trump and artist Kanye West have expressed love and affection toward each other. Godless blacks and others have trashed Kanye for it and continued to drag Trump's good name through the mud."
Walter Williams kept up the narrative, writing that "West's support for Trump, along with his criticism of the "plantation" mentality of the Democratic Party, has been met with vicious backlash from the left," adding that "Kanye West is not saying anything different from what Dr. Thomas Sowell, Larry Elder, Jason Riley, I and other black libertarians/conservatives have been saying for decades." He went on to cheer that "The Kanye problem for the Democratic Party is that if the party doesn't keep blacks in line and it loses even 20 to 25 percent of the black vote, it can kiss any hope of winning any presidential and many congressional elections goodbye."
Republicans do love their message discipline, don't they?
Posted by Terry K. at 11:09 AM EDT
Updated: Monday, October 31, 2022 7:08 PM EDT