WND Kept Ranting About Capitol Riot Hearings
Topic: WorldNetDaily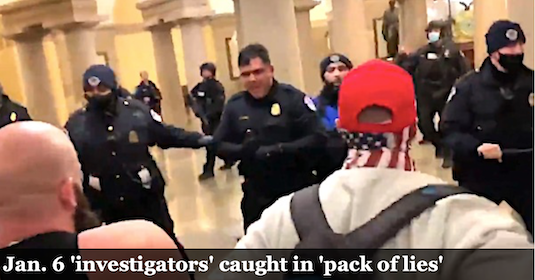 After promising that Secret Service agents would rebut Cassidy Hutchinson's testimony about Donald Trump's behavior after the rally that preceded the Capitol riot -- a promise did not age well, given how those agents have since clammed up and lawyered up -- WorldNetDaily remained salty about the hearings themselves and defended the participants. A July 11 article by Bob Unruh promoted how "the founder of Oath Keepers, one of the organizations whose members are facing charges for the events, wants to confront committee members in person." He served up this oddly benign description of events that day:
Hundreds went into the Capitol that day to express their distrust of the 2020 presidential election results. Some rioted, doing vandalism and such. And as of now, hundreds have been charged with offenses like trespassing and entering a closed government building, and many have remained behind bars without bond since their arrests.

Charges most prominently have been filed against members of several groups that mostly have acted in patriotic situations, like Oath Keepers and Proud Boys.
"Vandalism and such"? yes, assaulting police officers has been downgraded as "such" and less of a big deal than vandalism, as far as Unruh is concerned.
WND's columnists kept complaining as well. Andy Schlafly took another bogus whack at Hutchinson in his July 12 column:
Democrats had been counting on televised congressional hearings about the pro-Trump rally at the Capitol on Jan. 6, 2021, to be the game-changer they need to retain power, but their strategy hasn't worked. According to a new Harvard/Harris poll, 53% consider the hearings biased, 63% believe Congress should be working on more important matters, and 67% say the hearings are dividing our country.

The fizzling of implausible testimony against Trump has boomeranged against the J6 committee. The nonpartisan Secret Service disavowed the accusations by the surprise witness Cassidy Hutchinson, whose bizarre hearsay testimony would not be allowed in a real court.
That didn't happen in real life, of course. So Schlafly moved on to throw anything at the wall that might stick, including discredited election fraud claims: "Biden may have been placed in the White House through rampant ballot harvesting and the use of unattended ballot drop boxes, which were just declared illegal by the Wisconsin Supreme Court. These ballot dumps, often in the middle of the night, were done by hired Democrat ballot harvesters in battleground states."
In her July 13 column, Betsy McCaughey dismissed the hearing as a "miniseries" that are "as balanced as one of Josef Stalin's trials, or justice under Kim Jong-un." She then played whataboutism: "Why would anyone watch this unapologetically rigged process about a topic that pales in comparison to watching your quality of life and future plans destroyed by soaring prices?"
Michael Master returned for a July 13 column to justify the riot and bash the committee for not parroting Trump's Big Lie about election fraud:
On Jan. 6 of last year, a political rally of a quarter million people was held where Trump and his supporters petitioned the Congress for a redress of grievances concerning the 2020 election. Mike Pence and the Democrat-controlled Congress ignored that request for a redress.

Yes, a riot by less than a thousand people of those quarter million also happened on Jan 6. But the issue of the redress is still not resolved. That, not the riot, is the big issue, which the Jan. 6 Committee is ignoring. And it is looking more and more that Trump was correct in asking for the redress.

[...]

If Republicans retake the House in November, this should be its immediate agenda:

1. Replace the biased J6 committee with a balance of pro-Trump and anti-Trump members, instead of the current nine, who all voted to impeach the president. Then investigate everyone involved with Jan. 6, including Nancy Pelosi, the FBI, Mike Pence and the Capitol Police.

2. Investigate what the Biden administration did that cut the U.S. production of oil and hurt America's oil independence.

3. Empower a special investigator to figure out which states implemented illegal and/or unconstitutional election processes in 2020. Determine how many votes were affected and if the outcomes in those states were compromised, and then determine what do do about it now. Judges have already determined that Pennsylvania and Wisconsin implemented unconstitutional changes. How much did the illegal drop boxes and ballot harvesting in Georgia affect the election? How about in Arizona, Nevada, Michigan and Virginia?

4. Investigate Joe Biden over the revelations found on Hunter's laptop.

Things will get very interesting if/when Republicans retake the House. Democrats are worried. Karma is a b**ch.
A July 15 article by Unruh did actually notice apparently bad behavior -- which he then tried to bury under his usual right-wing narratives:
The newest turn in the "investigation" going on into the Jan. 6, 2021, riot at the U.S. Capitol may be the most interesting yet.

It turns out the Secret Secret deleted its text messages from that time period, after being asked for them.

Other developments have included wild claims by the government that ordinary citizens protesting what they viewed as an unfair 2020 election were trying to overthrow the government that day.

And that the mostly wide-eyed tourists in the Capitol that day actually were intent on killing people.

And much more, all being investigated by Nancy Pelosi's partisan committee that has been interviewing people and staging public performances of select testimony that fits the narrative that President Trump was to blame for everything.

Critics view the committee's work as Pelosi's third attempt at "impeaching-and-removing" Trump – with the goal of making sure he doesn't run again in 2024. Her two earlier attempts during and after his term both failed.

Now the Intercept confirmed the Secret Service erased text messages dated January 5 and January 6.

That's from a letter given to the January 6 committee and reviewed by The Intercept.
Unruh also tried to attack Hutchinson again:
Also involving the Secret Service was testimony from ex-White House aide Cassidy Hutchinson whose claims that Trump tried to commandeer a limousine to go to the Capitol were immediately debunked by other witnesses.

Throwing doubt on Hutchinson's claims were members of the Secret Service themselves, the report said.
Again, those agents have refused to testify to the committee and have lawyered up in an apparent effort to get out of actually fulfilling their promise.
Posted by Terry K. at 4:51 PM EDT
Updated: Friday, August 19, 2022 4:57 PM EDT