CNS' Hate-Filled Donohue Spreads Discredited George Soros-Nazi Lie
Topic: CNSNews.com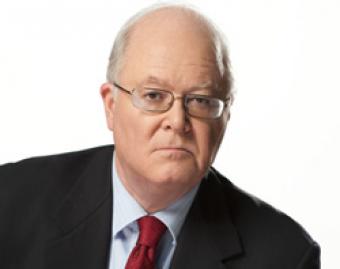 CNSNews.com columnist and dishonest Catholic Bill Donohue has been on quite the bad-take kick of late. He served up another one in his Aug. 25 column, which he started this way:
Few persons have done more damage to free societies than George Soros, the Hungarian-born billionaire. Yet in left-wing circles, the 92-year-old is regarded as a hero. That may have something to do with the fact that his Open Society Foundations have been greasing them for decades. Less well known is his record of bigotry.

Soros is known as a "self-hating Jew." As a young man in Hungary he became a Nazi collaborator.

In a 60 Minutes interview, Soros admitted that he helped confiscate property from Jews. He told Steve Kroft that he never regretted doing so. When asked if this was difficult, Soros said, "Not, not at all. Not at all." Stunned, Kroft said, "No feeling of guilt?" "No" came the reply.
That is a filthy lie. As has been repeatedly documented, Soros was a teenager in Nazi-occupied Hungary when Soros' father arranged to have his son pose as the nephew of a Hungarian official whose job it was to inventory the property abandoned by Jews who fled the country that the Nazis appropriated, playing no other role beyond helper. As any reasonable person might expect, Soros has no regrets about doing what he needed to do to survive the Nazis.
it appears we can add Donohue to the list of right-wingers who fervently wish that the Nazis had exterminated just one more Jew.
Donohue went on to rant that "Soros has a long history of supporting anti-Catholicism," citing his support of [checks notes] a organization called Catholics for Choice, who Donohue bizarrely insists is "anti-Catholic" despite being made up of Catholics, continuing:
In January, Catholics for Choice vandalized the Basilica of the National Shrine of the Immaculate Conception in Washington, D.C. At a prayer vigil that was held there before the March for Life, the Soros-funded entity desecrated the Basilica by using light-projecting technology to post anti-Catholic messages on it.
Projecting something on a building cannot possibly be "vandalism" since no damage is done to the building. He then served up a tale that doesn't quite hold together about another Catholic group he hates:
There is one other aspect to this story worth mentioning. After Obama was elected in 2008, the IRS contacted me to say that the Catholic League was under investigation for violating IRS strictures for non-profit organizations. After the probe was finally finished, we received a slap on the wrist.

I promised the IRS official I would not stop hammering pro-abortion anti-Catholic politicians, and that he should inform his superiors of my pledge.

More important, I told him that I knew who was behind the attempt to destroy me. Just before the 2008 election, a CNN staffer sent me copies of a long document detailing news releases I had sent that allegedly violated IRS rules. She did this because the person who sent it to her tried to get me kicked off TV; he sent the document to validate his request.

When the IRS complaint was sent to me before Thanksgiving in 2008, I quickly concluded that it looked amazingly like the document forwarded to me by the CNN employee. It was sent to her by Catholics United.

In other words, Soros was behind the attempt to silence the Catholic League.

He lost. It's too bad he hasn't lost more often—his legacy of hate has done much harm.
First: His attempt to blame Obama for the audit fails on the facts. He admitted that he received the complaint "before Thanksgiving in 2008" -- two months before Obama took office, meaning that Obama could not possibly have had any influence on the IRS to push for an audit. Further, Donohue said in 2013 that a copy of the Catholics United complaint was leaked to him in October 2008 -- before Obama was even elected.
Second: He offers no evidence whatsoever that Soros has personally targeted Donohue or his little Catholic League group -- he's just copiously dropping Soros'name because he's a right-wing bogeyman and can get clicks by doing so.
More dishonesty from Donohue? Doesn't surprise us at all.
Posted by Terry K. at 5:00 PM EDT
Updated: Saturday, September 24, 2022 4:23 AM EDT