MRC Peddles Falsehood That Newspaper Chain Canceled 'Dilbert' Over Politics
Topic: Media Research Center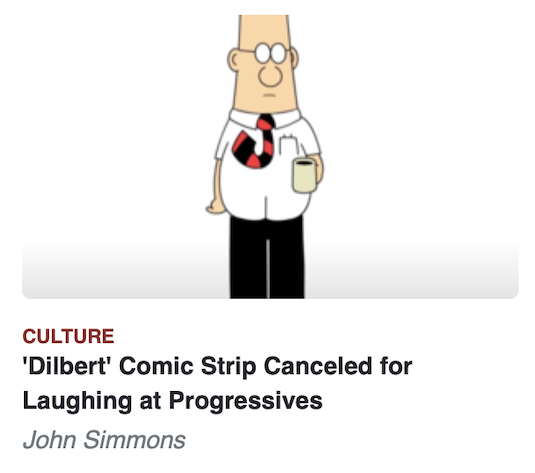 Count the falsehoods in the opening of this Sept. 22 post by the Media Research Center's John Simmons:
Progressives really have no sense of humor.

The famous comic strip "Dilbert," a fictional story about a character with the comic's name that serves as a satirical commentary on office politics and workplace culture, has been removed from over 80 newspaper publications. Lee Enterprises, the company that distributes the comic, has not commented on why it was discontinued.

However, Scott Adams, the creator of the comic, believed it was cut from publications because of his tendency to poke fun at woke agendas that have found a home in the American corporate world.
The first falsehood is that Lee Enterprises is not a distributor of comics -- it's a company that owns newspapers. The second, and more important, falsehood is that Simmons and Adams are lying about the strip's purported targeting of progressives being the reason the comic was dropped from these Lee newspapers.
As a reliable media outlet reported, Lee is moving to a smaller comics package, using the same set of comics across all its newspapers instead of each paper choosing their own, as a money-saving move. Many other comics were canceled by Lee papers as a part of this move. But Simmons would rather lie to readers in order to falsely portray Adams as a victim because it fits right-wing narratives.
It's not until the final paragraph that Simmons sort of admits he's not telling the truth, but he portrays what is actually happening as "framing":
Of course, Lee Enterprises is not framing it that way, since other comics were discontinued as well. But with how sensitive and anti-humor the left can be, it wouldn't be surprising if it were erased largely because of its content.
Again: Simmons has no proof whatsoever that "Dilbert" was canceled by Lee papers beause of its or Adams' politics. But who needs facts when you have a narrative to push?
Posted by Terry K. at 9:40 AM EDT
Updated: Saturday, October 22, 2022 9:43 AM EDT