MRC's Jean-Pierre-Bashing, Doocy-Fluffing Watch
Topic: Media Research Center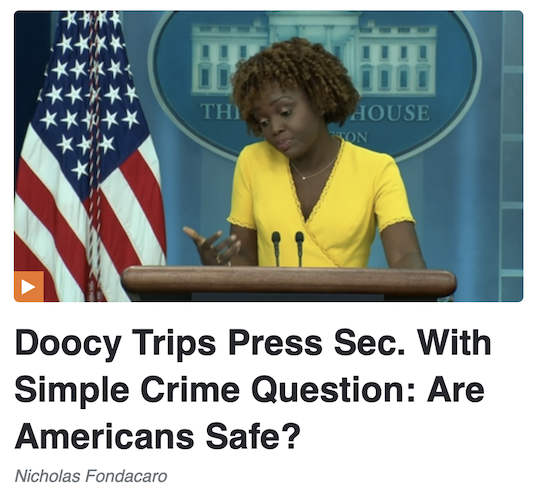 Nicholas Fondacaro took the Doocy-fluffing (and Karine-hating) duties at theMedia REsearch Center for a post on the Sept. 26 White House press briefing:
With crime soaring in American cities across the country as a result of extreme progressive district attorneys turning criminals loose without bail or without charges (including crimes involving firearms), safety is a major concern for Americans who call those places home. So, one would think the Biden White House would have a serious answer when asked if they think "America's big cities are safe?" But, of course, Press Secretary Karine Jean-Pierre was as unserious as ever as Fox News White House correspondent Peter Doocy asked the simple question.

Putting off Doocy to near the end of the Q&A portion of the briefing, he asked the question as simply as possible: "Does President Biden think America's big cities are safe?"

Jean-Pierre was rendered confused by the simple premise of the question, asking in return, "Can you say more?" "Well, we know that thefts and robberies are up about 20 percent in the first half of this year. So, I'm wondering if he thinks America's big cities are safe?" he elaborated.

Still, Jean-Pierre felt like she was blowing in the wind in need of more solid information. Of course, Doocy obliged with more examples of runaway crime:

[...]

She proceeded to suggest Biden had "secured historic funding" for local police "in the face of opposition from Republicans." She also blamed former President Trump, saying Biden "inherited a rising crime rate from the previous administration," despite the fact the rising crime was in predominantly liberal jurisdictions.

"So, I guess, just the original question: Does President Biden think America's big cities are safe?" Doocy plainly asked again in the face of her non-answer. "It is not – it is not a – um – It is not a yes or no question," Jean-Pierre stammered.
Curtis Houck returned to his hateful duty for the Sept. 28 briefing:
In what might be her worst performance as White House press secretary (in what's already been dominated by ineptitude), Karine Jean-Pierre faced searing heat Wednesday from across the ideological spectrum of the press corps after President Joe Biden called out to Congresswoman Jackie Walorski (R-IN) at a global hunger event despite the fact that Walorski died nearly two months ago.

ABC's Cecilia Vega broke through as the second reporter called on, wondering "what happened at the hunger event" as Biden "seemed to indicate she might be in the room." In response, Jean-Pierre claimed Biden was simply "acknowledging her incredible work" on food insecurity and, because her family will meet him on Friday, "she was on his mind" and "top of mind."

Vega wasn't moved: "He said, 'Jackie, are you here? Where is Jackie? She must not be here.'"

Jean-Pierre doubled down that "she was on top of mind," so it fell to CNN's Phil Mattingly a few minutes later, who admitted he was "trying to get my head around" her excuse.

"Why was he looking for her? I'm not trying to be snarky here," he added. Unfortunately, Jean-Pierre stuck to her explanation for what should otherwise be viewed as a sign of cognitive decline.

[...]

In the back rows, some reporters decided they had enough, including Newsmax's James Rosen: "I have John Lennon top of mind just about every day but I'm not looking around for him anywhere."

Jean-Pierre thought she had him caught with this dead fish of a zinger: "When you sign a bill for John Lennon — Lennon as president, then we can have this conversion."

From there, chaos ensued. EWTN's Owen Jensen first wondered "why don't you just apologize" and continued as Jean-Pierre tried to escape by calling on a friendly reporter in USA Today 's Michael Collins.

[...]

A few minutes after things calmed down, Real Clear Politics' Philip Wegmann had the last Walorski question and tried to see if Jean-Pierre would return to reality: "Does he believe he handled that reference appropriately or is this something that he would like to get back?"

Jean-Pierre played dumb and, after acknowledging it's "a question...many of you have had," proclaimed "my answer is certainly not going to change."
We don't recall Houck ever criticizing his beloved Kayleigh McEnany for making excuses for her boss, Donald Trump -- indeed, he cheered every time she refused to answer questions from reporters. Houck didn't explain why this is no different.
Posted by Terry K. at 10:00 PM EDT